Preventing Malaria Morbidity & Mortality: PC Uganda's Efforts to Fight the Disease, One Net at a Time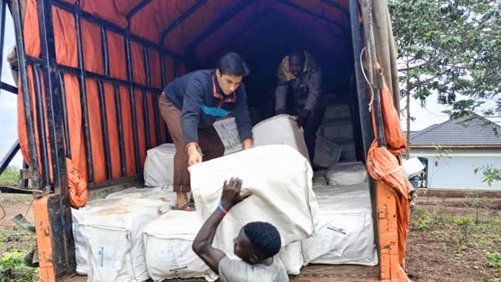 May 9, 2023
Malaria remains Uganda's leading cause of death, especially among children under five years. In 2020, Uganda had the 3rd highest global burden of malaria cases and deaths (5.4%) and the 5th highest proportion of malaria cases in East and Southern Africa (23.2%).
Malaria Burden
With a prevalence of 19%, malaria is the leading cause of morbidity accounting for 30-50% of out-patient visits at health facilities, 15-20% of all hospital admissions, and up to 20% of all hospital deaths. More than 25% of in-patient deaths among children under 5 years are due to malaria.
Significant progress has been made in the scale-up of evidence-based malaria interventions in Uganda, leading to a substantial impact on malaria morbidity and mortality and as a result, malaria prevalence in children under five decreased from 45 % in 2009 to 9 % in 2018–2019. Child mortality decreased from 128 deaths per 1,000 live births in 2006 to 64 in 2016. However, these achievements are not uniform across the country, with the North and East parts of the country carrying the highest malaria burden. These regions have persistently seen a sustained upsurge in malaria cases in various districts with the current average of 37,600 cases per day, resulting in increased hospitalization and deaths.
Peace Corps Uganda's Health Program
The Peace Corps Uganda Health Program has 11 Peace Corps Volunteers (PCVs) living and serving in the Central, Northern, and Western Uganda. Until a few weeks ago, we also had 2 Peace Corps Response Volunteers who served in local organizations. The PCVs and RPCVs and their host organizations implement programs to end preventable child mortality and achieve a resilient and healthy youth by 2030. Peace Corps, through Volunteers, has a role to play in addressing the main causes of child mortality like malaria. Currently, 16 Volunteers across health, education, and agribusiness and economic development (AED) sectors: 12 health, 2 education and 2 agribusiness and economic development Volunteers respectively take the lead in coordinating community-led malaria prevention social behavior change activities throughout Uganda.
Volunteers work together with their host organizations' counterparts to conduct malaria prevention behavioral assessments, social behavioral change communication for malaria prevention, and mosquito net distribution. The Peace Corps Health program staff provides technical support to the Volunteers and the organizations where they are placed. Peace Corps, as a U.S. Government Agency, collaborates with the United States Agency for International Development (USAID) Presidents' Malaria Initiative (PMI). WE secured 25,000 mosquito nets that are distributed across the regions to pregnant women, breastfeeding mothers, and vulnerable children. District Health Offices and Village Health Teams are involved in helping to identify needs in communities. Ultimately, we aim to reverse malaria trends and support community-led interventions to malaria prevent morbidity and mortality.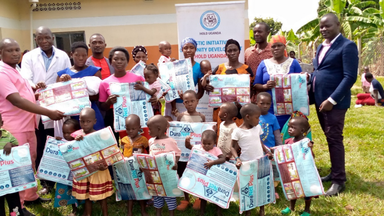 World Malaria Month
Since the launch of the Stomping out Malaria initiative in Africa in 2011, Peace Corps Uganda has been part of the effort to prevent malaria with the support from the United States Agency for International Development (USAID), President's Malaria Initiative in collaboration with National Malaria Control Program. The Health Team trained over 1,000 Volunteers and host country counterparts in malaria prevention across Uganda in the communities where Volunteers serve. Every year during the month of April commonly known as World Malaria Month, Peace Corps Uganda steps up our malaria prevention interventions across the country. The climax of this month is April 25th which is World Malaria Day.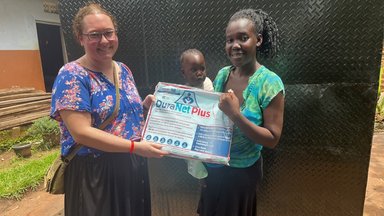 Malaria interventions are cross sectoral with Volunteers from the three sectors: education, agribusiness and health participating. This year (2023), Peace Corps health staff, 16 PCVs and their host organization staff, and other 14 Peace Corps partners currently not hosting Peace Corps Volunteers, participated in World Malaria Month and World Malaria Day activities. We partnered with District Health Teams and other implementing partners throughout Uganda. Implementers first conducted a community needs assessments and then distributed 25,000 mosquito nets to pregnant women, children under 5 years and vulnerable persons along with malaria prevention messaging.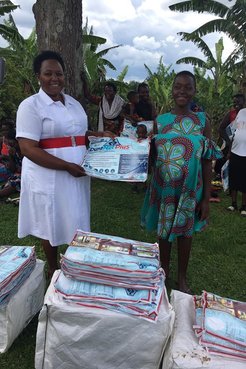 In addition to the distribution of nets, PC Uganda supported the distribution of Social Behavior Change Communication (SBCC) materials in communities, health facilities, and schools. Malaria prevention awareness and sensitization activities were conducted in schools and communities. Volunteers and host organizations implemented 5 regional events to commemorate World Malaria Day. Radio talk shows were conducted in three regions with malaria prevention sessions and spots. Capacity building for community health workers in the provision of friendly services, behavior change communication, referrals, and linkages to services was implemented.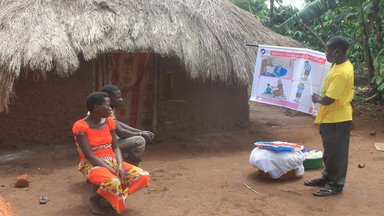 Partnerships to Prevent Malaria
Peace Corps Uganda works in partnership with PMI (President's Malaria Initiative), Joint Medical stores, John Snow In., PMI Uganda Malaria Reduction Activity (PUMRA) funded by USAID, Ministry of Health, commuity based organizations, district health teams, and the village health teams. The Peace Corps' activities are aligned with the Ministry of Health National Malaria Control Program (NMCP) strategic objectives that guides all our malaria prevention and control activities in the country.