Peace Corps Volunteer Exchange Visit
In Uganda, Peace Corps Volunteers live and serve in communities for two years and work on Agriculture, Education and Health projects, while Global Health Service Partnership (GHSP) Volunteers are doctors and nurses who serve for one year as Peace Corps Response Volunteers and work specifically to train future doctors and nurses in Uganda. 
The exchange program between the 2-year Peace Corps Volunteers and the GHSP volunteers was launched by the Country Director to help offer an exchange of Volunteer experiences and work. It is also meant to help the Global Health Service Partnership volunteers who serve in Universities and Referral hospitals to see the other side of Uganda that they may not see in their day today activities. It would also help offer a better understanding and appreciation of some of the cultural aspects of Uganda. 
Chelsea offered me a great view of her world out in a town in Northern Uganda.  We had a great tour of the town with one of her primary contacts in the community and had a long discussion about the community. I stayed at her house on Sunday night and she cooked me a very lovely meal on her sigiri (charcoal stove).  I got to experience her home life living on the Health Center III (HCIII) compound. I toured the Health Centre with her where I not only saw the physical structure, but got a good idea of operations through meeting the staff.  Our next stop was a primary school where we met Chelsea's favorite teacher and had a discussion on how Peace Corps might have greater impact in the school.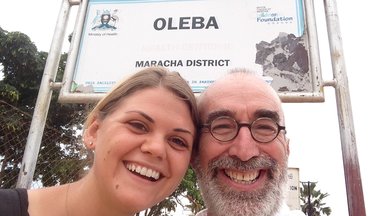 Our last visit was to the diploma nursing program campus that sits between Oleba and Maracha.  We met with the school's director, a U.S trained nurse who has had a hand in the development of the Bachelor's of Nursing program at Muni University, and I was able to see a practical skills lab class. As a result of my visit, I was invited to come back and speak about palliative care to the students.
I am very pleased that Peace Corps Volunteers and GHSP volunteers have the opportunity to see each other's projects and am very much looking forward to hosting Chelsea at my site.  The visit has helped me better understand the roles of health volunteers here in Uganda. Chelsea and I were able to see clearly that an overlap with Peace Corps Health volunteers and GHSP volunteers could provide a great synergy to provide more complex health presentations that could have a greater impact on local communities.
We also agreed and hope to work on some potential projects in the near future.