Peace Corps Uganda Welcomes Peace Corps Volunteers
Peace Corps Uganda welcomed back 33 Peace Corps Volunteers to serve alongside community members across the country.
On August 1, 2022, Peace Corps Uganda welcomed back 33 Peace Corps Volunteers to serve alongside community members across the country. Volunteers have not served in Uganda since they were evacuated in March 2020 due to the COVID-19 pandemic. The event marked the first time in the agency's 60 year history that Volunteers were evacuated from all global posts. Since that time, Peace Corps Uganda staff have continued to build on the mutual understanding, collaboration, and bonds that join our two countries.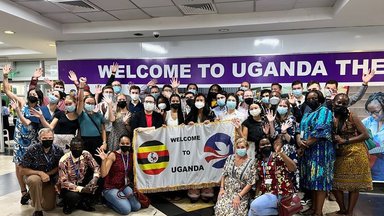 The return of Volunteers to Uganda marks a resumption of a long legacy of Peace Corps in Uganda which was interrupted by the COVID-19 pandemic in 2020 when the Peace Corps evacuated 7,000 Volunteers globally, including 137 from Uganda alone. The return coincides with the celebration of 60 years of strong partnerships and underscores the friendship between the people of Uganda and the United States.
We are thrilled to welcome Peace Corps Volunteers back to Uganda. Communities, schools, partner organizations, host families, and staff have been waiting for more than two years to welcome them back. That day is now here!

Peace Corps Uganda Country Director, Dr. Lily Asrat
At the request of the government of Uganda, Volunteers will work hand-in-hand with partner organizations and local communities to provide support in three sectors: education, health, and agriculture and economic development. While the absence of Volunteers for the past two years has been difficult, Peace Corps Uganda staff have worked diligently to put systems in place to plan for their return. In Agribusiness, Volunteers work to strengthen capacity and entrepreneurial skills, nutrition, and income generation. In Education, Volunteers work in literacy education supporting the country to strive towards inclusive education for all. They will also build skills, strengthen libraries and resource centers with books and computer equipment, and increase access to learners and the community. In Health, Volunteers work at the community level to improve access to HIV/AIDS services, provide malaria education, and improve maternal and child health.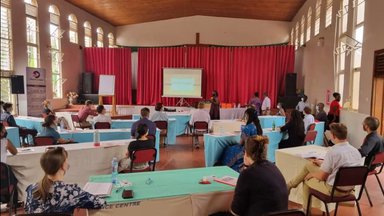 Through their service, Volunteers develop transferable skills and hone intercultural competencies that position them to be the next generation of global leaders and in so doing, help build bridges between our two countries.
Since President John F. Kennedy established the Peace Corps in 1961, more than 1,861 Americans have served in Uganda. For more information, visit our Uganda (peacecorps.gov), Facebook and Twitter Accounts.