Peace Corps Uganda Volunteers commit to increase access to reading materials for Ugandan children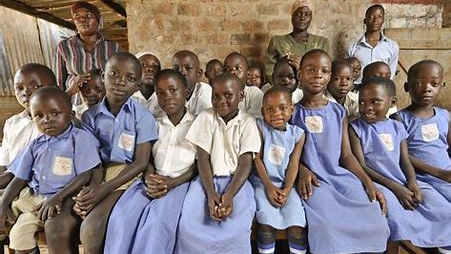 June 13, 2023
Learning to read, write, and communicate effectively without consistent access to reading materials is like trying to find a destination without a map.
Introduction
Imagine, if you will, trying to navigate through a large city you have never been to before without the help of a map or a GPS. As you stumble your way through unfamiliar streets and confusing landmarks, you wish you had some direction to show you where you are and where you're going. Sure, you may have received oral directions before embarking, but in the labyrinthine maze of the city center, what you need is to get your bearings. What you need is a map.
Books and other didactic materials act as this proverbial map for young minds allowing them to synthesize, reinforce, and put into practice what they are learning both in and outside of the classroom. Research, including Susan B. Neuman's important case study Books Make a Difference: A Study of Access to Literacy, bears out this phenomenon.
A child's access to reading materials, or lack thereof, can have profound and far-reaching effects on their education outcomes for the remainder of their lives.
Many Ugandan children do not have access to reading materials on a consistent basis if at all. There are several reasons why this is the case. First, many schools, especially government ones, simply do not have the resources to procure, disseminate, and store books. This may seem paradoxical to readers who have attended a school in the United States, however when many Ugandan schools struggle to pay for basic needs such as staffing and water, books lower down on the list of priorities. Additionally, very few Ugandan families have the disposable income necessary to purchase reading materials for their children. Even if they did, most bookstores are in large cities a considerable distance away from rural families.
Many children in Uganda lack access to those vital intermediaries that help to cement the bridge between what is being taught in classrooms and what is being retained by the student: books. Below are the stories of what Peace Corps Uganda Education Volunteers have encountered and how we are working to overcome them.
---
Abbie Lenz: "Mpora mpora"
Before I came to my school, the library remained frozen in time. It was the same as it was 15 years ago. There were a few exceptions of USAID donated books, but other than that the physical space for the books, the way books are handled, and when books are used remained completely the same.
The 'library' is a multipurpose small storage space (broom closet) that houses books, gardening tools, sport equipment (what little there is), and other miscellaneous items not related to reading. This space contains about 400-500 books, which are organized on shelving and by subject matter. Workbooks for most of the subjects and COVID-19 at home study books take up the most space. Only 10% of the books are actual story or picture books. At most the space can fit 4-5 students so teachers only send a few students to retrieve workbooks for lessons. What books are not touched remain covered in enough red dust to obscure the cover.
In stark contrast to the American schooling system which includes reading as a daily practice, students here have not been sensitized to handling books or reading consistently. Due to the rarity of access to books, the students treat books as objects to be played with which usually means they fight for one and are rough without care. From observation, I have come to learn that most of the students only have access to books here at school and not at home.
Throughout the hustle and bustle of a day at school, the library remains locked until visited by the students getting workbooks for class or a teacher picking the workbooks for reference in a lesson. After the books are used for class, they are automatically returned to the shelves in the library and locked. Until we started DEAR (Drop Everything and Read) Day reading once a week, I only observed workbooks being taken out for class, never reading story books in class. In fact, it was not common knowledge amongst the teachers that there were story books in the library to be read. The practice of reading using creative materials remained non-existent as the already packed day of learning made it difficult to incorporate and foreign to do.
Some of the current challenges the school faces include: the rough handling of books, limited variety, lack of funds, no librarian, small storage space, and lack of a reading culture in schools. With the lack of sensitization and practice with how to care for books, many are torn and are missing pages. Regardless of the condition of these books, students are very eager to get their hands on any book. Given the limited number of books, the library lacks variety and a sufficient number of books for all the students. Every week, most of the classes are rereading the same books they read the last few weeks. This is great practice, but students get bored of the same story and their attention is limited. In most cases, they do not have books with the correct reading level so some struggle to get through a book that is out of their reading zone. At this point growth is limited as the reading material is too difficult to read. I found this especially with the lower primary classes. The library contains very few varieties of books that allow for kindergarten level reading. Furthermore, government schools rely heavily on the term funding from the government to keep it running. Without other avenues of raising funds, the school relies solely on government funding. Subsequently, no funds are allocated to the purchasing of books. The school relies heavily on donated books from organizations abroad.
Furthermore, the teachers are already overworked as the staff number is quite small and the responsibilities are many. There remains no extra help in running a fully functional library and keeping it organized. The small space for the library does not allow for free movement of the students to browse the books. The one time the library was open for students to come look it was quickly overrun and disorganized. One of the last of many challenges includes the lack of appreciation of how important reading is to a child's academic development. I have heard statements like "they can't even read, they only look at the pictures" and "they don't understand what they are reading so why are we having them read". The practice of reading is not in the current curriculum. Some teachers see reading books as a waste of time. Once the reading practice is not ordered by the boss or strongly encouraged, old patterns of reading fall back into place and the books once again become covered in dust. The challenges are many, however, as they say in the local language mpora mpora which means slowly slowly. Development in the culture of reading moves mpora mpora, but it has an upward trajectory. The little things we do everyday to build and develop reading adds to the overall goal of schools' embracing reading as a critical part of academic development in children.
Now that I spoke to some of the challenges, I want to divulge some of the successes at my school and solutions to be put into motion. My school benefited from a donation of books from USAID years ago. have been able to tap into those donated books which are now being utilized for reading for pleasure and practice.
The faces of the children light up when they see the books coming into their classrooms. This joy so rarely tapped into reminds everyone what the power of reading can do for learners. Over term 1 2023, reading practice coinciding with everyday lessons, the students are becoming more fluent and effective readers.
The last piece of the puzzle missing is the student's comprehension of what they are reading. Since I arrived at site, the school has implemented a weekly Drop Everything and Read (DEAR Day) activity every Wednesday for one hour of reading. This has been a huge success. For the first time, learners enjoy a full hour of reading and access to the story books once untouched in the library. Another success includes reaching out to organizations for book donations. We have received a class set of books and a few story books from generous donors. I plan to continue to reach out to different organizations for more book donations to slowly build up the library and avail more variety for the learners to read. The search for sustainable solutions remains. I hope with the help of motivated teachers we can sensitize everyone in the school to the importance of reading and build a culture of reading that will be sustained. To keep building the culture, I would like to develop a functional library which includes creating a new space and co-creating a system to allow for more freedom of reading for the students. There is much work to do to create a sustained reading culture here at the school, but mpora mpora it can be done!
Kate King Hagen: "Three hard-learned lessons"
When I toured my new school for the first time, I was somewhat surprised to see a well-stocked and organized library. At first glance, I thought to myself, library development won't be part of my Peace Corps service. During my first week at site, visitors from a regional university came to deliver two new computers equipped with Microsoft Office and the visual-accessibility software J.A.W.S., a program widely used across the United States. Additionally, these visitors gave the school a machine that uses a camera to scan a document below and project an enlarged picture onto a screen above, designed to help readers with low visibility, a calculator that reads numbers aloud and another device that similarly scans print documents but instead of enlarging the material, translates the data to speech and reads the material aloud.
As the regional school with specialized instruction for pupils with visual disabilities, my school must always have braille copies of textbooks and braille typing machines for the pupils who need them. And we do, we are well stocked. Due of this status, the giving university wanted to provide technical opportunities to further develop those students with visual disabilities. My school has the solar power to support the hardware and the print materials to preclude using the advanced technology.
My Ugandan primary school library is as state-of-the-art as many in the United States. Upon a thorough inventory of its contents, I found we have 842 unique titles, of which 238 are storybooks, and a total of 10,036 copies of books within the library. We have 14 braille machines used by students in Primary 3 class and above, eight Orbit braille recording devices, a braille printer, a standard printer, and two computers. I discovered, however, that none of this great effort in book or technology acquisition mattered, as no one utilized the library for anything beyond a well decorated meeting room.
The access barrier my pupils are confronted with is not a lack of physical resources, but rather of human capacity to manage and disseminate reading materials. My headteacher, my deputy headteacher, my counterpart, who has worked at this school for almost 30 years, and the librarian all told me that pupils are not permitted in the library because they are concerned that the children won't take care of the books. I heard statements like, "People steal from the library so we keep it locked always" and "These children, they can't read. They only look at pictures." A fully stocked library, covered in dust.
At the end of the year, about one month after my arrival, the teacher-librarian (as most schools have no designated librarian, a position in American elementary schools that requires a degree in Library Technology) transferred to another school, leaving the position open. My headteacher, counterpart, deputy headteacher and myself all independently came to the conclusion that I should be the librarian in the coming year, in addition to teaching a yet unknown quantity of classes. I was going to open the library and empower these kids to read.
Over our school break, I completed an inventory of the library and organized the books into a system that kept subjects together and brought forth storybooks for pupils to easily see and read. I found the old library handwritten, paper database book, completely empty, and set it out, ready to record numbers. I dusted a lot. And then, after the first week of school (one of the more chaotic and disorganized weeks of my life)
I opened the library doors and waited. Sure enough, pupils came. The first two days were lovely, 5-10 pupils would visit each day, some took books and some didn't. I manually recorded everything in the database and considered myself very successful. Then they all came.
With 20-20 hindsight, I can see that the pupils at my school had absolutely no idea how to use a library, how to care for books, and organizational systems, how to move quietly in the space to allow others to read in peace, and how to follow procedure to check-out books. After two of the most horribly stressful afternoons of my life, I thought about closing the library. Due to the lack of trust, freedom, and access they had not previously enjoyed, my pupils left the library in shambles and with fewer books than the paper database would suggest. The other teachers watched while I drowned.
I soldiered on through the term, getting stricter about rules, and more vocal ("Bags outside!") about some of the guidelines the other teachers told me about after the colossal grand opening. I also learned to be more discerning about how many books a pupil is holding within other books as they try to sneak out more than one at a time. The best thing I did was scrap the paper, embossed, traditional database and created (on one of the fancy new computers) an excel spreadsheet database, in which I could search names.
By close of term, we had over 400 books checked out over 13 weeks, of which approximately 250 are still not returned, and many, many lessons learned. For now, I'll keep it to three.
Lesson 1: Opening the school library fills an essential market gap. 400 is about one half of the school's student body, meaning that in the given market of consumers there is at least a 50% demand for books and reading, and potentially more untapped interest. Pupils crave more material, more information, more access. The library is necessary.
Lesson 2: A structured library class is necessary. Pupils, and to an extent other teachers, are confounded by the school library. Many do not know how to utilize the books, the space, the resources; they do not know what the rules of engagement are: put unwanted books back where they came from with the spine facing out, maintain a peaceful environment, take care of the books, don't open closed cabinets, etc. The greatest unknown here is the potential our library has to provide opportunities for independent learning. A structured lesson teaching, yes, the rules, but also giving a sneak peek to some of the stories and lessons that can be gleaned from books, will help focus the feverish curiosity of the learners.
Lesson 3: Plan for innovation. My state-of-the-art library technology was not touched by a pupil until the last week of term. Throughout the term, the pupils all watched in wonder as I quickly typed names and titles into the database, searched for books still out, and highlighted returned books. My fast typing has attracted much attention at my school. In that last week of term, two pupils came in and stared at a distance with fascination as I typed other work on the computer. I saved my work, opened a fresh word document, and asked if they wanted to come try. Eagerly they said yes, and, sharing the one chair in front of the computer, two pupils with visual impairments shared the headset, keyboard and the mouse to work together to type a random stream of unrelated sentences. With glee. It's one of my favorite memories of service so far in Uganda. The library has these resources and to date the humans using it have no understanding or precedent for using them, and in my Ugandan school if it hasn't been done before it might not ever be done.
Of course, we will continue to work together to look for more and more storybooks of all reading levels and that increase pupil exposure to diversity, a task not easy for my site and many others. There are almost no fictional books to be found in Lira Town, one of the central and pivotal cities in the northern region. We will turn to the aid of book donation delivery services to help fill content gaps in our storybook selection. A few niche organizations provide this service to those who know to ask. The school itself can find funding each term to purchase only a handful of new textbooks primarily used by teachers to guide lesson planning, a more important use of limited funding than paying for storybooks. Many schools, mine included, have large metal trunks filled with books written, published and provided by USAID; ours are filled with literacy textbooks that teachers don't prefer to use over the ones from Ugandan publishers such as St. Bernards or New Fountain. These crates go untouched and take up space, the mark of a failed initiative.
Going into the next term, albeit with much less early activity as we're still waiting for returns, I'm eager to create sustainable systems: check-out and inventory processes that are easy to explain and carry out for teachers and future librarians, student leadership roles aiding library operations and personal development, clear and visible rules about book usage, planned time dedicated to simple exploration of the library and its contents, and much more. We already have the books and the computers, the space and the demand; now we must create the framework to a usable library existence.
I am optimistic about the opportunities our library will create for our school and its pupils.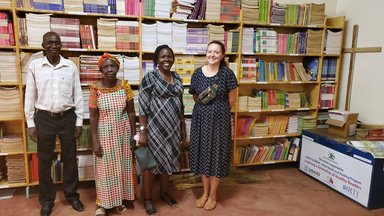 ---
Liz Sachse: "Getting to the root cause and addressing it"
Prior to starting my Peace Corps service in Uganda, I had done internships in various African countries that involved some teaching. The schools I worked at had few resources and classrooms available. I often found myself buying my own teaching materials and teaching children on a mat underneath a tree. Given this experience, I wasn't surprised to find the school I'm currently working at to be lacking in resources and not have a library. If anything, prior to ever visiting my site, I assumed the school was not going to have a library. What I didn't expect, however, was just how few reading materials my school would own and make available for its pupils to utilize.
Unlike most Education Volunteers, I teach the higher grade levels in primary school. Given the pupils' older ages, the English lessons are advanced and often require the pupils to do lengthy exercises in their notebooks. In most cases, these exercises come directly from textbooks that the school provides. This tends to be an issue though, as my school has large classroom sizes and far too few textbooks available to accommodate these classroom sizes.
There can easily be 120 pupils in one classroom, yet there will never be more than 15 textbooks available per class, forcing teachers to write exercises on the blackboard for the pupils to copy.
Although this is a fine solution for the time being, this process takes time and does not allow for pupils to read textbooks (or any kind of books for that matter) whenever they'd like.
It would be ideal if, instead, the school had enough textbooks to distribute amongst all pupils. That way, the pupils can refer to their textbooks both during class time and after school hours. Obtaining this large quantity of textbooks may seem daunting and perhaps unlikely to be achieved, but I have decided it is a goal worth working towards. I also realize that to achieve such a thing, one must first understand the root of the issue. Why would an educational institution have such few learning materials available in the first place? After speaking with my school's Headmaster and a few other teachers, I was informed a lack of funds was the big reason at my school. The school, like many in Uganda, simply did not have money to buy more (text)books. A second reason, I realized after noticing that two former classrooms were transformed into the boarding pupils' dormitory rooms, is space. Even if my school had all the books in the world to hand out to its pupils, there are not enough closets, classrooms, or buildings readily available to store the books in. For the school to increase its number of reading materials, the issue of space needs to be addressed.
Thankfully, at the time of writing this article, my school's staff and I have a plan in place to tackle the issue of space when it comes to storing books. We plan to establish a brand-new library building on the school's property. At the same time, we will acquire more books to store in this library, allowing pupils access to reading materials they did not have access to prior. To reach these objectives, the school is dependent on donations given the school's current lack of funds. Since being at site, I have reached out to various book organizations, who have agreed to donate and ship storybooks to our school. I have also applied for a grant to build a school library and have teamed up with a third party that has experience in library construction. The grant can be approved any day now, and the construction of the library should begin very soon- something all pupils, teachers, and staff of the school are looking forward to. Once the library is completed and the book donations have been received, I hope the increase in the number of reading materials and access to reading materials will inspire pupils to read for pleasure. Ideally, my school's future library can foster a reading culture not just at the school, but within the entire community.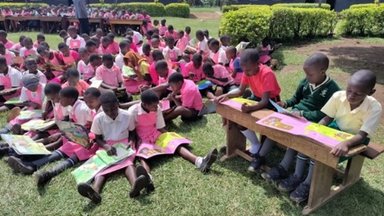 ---
Michael McMorrow: " Meeting the needs of the community"
I've always been enamored with libraries. Reflecting upon it now makes me realize that every stage of my life has had its corresponding library. Whether it be the local public library my parents and I would cycle to when I was a child, the chaotic reading space at my high school, or the cavernous confines of my favorite library in college. Libraries have always afforded me a space to feel at home. I've always been well served by both their function and their form, by their allure of learning and their inviting atmosphere.
It should be no surprise then, that my relationship with libraries took a serendipitous turn once I arrived in Uganda. After showing interest in my school's library when I first arrived at my site, I was given the opportunity to be the school's librarian, which I accepted with alacrity. What good fortune, I had been given a role that so closely aligned with my interests.
My school is very fortunate to have a library that is well-stocked and quite expansive by the standards of Ugandan primary schools. It is housed in an old classroom and contains approximately 2,000 books which are held by shelving units on the room's walls.
Even with such a relatively strong library system in place, there were, and continue to be, many obstacles to overcome in running a library that meets the needs of the community it serves, which is our library's most important function. When I first arrived at site, the library had no organizational system and termites had done significant damage to many books. What's more, the library was utilized very infrequently, if ever, by teachers and many students could not remember the last time they had been allowed to visit. Happily, our library has had success overcoming challenges while also building toward the future in these first few months.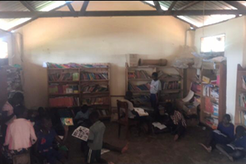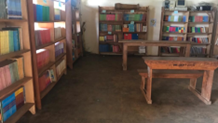 The library has been cleaned and books reorganized, with shelf tags added to help identify which types of books are kept where. Textbooks have also been organized by subject and grade level to allow for easier access to teachers. To improve student access, we have set up a weekly class for all grades Primary 2 through Primary 6 that focuses on exposing them to reading materials. During the classes, students are taught about the library's organization system, books are read aloud to the class, and students are allowed time to browse the library by themselves.
We have also been able to make strides in securing additional resources for the library. By reaching out to international organizations, the library has already secured 3 separate shipments of books from abroad with several more on the way. We have been able to add over 400 books to the library's circulation in the past 3 months alone! We are most proud of the fact that these books are relevant to our community and have the potential to help them in their daily lives. For example, we requested and received a donation of healthcare books, including Where There Is No Doctor, that are written to help individuals in places where there isn't much healthcare infrastructure.
There are many plans we have for the library's future, including opening it further to the community outside of the school. Ideally, we hope that the library can operate like a library in the United States in the sense that it is a catalyst for community advancement and provides resources that would otherwise be unavailable to residents. It is critical, however, to remember that the library must be tailored to the community's needs and not be simply my vision of what the community needs.
Apropos to community needs, what I am most excited about is the mobile library project we have recently begun piloting called "Teacher Michael's Book-Cycle". I recently had a bike shop install a shelf on the back of my bike, nicknamed "Terminator" for the wording painted on its rims. A basket and a few zip ties turn the bicycle into the perfect medium for carrying books. I can load the basket with children's books, books written in the local Luganda language, and newspapers in both English and Luganda and bike to areas of my community that aren't otherwise readily accessible. I stop my bike at an open area, lay down some grain sacks, and wait for visitors to stop for a while and read. As a natural introvert, I also feel these trips help me to introduce myself to community members that I wouldn't otherwise have the chance to meet.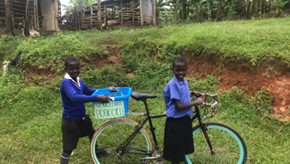 As exciting as developments at the library have been thus far, I know it has the potential to have a much larger impact. We continue to look for ways to supplement our existing resources with new books and technology. To ensure that the library is in good hands moving forward, we have a group of children named "Teacher Michael's Lunchtime Library Helpers" that are learning to arrange the library, enforce library rules, and reshelve materials on their own. It is gratifying to see how quickly the students have learned how to manage the library and how eager they are to take an active role in its upkeep; I'm reasonably confident that if I were to hand over the keys to the students now, they would be able to run the library with some degree of proficiency. If this much progress has been made hitherto, it is extremely exciting to think of what we can build the library into going forward.
All in all, I have had a lot of memorable libraries in my life up to this point, but the library at my host school in rural Uganda will always hold a special place in my heart.
---
Taylor Pangman: "The storage closet and library"
The library at my school doubles as a storage closet. It is a place to store things, like sugar, tissue paper, old computers that pre-date the 1990s and, incidentally, books. It is dusty and dark, and people only think about it when they need something- usually sugar or toilet paper, not books.
Most of the time, the library is locked, and pupils only venture there when prompted by a teacher. Teachers often send pupils to the library during breaks and mealtimes to retrieve ingredients for the cook or tissue paper for the latrines. Pupils rarely linger in the library long enough to examine the school's collection of books.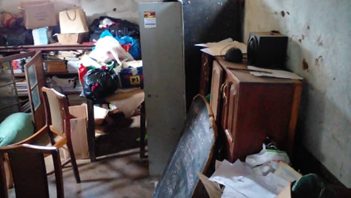 Although the books are old, dusty, disorganized, and concealed within closed cabinets, rather than placed openly on shelves, the school does have a decent number of books. Most of these books are textbooks, however, which do little to excite the imaginations of young learners. Many of these books were donated by organizations like USAID. My school relies entirely on book donations for its collection of books.
Without a reading culture, however, no amount of book donations will change the way that pupils and teachers store, care for, or perceive books. Perhaps for many of my pupils, school is the only place where they have held a book. Many pupils have told me that they do not have books at home.
Like any other resource, books are only worth as much as the value they are perceived to have. While foodstuff maintains the body and toiletries clean it, books nourish the mind and soul. Also, kids simply like having books around. They treat them like toys, and, if nothing else, enjoy holding them and sharing them with their friends.
This insight – the role of fun in reading and, more broadly, in literacy development – has informed my initial efforts at my school so far. Whenever I can I put a book in a kid's hands; and often pupils find me and ask me to assist them with some book. I want my pupils to develop positive memories and associations with books and reading.
My next step is to work with my community to construct a library building around the existing facilities at my school. This new library will serve as a designated location for exploring books of all kinds. It will have a door that leads directly from the school compound and windows to welcome the light. It will be open at consistent hours for pupils to explore at their leisure and as part of classroom activities. There will be no room for condiments, toiletries, or obsolete technology.
Cailean Demmon: "Building a library and a reading culture"
One of the first things I noticed when I first came to my school was the lack of books and other reading material. The classrooms at my school do have reading material in the form of posters on the wall; however, they have very few books, if any, and what books they do have typically take the form of textbooks or class readers. These books are typically stored in cabinets that are locked and the only person who has access is the teacher. I know of a few teachers that allow their students to check out the classroom books, turning their classroom into a makeshift library as there is no dedicated library. However, there are only a few classrooms that offer this and so for most students at my school, their only reading material consists of lessons written on the chalkboard and posters on the wall.
Access to reading material in the community is somewhat better. Newspapers are very common and easily accessible, and shops sell the day's paper. Most Ugandan homes have either a copy of the Bible or the Quran, depending on that family's religious leanings. It is also not uncommon to see someone selling basic level English books meant to help low-level English readers and so some Ugandan households have some of these books. It is possible to find reading material; however, it might not be the most interesting material and unless you have a family that is very supportive of reading, it is very easy to go without it.
This lack of reading material makes the creation and continued development of a reading culture for my site a difficult task and I have realized that it is part of my job to work on addressing this. During the first term, I helped organize the school's Drop Everything and Read (DEAR) Day, which was a great success. I saw many different children become incredibly excited about the prospect of being able to hold their own book or story. Afterwards, pupils came to me asking me if we could have DEAR Day again. They wanted the chance to read again. This solidified in me the necessity of a library for my school. I talked with my Head Teacher and together we devised a project grant proposal to acquire the funds necessary to build a new building that can serve as the school library. The project is still in the planning phase, but I am very hopeful that within six to nine months, there will be a working school library on campus and pupils will have the opportunity to just read.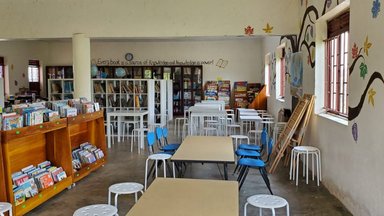 What happens when a Volunteer leaves?
If anyone wonders what happens after a Peace Corps Volunteer leaves, you can get a glimpse below. PC staff, Amelia Naturinda, recently visited a community in Busia District. She discovered a legacy project by Volunteer Madison Dellamuth. The project was a psychosocial support center with a resource room. Madison and her community members identified a need, wrote a grant, and utilized the funds to refurbish an existing multi-purpose facility. The key point- the resource room is still functioning long after the Volunteer has departed. This is what grassroot development looks like!