Peace Corps Uganda's training program: setting up Volunteers for success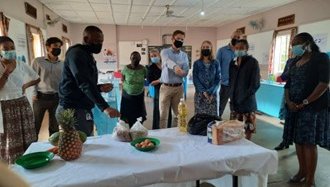 June 21, 2023
At our core, Peace Corps is a training organization. We train staff, Volunteers, and community members. Our training approach has evolved over the decades, but we are always striving to facilitate learning, in whatever form that may take.
What does PC training entail?
Peace Corps Uganda's training program is intended to prepare and support Trainees and Volunteers as development professionals and ambassadors of peace and friendship in their service. Pre-service training (PST) is the initial training when Trainees arrive in country. This allows Trainees to participate in a variety of learning experiences that will contribute to their personal growth and professional development to be successful in their service at post. PST is comprised of eleven weeks of training that includes six weeks of center-based training, four weeks of community-based training (inclusive of full homestay immersion experience and partners' regional workshop) and one last week to wrap up training, orient supervisors about Peace Corps, and support strategies for Volunteers and the swearing in ceremony. During PST, Trainees have learning experiences that contribute to their development of competencies in: Technical, Language, Interculture, Safety & Security, Medical, Intercultural Diversity and Inclusion among others.
Evolution of PC's training approach
Peace Corps Training has evolved over the years. This includes the Training, Design and Evaluation (TDE) process of 2006, the Focus-In Train Up (FITU) approach that contributed to development of the Global Learning Standards (GLS) of 2013. The most current and revamped training approach is the Volunteer Competency Model (VCM). In 2021, Peace Corps approved the establishment of the Volunteer Competency Model through the Training, Design and Assessment (TDA) process.
Competency Based Learning
Peace Corps Uganda, like countries across the world, incorporates the Volunteer Competency Model (VCM) into their training programs as the agency standard for Volunteer learning and performance through the Training Design and Assessment (TDA) process. The TDA process supports learning experiences that contribute to the development of Volunteer competencies. This approach also focuses on the assessment of competencies and feedback to the Volunteer at different points throughout their learning journey. Assessments are designed by staff to measure performance of the competencies. The purpose of assessments are to assess mastery of competencies, to provide feedback, and ensuring that support is provided to enhance learning and performance.
Training Design & Assessment
The TDA process is a structured, participatory process that is conducted after the design of a new project, after significant revisions to a project, or after the introduction or revision of Volunteer competencies. In this case, Uganda adopted the VCM after revising all the three Project Frameworks and Volunteer competencies in 2021. PC Uganda embarked on the TDA process by developing two required project-specific documents - a continuum of learning and assessment ("the continuum") for staff and a learning and development plan (LDP) for Trainees/Volunteers. The continuum is a post planning document that ensures and supports the Trainees and Volunteers' sequenced learning and assessments in the Volunteer lifecycle. The LDP is developed by post staff and shared with trainees. It clarifies expectations of Trainees and Volunteers as learners and performers and lays out mechanisms for them to receive feedback and support on their learning and performance throughout their service.
Work in progress
Uganda completed the TDA process in 2021 prior to the reentry of Volunteers and implemented the TDA in 2022 with the first cohort of Volunteers post evacuation. Currently, Peace Corps Uganda is designing and refining learning experiences in various training formats to suit versatile learning needs as well as meet our learning objectives. These training formats include classroom which is instructor-led, live, in-person, facilitated learning; virtual classroom which is instructor-led, virtual, facilitated learning on a digital platform; self-directed learning which is independent learning conducted at the learner's own pace and timing and typically involving a variety of media (print or digital resources, which can include e-learning); field-based learning which is instructor-led or self-directed learning that is derived through concrete experience outside of a formal learning environment and blending learning which incorporates the best training formats available for each specific learning objective incorporated into a series of related learning experiences. One of our biggest challenges is navigating the virtual training environment with limitations like appropriate technology, intermittent internet, and electricity in addition to change management.
Measuring learning
Peace Corps Uganda staff assess Trainees and Volunteers' performance based on their mastery of competencies. The competency indicators show whether Trainees' performance meets the set competency standard and further consider a broad range of competency indicators developed by HQ and post where required. Through the assessment process, staff can generate objective, observable data that determines what support the Trainees need as well as their readiness to be sworn in as Volunteers. Assessment methods to assess mastery include the Language Proficiency Interviews (LPI), the Health and Wellness Learning Assessment, the Safety and Security Learning Assessment, Practicum and two Roundtables during PST. These methods take the form of quizzes, interviews, observation/interaction, presentation/demonstration, self-assessment among others. Staff assess the competencies using the three-point rating scale that includes Does Not Meet, Meets Developing, and Meets Performing. These are the global standard benchmarks that are set based on expectations for learning and performance. Trainees who score below the required benchmark and rating scale are supported in their learning to achieve the set benchmark by an agreed period. To ensure that Trainees are accountable for their learning and performance, Volunteers sign a learning contract. The Trainees review and sign them and commit to meeting their learning goals as stipulated in their Learning Development Plans (LDPs). The Trainees' personal LDP further reinforces and supports their ongoing learning throughout service.
Going virtual
The COVID-19 pandemic demonstrated that we needed more versatility in how we do business. We are exploring more creativity and flexibility in how we train. This includes further virtual training and hybrid opportunities. We have implemented several virtual trainings with partners, staff, Virtual Service Participants in 2022. Staff has trained up on using online platforms continue our efforts in this area. We recognize the global trend, and we intend to keep up with it.
Still learning
As a learning organization, we continue to rethink and revise how we do training. We regard our learners as co-creators and so we continue to receive their feedback and incorporate learning. We also recognize that the methods of yesterday may not be the most appropriate for the learners of today. We continue to explore opportunities for more experiential and self-directed learning as we give the learners the responsibility for their learning and performance. We continue to build our capacity to provide ongoing and tailored support. We are setting up processes for a continued formal assessment of Volunteers' competencies throughout their service, to ensure we provide ongoing support. We continue to listen, collaborate, learn, and adapt. After all, we are a training and learning organization, we should expect nothing less of ourselves.