Peace Corps Uganda promotes early reading through Drop Everything And Read (DEAR) Day
Peace Corps Uganda, along with many partners, celebrated Drop Everything And Read Day.
On July 1, Peace Corps Uganda, along with many partners, celebrated Drop Everything and Read (DEAR) Day. This is the eighth year of the celebration and was the largest one yet. The partners included the Ministry of Education and Sports, the Oasis Book Project, the Reading Association of Uganda, Enjuba, Rotary Uganda, River Flow International, Deaf Link Uganda, Read for Life Gulu, One School at a Time, and Knowledge for Children. Each of these partners contributed in its own way through book donations, mass media mobilization, tapping into their networks, reading books on radio, and even through reading via loudspeakers at local markets. It was truly a collective effort and each partner's contributions were critical to the success of the event.
This year's theme was "Imagine Reading as a Way of Life" to encourage Ugandans to make reading a part of their every day lives. The Peace Corps efforts around intercultural competence, diversity, equity, inclusion, and accessibility (ICDEIA) were highlighted in this year's purposeful selection of the Mulago School for the Deaf in Kampala for the main event.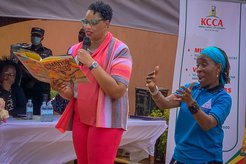 To promote the event, the partners undertook a mass media effort including, a press conference on June 29, radio and TV appearances, and significant social media activity in anticipation of the day. Peace Corps Uganda developed a partnership with the New Vision, a local publication with a wide audience, for the publishing of weekly articles covering DEAR Day. These efforts produced the desired results, and DEAR Day was celebrated far and wide.
U.S. Ambassador Natalie E. Brown was the main guest at the press conference and the DEAR Day event. Guests were treated to students of the Mulago School for the Deaf who signed and performed poems and dances. Ambassador Brown read a book to the students and concluded by donating 230 Ugandan books, which was arranged by the Peace Corps Uganda team.
The United States' activities in Uganda serve a single purpose: to help create an environment where every Ugandan child, woman, and man has opportunities to achieve their full potential, secure in their rights. Uganda's most important resource is its people; and the U.S. strongly believes education and literacy are the center of transforming Uganda.

U.S. Ambassador to Uganda, Natalie Brown
From the reports received thus far, there were 102,462 DEAR Day participants, which was a massive success. Peace Corps Uganda and embassy colleagues also got into the fun and shared photos of themselves reading and shared on their favorite books of all time on U.S. Embassy social media accounts. We look forward to promoting reading as a way of life every day and in having Peace Corps Uganda Volunteers join in on the fun with their students and communities on DEAR Day 2023!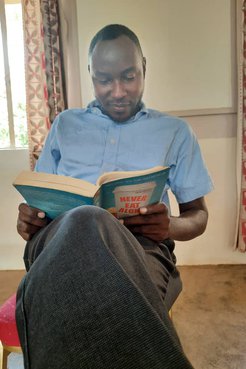 Since President John F. Kennedy established the Peace Corps in 1961, more than 1,861 Americans have served in Uganda. For more information, visit our Uganda (peacecorps.gov), Facebook and Twitter accounts
---