Peace Corps Uganda promotes culturally relevant reading materials for Ugandan children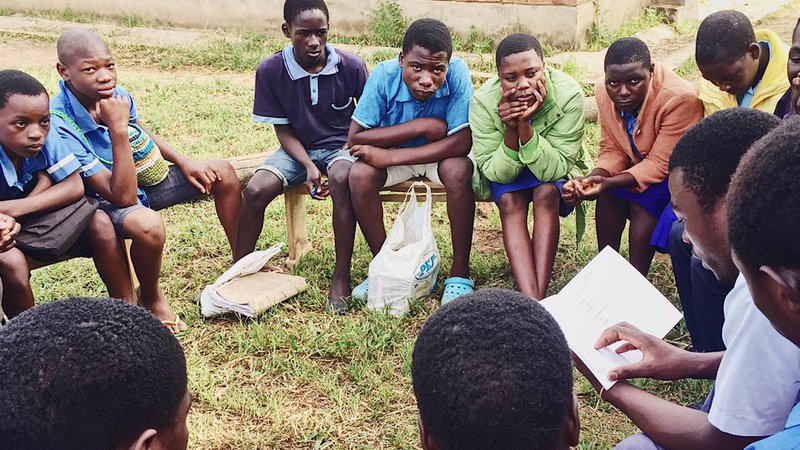 Jan. 6, 2023
Peace Corps Uganda promotes culturally relevant reading materials for Ugandan children
Peace Corps Uganda's Education program fosters Early Childhood Literacy and has the goal of supporting children to attain literacy skills and improve learning outcomes. Peace Corps Volunteers (PCV) in the Education sector build the capacity of teachers in general teaching skills, using gender-equitable practices in the classroom, increasing family and caregiver participation, and increasing students' and teachers' access to teaching and learning materials. The objective of achieving increased access to materials must also consider something very critical- cultural relevance!
Early reading and literacy research for many decades has shown that having multicultural literature in the classroom and at home benefits all children, and in fact can cause harm when absent. It has been long understood that students' reading comprehension improves when reading culturally relevant books whose characters, places and events align well with their own cultural and experiential backgrounds. Reading is, in many ways, a means of self-affirmation. When children struggle to see themselves reflected in the books they read, they can begin to question their own place in the world. Reading books that glorify heroes and heroines, princesses, and superheroes who do not reflect their own identities sends a loud and clear message: "you are not valued", "you do not belong" and even worse, "you do not exist". These messages are harmful to budding identities.
Peace Corps Uganda's objective to increase students' and teachers' access to teaching/learning materials and resources supports the selection of, availability, and access to multicultural books by African authors for children. While there remains a dearth of children's books by African authors in general, we celebrate Ugandan authors and entities that have, despite the odds, found a way to tell uniquely Ugandan stories, centered on Ugandan children's experiences, which have the potential to ease pathways to self-love, self-affirmation, self-acceptance and belonging.
Peace Corps Uganda celebrates the work of Ugandan authors and entities that are forging a path to improved cultural representation in children's books, literacy promotion, and the life-changing and affirming diverse representation in literature. Below are a few authors and entities striving to bridge this gap.
Oscar Ranzo is the author of many children's books including: Jomo's Twin, Jomo's Gift, Jomo's Car, The Little Maid, The Wise Milkboy, The Jewels of Amuria, and Saving Little Viola to name a few. He is the founder of the Oasis Book Project which aims to increase the profile of Ugandan literature.
PANGEA Educational Development is a social enterprise working to change the narrative of education. They have developed a series of culturally relevant and relatable reading materials. Titles include: Visit my village; the Unwelcome Stranger Visits; Sara rides a bodaboda; the Hunter and the Oldman; and the Wrong path.
Enjuba Spelling Bee is a strong Peace Corps partner that runs campaigns to get books to children, donates books to school libraries, conducts reading days in schools, supports reading spaces, and plans DEAR Day- Drop Everything and Read Day every year which is a big national event.
Nyana Kakoma is a Ugandan writer, editor, blogger, and publisher from Kampala. She created the online platform Sooo Many Stories that promotes diverse and representative literature.
Rehmah Kasule has authored several books such as From Gomba to the White House, Zara & Mika Leading Change in the Community. She has co-authored Sheroes of COVID-19 a children's book and of recent published Leading Educational Change During a Pandemic.
Kathy Kreutter is a dual citizen of the USA and Uganda. She writes books in the Ugandan context that are light, humorous, and contain positive images of Africa. Some of her works include: Amina's Choice, Something Old, Something New, Tendo's Wish, and I know an old Mzee who Swallowed a Fly. Her publishing venture is "Old Mzee Books: Stories for Families to Share".
Peace Corps Uganda Education Volunteers are in schools and communities throughout the country and support increased access and use of a broad range of diverse materials. In so doing, they impact growing minds and identities in a critical way that will manifest in positive ways in children for a lifetime.
Since President John F. Kennedy established the Peace Corps in 1961, more than 1,859 Americans have served in Uganda. For more information, visit our Uganda (peacecorps.gov), Facebook and Twitter Accounts.