Peace Corps Uganda was proud to represent the Government of the United States of America on the 12th of September at the opening of Muni University in Arua, Uganda which was commissioned by His Excellency, the President of the Republic of Uganda, Yoweri Kaguta Museveni.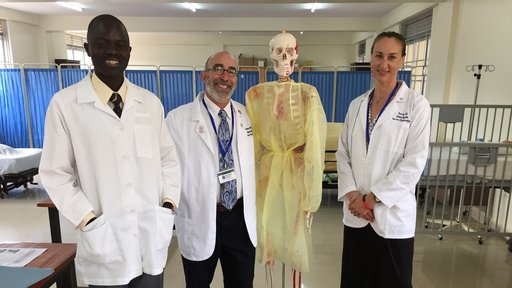 The opening of Muni University in Arua, celebrates the first public university to offer a Bachelor of Nursing Science degree in the West Nile Region. His Excellency the President of the Republic of Uganda Y. K. Museveni, came to Arua to officiate the commissioning of Muni University and the installation of the Chancellor Dr. Eric Tiyo Sekebuga Adriko. Peace Corps Volunteers Casey Jones and Karen Boshenstein, are Nurse educators under the Global Health Service Partnership teaching the first class of nursing students at Muni University along with Mr. Amos Drasiku their Ugandan counterpart and Acting Head of the Nursing Department at Muni University.

Global Health Service Partnership, a collaboration between Peace Corps and Seed Global Health, has been working in Uganda since 2012, helping to build capacity among local medical and nursing students. Nurse and Physician educators from the U.S. are collaborating with local counterparts to teach nursing and medical students in both the classroom and clinical setting.