Launch of 4th National D.E.A.R (Drop Everything And Read) Day
Peace Corps Uganda together with the Ministry of Education and Sports, joined partners Kampala Capital City Authority (KCCA) and Uganda Spelling Bee to launch the 4th National DEAR Day. The event was graced by the presence of Her Excellency the U.S. Ambassador to Uganda, Deborah Malac. Key for this year's event was the provision and access to reading materials.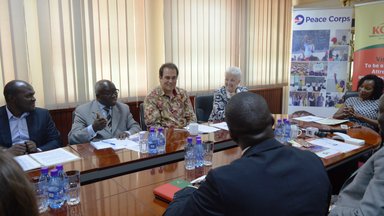 ......"reading well is the single most important thing anyone can do to acquire knowledge and excel in life" Ambassador Malac said!

The KCCA Executive Director, Mrs Jennifer Musisi Semakula urged the Government through the Ministry of Education and Sports to increase and commit funding to the development of Libraries and committed KCCA to take a bold step in requiring all private schools to put in place a library as a pre-requisite for being licensed.  Much appreciation to the Government of Uganda for gazetting March 15th at exactly 11:00 a.m. as the day and time for every individual across Uganda to Drop Everything and Read for 30 minutes or more. We would love to hear from you about your most memorable reading experiences.