Implementing Drop Everything & Read Day: perspectives from 5 Education Volunteers committed to improving early-grade reading in Uganda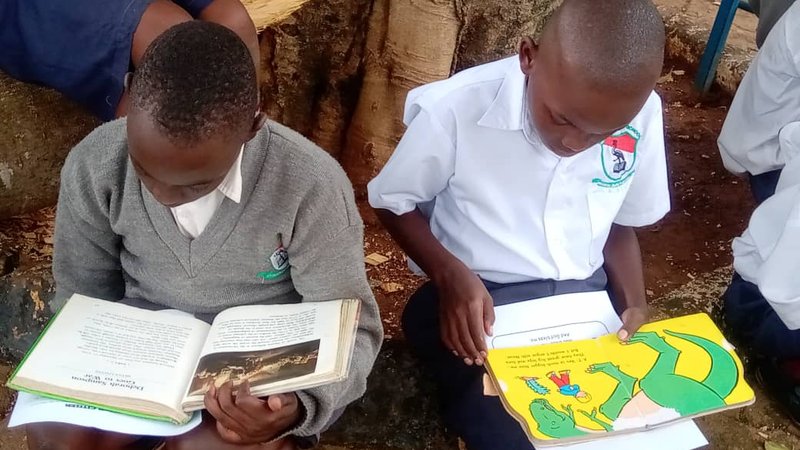 May 3, 2023
In the last 30 years, the literacy rate in Uganda has increased by over 20 percent.
The Issue
Around eighty percent of citizens, aged 15 and above, are considered literate. Statistics on pupils in upper and lower primary classes, however, show that over 60 percent of pupils in upper primary classes fail to read with automaticity, inflection and understanding. Meanwhile, only about one tenth of pupils in lower primary classes manage to read at all. These numbers come from a study conducted in the summer of 2022, after schools began 'post-Covid' operations.
School closures, caused by Covid-19, had a seismic impact on the education system in Uganda. While some studies show that literacy levels among primary aged pupils remained relatively constant between 2018 and 2021, the percentage of pupils who are unable to recognize, name, or sound out letters of the alphabet doubled from 2018 to 2021. Many of these 'non-readers' are enrolled in Primary Three classes, one of the grade levels that Peace Corps volunteers teach.
The Event
Drop Everything and Read (DEAR) Day is a uniquely Ugandan initiative initiated and driven by the Ministry of Education, Youth, and Sports and supported by Peace Corps for 9 years consecutively. DEAR Day aims to create a love for reading and seeks to promote a culture of reading. On a single day, every Ugandan is encouraged to drop everything and read at eleven o'clock.
DEAR Day's theme this year was, "Reading as a Way of Life." The most effective way for people - children and adults alike - to improve literacy is to read every day. The hope is that the concept of DEAR Day goes beyond a single day, with pupils, students and adults seeing reading as a normal daily part of life.
The 2023 National DEAR Day was organized by Peace Corps Uganda and Education Volunteers, collaborating third parties, and staff of participating schools. The Volunteers developed strategies to increase awareness about the event. PCV Liz Sachse created DEAR. Day invitations for Volunteers to distribute amongst parents. PCV Michael McMorrow ran various DEAR Day social media pages including on Facebook and Instagram.
Peace Corps' approach is grounded in local partnership. For this event, PC Uganda collaborated with various Ugandan publishing houses which provided resources for the schools to implement DEAR Day. Partnering organizations such as Enjuba, Oasis Book Project, Pangea Education, and Old Mzee Books generously provided reading materials and donated nearly one hundred story books to each Education Volunteer's school. We greatly appreciate the partnership.
---
DEAR Day at my school was a quiet, simple affair that needed relatively little work on my part.
Cailean
All I did was tell the teachers and the pupils the who, what, where, when, why of the event, and the only question they had for me was whether I was providing reading material. I told them I could, so I printed about 150 copies of "The Ant and The Grasshopper," a classic folktale, and bought a short stack of newspapers. Easy. The kind of thing you can have planned and ready to go in an afternoon. For the event itself, I feel like I did even less work.
For my school, DEAR Day lasted about 45 minutes and for all of it, I felt like I was just an observer, the metaphorical fly on the wall. I passed out what reading material I had, wrote down the number of pupils reading, took some photos, and that was that. It felt like I gave my school the tools and they just ran DEAR Day themselves. Which to me is a sign that my school's DEAR Day was a success and, if continued, could help develop a culture of reading at the school long after I - and the Peace Corps - have left.
One of the problems any school will have when hosting a DEAR Day is a lack of reading materials. Like some other Ugandan schools, my school lacks a library. Furthermore, what books it does possess are textbooks and class readers, not the most thrilling of material to fan the flames of reading in children. However, these books can still enchant the children who read them. During my school's DEAR Day, I saw many pupils become absolutely thrilled to just be able to hold their own book in their hands. They did not care that the book did not possess a story and just had some reading and writing exercises inside. They were excited that they got their own book.
One of the things that I remember most from my school's DEAR Day is not from my own experience, but a story told to me by my counterpart. He had his own collection of books in his classroom. He disseminated books to pupils, they went outside to read, and had a nice DEAR Day experience. After the event, my counterpart tried to take his book back from one of his pupils. She jumped back and grasped the book firmly. This was now her book, and she did not want to give it back! My counterpart did not want to grasp the book out of her hands, so he wrote her name down and let her keep the book until she was done with it. In essence, he had created a library. After telling me all this, my counterpart suggested that we should have more than one DEAR Day a year, perhaps do them once a term, or even once a month. A good suggestion that became even better when, the next day, pupils of all ages asked if they could do it again. A sign that there is a need for more reading and books at the school, and it is my job to fulfill that need.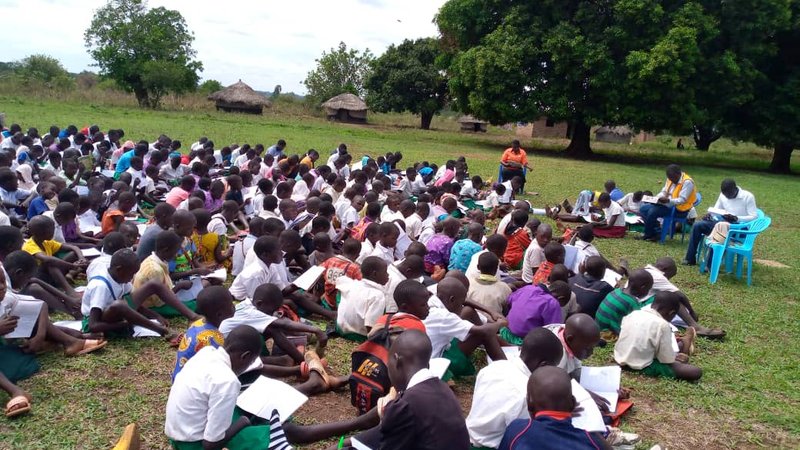 ---
While my school has a well-stocked library, pupils do not check out books for pleasure reading.
Delaney
Children are allowed to check out one book at a time, but usually just check out a book for class assignments.
DEAR day is an important day at my school, they have been participating in DEAR day for years. The activities are planned by the head librarians and anyone else who is interested in participating. DEAR day is also used as an opportunity to promote the library and recruit members for a book club. This year, DEAR day started the day before for the teachers, every classroom teacher went to the library with the number of pupils in their class and checked out books for every pupil to read during the activity. On the day, pupils set desks outside in the courtyard of the school for the upper levels and teachers to sit on while reading. We invited nearby schools to join us and were joined by about 10 pupils from a nearby primary school and about 5 students from the nearby secondary school.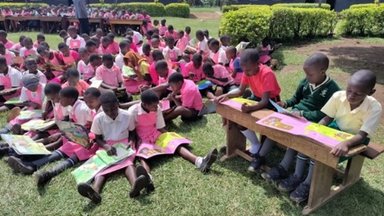 After we all read, the librarians about the library and the book club presented. Having upper class pupils present to the younger ones was a thoughtful way to demonstrate the benefits of reading. The presentation went through all the important components of reading comprehension.I remember the pupils' faces when I passed out the books to my class. They were all so excited to get their hands on a book!
DEAR day is important to the school and to the pupils, it gives everyone in the school an opportunity to get their hand on a book. It gives the librarians an opportunity to promote and showcase the library. DEAR Day gives everyone the opportunity to take time out of their day to sit and read. What a wonderful concept!
---
At my school, there is no school library and few story books available- even the textbooks used for teaching are limited.
Liz
Most pupils are dependent on the school for reading materials, which means reading opportunities are rare. It is, therefore, not uncommon for the young learners to demonstrate poor reading literacy skills. Fortunately, the National DEAR Day and its goal for Ugandans to drop everything and read provided a unique opportunity for the school to address this issue.
DEAR Day was held on March 15th, 2023. The event was attended by nearly 900 people including staff, pupils, pupils' parents, and other community members. Pupils ranging from ages five to sixteen eagerly participated in the reading activities while others watched. The event was led by center coordinator teachers in the area, who visited the school to celebrate the special occasion. They acted as judges for various reading activities. The pupils competed against one another in such reading activities, which challenged them to read stories in English, read stories in the local language, and recite poems. Lastly, the pupils participated in a DEAR Day fashion show in which they showcased self-made clothes. The clothes were made from sacks and decorated with written words and sentences. The pupils then "read their clothes" for the judges to hear. The pupils were scored on their reading comprehension skills, vocality, and overall confidence. Pupils with the highest scores received prizes. Given the many activities and large number of participants, the school's DEAR Day took nearly seven hours! Although the day was long and tiring, the pupils and staff had a blast!
All in all, the event made a lasting impression in the area. Parents traveled far to watch their children participate in the reading competition. While parents were grateful that their children had the opportunity to read in front of others, teachers observed an increased confidence in their pupils' literacy skills and pledged to include more reading activities in future lesson plans.
---
Knowledge is a candle for which a dream must give flame.
Michael
Here in Uganda, as is true the world over, children have an ingrained curiosity and capacity for learning. The challenge lies in providing children with the resources and exposure necessary to catalyze interest in learning and exploring the world around them. Many Ugandan schools have a dearth of books and reading tradition. Books, if available at all, tend to be used solely for doing homework or to copy information. Lacking is the view that reading can be a means to enrich a child's educational experience and can get children excited about and invested in their own learning.
In short, Uganda has many candles full of potential and what they need is a flame. DEAR Day serves as a source of that flame.
It is a powerful way to get children exposed to and interested in reading and to showcase the powerful ways books and learning can improve their academic career and their life outside and beyond that. While a single event on the calendar, DEAR Day, aims to spark a lifelong interest in reading, like a well-fed fire, the hope is that the interest in learning will be self-sustaining.
This self-perpetuating love of learning has certainly been felt at my school after DEAR Day, as evidenced by the uptick in children visiting the school library. As the school librarian, I am so lucky to see first-hand how a child's curiosity can be sparked by a book. It's important to point out that books aren't simply a physical item for students here. Coming from a country where many locals have a large stock of books in their school or civic libraries, it is so easy to take them for granted, to see them as simply as a physical embodiment of some subject or idea for enjoyment at our leisure. At my school however, books, as innocuous as they may look, are not a mere object, but a way for the children to interact with the world around them. As cliche as it sounds, to me, that is powerful.
DEAR Day was successful at my school and at many others due to the commitment of teachers and their willingness to not only support the actual event, but the continuation of reading as an everyday activity.
The teachers and administrators at my school are some of the most hardworking and resourceful people I've had the pleasure of meeting, and I know they will carry on their commitment to empowering children through reading long after I have left.
Thank you to all schools, organizations, and individuals who made DEAR Day 2023 a success. We are excited to get working on next year's event!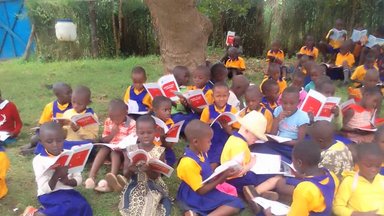 Taylor
Experts believe - and they have statistics to prove it - that children who read a lot become good readers. Intuitively, this makes a lot of sense. It reminds me of the familiar phrase, "Practice makes perfect."
Unfortunately, many of the pupils at the school where I serve have limited access to reading material. My school does not have a library, and most of the pupils do not have books at home. While, like sponges, they have an innate capacity to absorb information, they will only develop their reading skills if they have opportunities to practice.
Uganda's National DEAR Day celebration provided that opportunity. With the help of administrators, classroom teachers, and community members, pupils organized themselves into reading groups, learned new poems, and worked with a neighboring school to build foundational literacy skills. They even found ways to integrate traditional dances with reading activities.
The point is that everyone had a lot of fun. Hopefully, pupils will remember the day fondly and learn to associate fun with reading throughout the rest of their lives. Already I have seen them gravitate toward books. They seem to seek them out, like toys, in their downtime.
My school owes an enormous debt of gratitude to its teachers for organizing its DEAR Day celebration. They organized themselves into a DEAR Day committee, which helped plan and implement reading activities, and classroom teachers emphasized reading lessons a month before DEAR Day. Pupils learned to anticipate the day like any other holiday.
While DEAR Day is, in part, a Peace Corps initiative, it is a national event in Uganda. The teachers and pupils at my school showed that DEAR Day belongs to them. I am grateful to them for making me an honored part of their day- and for letting me coast on their coattails.