Empowering Ugandan communities through grants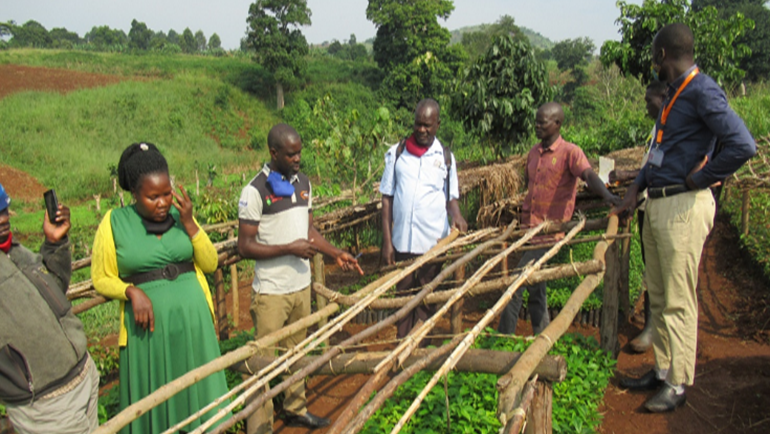 Aug. 16, 2023
You can have a great idea which will never come to fruition without people, commitment, and resources.
What is the PC Uganda grants program?
The grants program at Peace Corps Uganda started in 1983 with the Small Grants Assistance (SPA) program. Later, the Peace Corps Partnership Program (PCPP) and Volunteer Activity Support and Training (VAST) came on board in 2004. Our goal is to facilitate the development and implementation of sustainable grassroots small grants projects that build capacity and will make an impact. Small grants support community development, consistent with the Peace Corps approach to development. We believe that success is achieved by collaborating together to identify needs, identify assets, and use community skills and resources for improvement - sustainably.
What types of grants exist?
VAST Grants: support HIV interventions, targeting adolescent girls, and promote income generation activities. This work is made possible through the President's Emergency Plan for AIDS Relief (PEPFAR).
Global Agreement Grants: supports activities in health, education, and agriculture and community development. Grants can be linked to multiple program areas such as: food security, maternal child health, literacy, malaria, and economic empowerment. This is made possible through funding from the United States Agency for International Development/Uganda.
Peace Corps Partnership Program: Supports projects across a wide spectrum of project areas e.g. renovation/ construction of Libraries, computer labs, Maternal child Health, Malaria prevention trainings, Water and Sanitation, Entrepreneurship skills development trainings, IGAs etc.
How are grants conceptualized?
Volunteers and their counterparts are introduced to participatory development, which provides an approach and methodology for involving community members and relevant stakeholders in the design and implementation of community-initiated projects. Volunteers and their counterparts learn how to engage communities in moving from an analysis of priority issues to planning and implementing projects that meet a recognized needs while building on their own assets. Volunteers are trained using a unique Peace Corps methodology called: Participatory Analysis for Community Action (PACA) guide that provides methods and tools for conducting needs assessment and implementation.
Peace Corps grant funds may be used in various ways to support community-led development initiatives in a wide variety of programmatic areas. Regardless of the funding source VAST, PCPP, Global agreement grant programs, all projects supported with Peace Corps grant funds must: attend a training, be initiated by the community, build capacity, be sustainable, 25% community contribution, include indicators of success, and not exceed $10,000.
---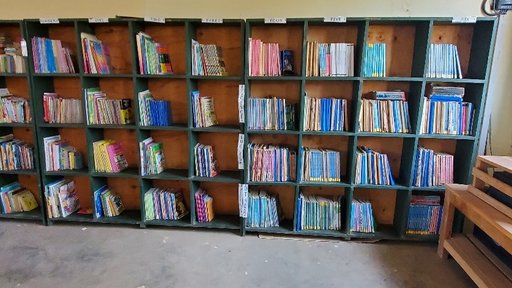 PC Uganda grants
Libraries
the project
Volunteers, predominantly in the Education Sector, have used grants to construct, renovate, and refurbish existing libraries. Over 25 libraries, in the last 10 years have either been constructed or improved using grant funds. The libraries provide teachers and learners with access to books, materials, and teaching materials to promote the reading culture in schools. Grants have included the provision of bookshelves, furniture, paint, fencing, and purchasing books and academic resources such as "Fun of Phonics" manuals, and books for teaching children with special needs, dictionaries, atlases, and board games.
To ensure community ownership and initiation, as well as to enhance the sustainability of the library projects, schools contribute space/land to construct the library, they also contribute materials like bricks, labor, water and are involved in designing the plans. They commit to maintaining the libraries through hire librarians, fund raising to buy new books, developing systems to check out the books, develop reading clubs and debates to encourage library use.
community voices
"The library has provided our learners with more opportunities to read, they always come to the library with their teachers once a week for guided reading and some pupils have developed interest in reading, they access the library on their own for incidental learning. The library has provided teachers with more resources to give effective literacy instructions, they borrow books to do research for their classes." Head Teacher
"Our school is the only one with a library in the whole Municipal and other school Teachers come to read books and do research especially in the evenings and in holidays". Head Teacher
"The library has helped the children improve their spoken English, they are engaged in reading and writing, the kids are taught Phonetics to learn sounds. Our school has participated in the Spelling Bee competition. In 2019 when Uganda held their last Spelling bee competition, we emerged the second in the nation. We attribute our pupil's success to the presence of a library." Head Teacher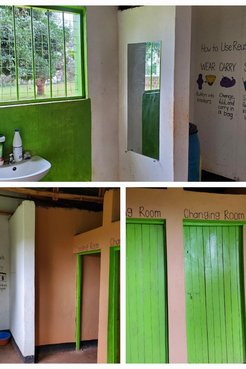 Girls Lavatories and Re-usable Menstrual Pads training
the project
Volunteers have engaged in improving girls' menstrual hygiene and sanitation by constructing girls' lavatories in schools. Approximately, 15 girls' lavatories have been constructed in the last 10 years.
community voices "Our school is the first in the municipality to have a washroom of this kind for girls' menstrual hygiene, and the local government officials are holding up our school as a model for the others. This has promoted confidence in the girls, they have learned about body changes and menstrual hygiene, and it has improved regular school attendance of girls through effective management of menstrual related challenges. We are always appreciative of Peace Corps for giving us a Volunteer. "Female teacher in charge of girls' hygiene)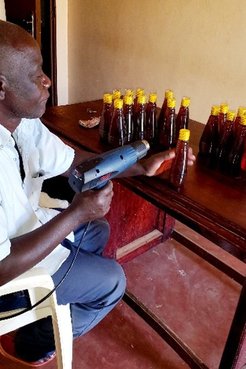 Honey processing
the project
At the time of evacuation, a Volunteer had just secured SPA funds, to support an organization that worked with a group of 34 young beekeepers with beehives in the community. They came together twice a week to bring their honey to a local processing center. The organization sought a fully equipped, sanitary processing room, and entrepreneurship training.
The grant funds were used to renovate the processing room to the standard that is acceptable by the Uganda National Bureau of Standards. Value addition equipment was purchased to create a new product, hand washing stations were installed to improve hygiene, a honey press, wax melter, and candle maker were purchased, to add value to the product.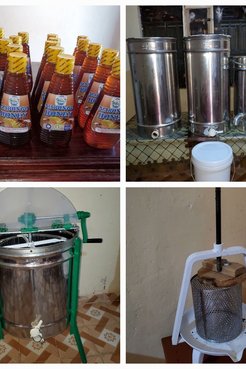 community voices
"Since receiving the grant, our business has grown, we are producing quality honey, and we are producing more honey. We have expanded to other products like candles, oils, and wax sheets to colonize more bees. The demand for honey has increased, and we supply honey to the local supermarkets, in the village and in the district. We hope to expand the market to the capital once certified." Organization member
The Bee farmers now have the capacity to produce a higher, healthier quality product on a larger scale, they have diversified the types of products, and youth have learned valuable entrepreneurship while generating income. The organization has applied to become certified by the Uganda National Bureau of Standards to create new market linkages.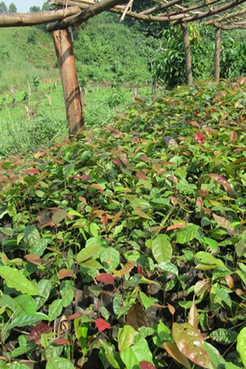 Climate Smart Adaptation
the project
In 2020, an Agribusiness Volunteers worked with her organization to promote climate adaptation under the climate smart project. Over 20 youths were trained in climatic change adaptation. The funds were used to procure start up items like tree seedlings, manual water pump irrigation system, barbed wire.
the impact
Each youth member joined a saving group whereby after the sale of seedling, they share the dividends.
Youth benefited from climatic change adaptation training and environmental conservation. Those that planted trees in 2021 are now using them for firewood leading to a reduction in encroaching on the forest.
At least 50% of the youth who had space either from their parents or reserve land, planted trees as a means of restoring the forest. The trees will later bring in money as an income generating activity for the youth.
The youth formed a cooperative which attracted NGOs in environmental conservation including, coming in to support them through buying tree seedlings and distributing them to the target beneficiaries within the sub county and among the youth themselves.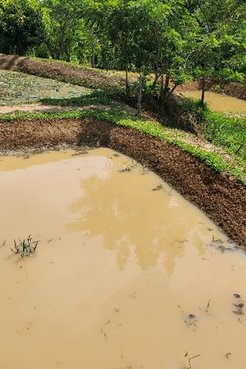 Fish Hatchery
the project
A Youth Fish Farmers Association started in 2010 and registered as a Community Based Organization in in the sub-county to improve their standard of living through fish farming. The group builds ponds for each member who is interested at no cost by offering communal labor in rotation. The group raised money to construct a hatchery to supply farmers with hatchlings. In collaboration with the community, the Volunteer secured a grant to construct a fish hatchery, to produce fish hatchlings that would help the youth fish farmers to increase fresh fish production and satisfy a ready market both local and international.
the impact
It has been 4 years since a fully functional fish hatchery was constructed. The number of youth membership has increased from 45 to over 60, with youth owning more than 2 ponds each. The availability of fresh fish has increased in the local community and there are 2 harvesting seasons in a year. At the time of harvest, an individual farmer possesses over 200 fish per pond and a fully grown fish sells from UGX 20,000 to 40,000. Although the supply has increased, the demand is still strong. The youth attribute their success to Peace Corps because they did not have the full capacity of building a fishpond themselves and they hope to further expand their model.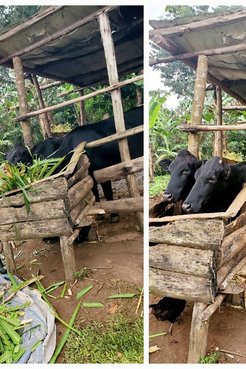 Livestock support
the project
In 2012, a Volunteer implemented a cow project to benefit 30 homes of a group that comprised of HIV infected and affected members. The group, mainly women, met once a week to discuss issues such as: nutrition, savings, and investment. The Volunteer, working in collaboration with his organization, developed a grant funded project to purchase 15 cows to distribute among the homes. The criteria for receiving a cow, was to build a shed for the cow and grow elephant grass to feed the cow as a community contribution. When the cow gave birth, the calf was passed on to another family to give a chance to all the members in the community to benefit. Once a family passed on the calf, all the cows would remain in the family.
the impact
It has been 11 years since the project was implemented. One family in the first line of beneficiaries and one in the third line of beneficiaries were interviewed. This is what they had to say.
community voices
"The project has made a fundamental change through increased households and improved nutrition for the family. Before my husband died, the family would sell the milk to get medication, and some would be left for home consumption. Besides the milk for income and nutrition, the cows give us urine and dung for manure. This has also helped improve the plantations and vegetable gardens and further improved household incomes through the sale of farm produce and vegetables."
The family gets 8 liters of milk every day, they sell 8 and remain with one for home consumption.
Peace Corps Grants- impact
Peace Corps Uganda Volunteers, their counterparts, and the communities they serve work together to identify local priorities. Together they access resources made available through grants. The stories above are a testament to the impact of these projects to the individuals and the communities they serve. We are grateful to the funding sources that makes this possible, to Volunteers for their resourcefulness, and to the communities for the partnership and trust. We are gratified that long after Volunteers depart, the impact in communities remains.