Empowering Orphans and Vulnerable Children
The long dusty drives and difficult terrain could not deter us from reaching out to vulnerable teenage girls. With coordination from the Education Department of my organization situated in Northern Uganda, a two-day training on how to make reusable menstrual pads (RUMPS), the female reproductive system, and menstrual health and hygiene was made possible.
Leaving each morning at 8 am, we traveled an hour away to a Health Center II where we would complete the training. On the way, our truck picked up vulnerable teenage girls who, without the free ride, would not be able to attend the training due to distance and transportation costs. 
The training, made possible by funding from USAID, targeted 25 females between the ages of 15-24. In the morning, myself and fellow staff worked to cover health education.  In the afternoon, I then taught the girls how to make Reusable Menstrual Pads (RUMPs). On the first day, girls were taught about the female reproductive system, the menstrual cycle, and premenstrual symptoms (PMS). They then formed "sewing" groups; groups to build friendships and encourage team work if a girl started to fall behind.  Starting from the beginning we let the girls to take ownership of the entire process. Teaching them how to cut the fabric, they learned how to make RUMPs from the very beginning!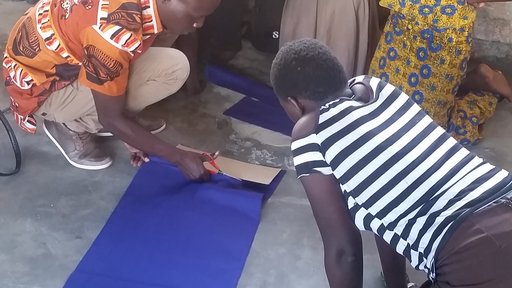 On the second day, we discussed how to maintain proper menstrual hygiene and how to clean the pads. We also hosted a myth-busting session about HIV/AIDS. It was remarkable seeing each girl gain confidence while making their reusable menstrual pads!
Overall, the objective of the training was achieved and each of the 25 girls felt empowered. In addition to each girl being able to make 2 reusable pads and 4 liners, they each took home a new pair of underwear. Most importantly, the girls promised to teach the skills they learned to other girls in the village.  It is only a matter of time before this initiative becomes a household practice that will allow many girls to remain, or even return to school.