Developing a Spirit and Understanding for Malaria
Uganda has the third highest number of plasmodium falciparum (the deadliest form of Malaria) infections in Africa. 
Last month, Peace Corps Uganda's Malaria Think Tank (MTT) held its inaugural Stomp Mini-Boot Camps in the Northern and Eastern regions of Uganda. Thirty nine (39) participants in both camps were welcomed with a video discussion where the Stomp Program Manager Matt Mclaughlin offered a brief overview of Malaria, the "Stomping Out Malaria in Africa" initiative and the ways in which each Peace Corps Volunteers across the sectors can address malaria in their communities. The Volunteers and Counterparts were especially encouraged by the presentation and the progress made in other countries throughout Africa.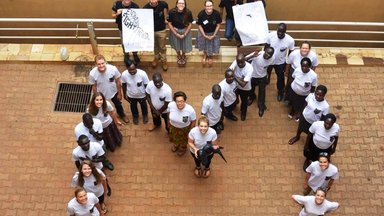 Malaria Think Tank's Mini-boot Camp was purposefully cross-sectoral by targeting Education and Agribusiness Volunteers. A cross-sectoral approach is essential in order to cast a larger net in the prevention of Malaria. "......my understanding of Malaria increased dramatically thanks to the Malaria Think Tank. I went from hardly knowing anything to feeling like i could confidently facilitate, repair bed nets and even conduct a barrier analysis", Agribusiness Volunteer Sam explained. Volunteers and counterparts learned how to conduct a Barrier Analysis Survey in their local communities, which identifies barriers to the successful prevention of malaria. The survey serves both as a community assessment tool and an opportunity for improved sustainability.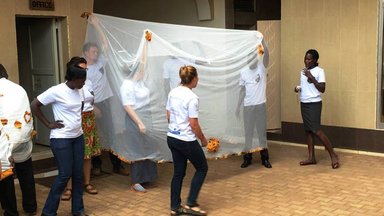 Malaria Think Tank also consulted local partners in each town in hopes of providing perspectives concerning malaria prevention and treatment from the ground level. Participants in Gulu took a field trip to Comboni Samaritans Health Center, where they learned from a clinical officer about the prevention efforts on the ground. Participants in Tororo received a visit and presentation from Ocan Richard, Deputy Chief of Party of Abt Associates, who spoke about Abt's Indoor-Residual Spraying (IRS) project and the benefits of spraying in communities in Uganda. Dr. Peter Thomas and Dr. Kassa Belay of the President's Malaria Initiative (PMI) also discussed its role in malaria prevention in Uganda and how Peace Corps Volunteers and counterparts can contribute.
We feel, participants are now equipped with the knowledge and tools necessary to address the burden of malaria in their communities, regardless of sector.