Bulamu Camp touches 4000 lives
Many people in Uganda face barriers when it comes to accessing health care.   
To address this need, the Peace Corps in Uganda is partnering with Bulamu Health Care International to ensure that communities and people who could otherwise not afford health care are able to get access to health education, health screening and treatment of primary health conditions through organizing medical camps. The third of such camps took place last week in Sheema District and reached 4000 women, men, and children.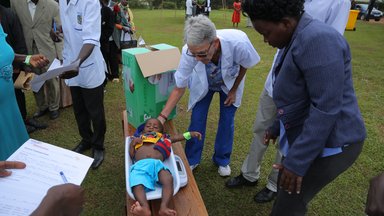 "The services offered have helped many people who would otherwise not afford them", one patient commented. 
The presence of a team of doctors and nurses from Mbarara Regional Referral hospital ensured that there was continuity of care for conditions that could not be managed during the camp.

During the five day camp a total of 540 women were screened for cervical cancer and 19 were treated for stage 1 Cancer lesions. This was managed by a team of doctors and nurses from the Global Health Service Partnership implemented by Peace Corps and Seed Global Health.  Sessions on health education conducted by Peace Corps Health Volunteers ranged from proper nutrition, proper handwashing techniques, malaria prevention and distribution of mosquito nets to pregnant women and children under the age of five.

Patients were very grateful for the camp for bringing these much needed services closer to them. Camps like this bring critical health services and information to people, helping to save lives.