Volunteers coming together to support Inclusive Education in Tonga.
A team of PC/Tonga Volunteers has begun working with the Inclusive Education (IE) Unit of the Ministry of Education and Training, to support the Ministry's efforts to better serve children with special learning needs who are enrolled in mainstream schools.
A half-dozen Volunteers who have training and experience in Special Education in the U.S. are now preparing a collection of assessment strategies, instructional activities, and other resources that Tongan teachers, Peace Corps Volunteers, and parents can use to better understand and respond to those children's needs and strengths. (These same student-centered resources are for the most part also relevant for all children.  Teachers  and parents will be shown how to adapt them to the particular needs of the children they are serving.).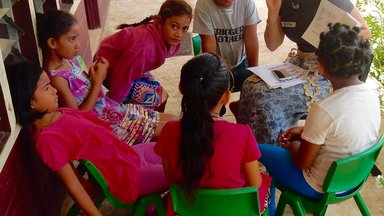 The Volunteers have also visited an Inclusive Education Classroom for children with more severe levels of disability to develop a "shopping list" of resources (e.g., play equipment, furniture, blocks, books) that teachers can use. Volunteers might also help the Ministry's Inclusive Education Coordinator and her two newly-trained staff to train principals, teachers, and parents in the outer islands about how they might better serve children who might otherwise be underserved.
This new, focused effort is in keeping with our English Literacy Project objectives related to development of effective teaching materials and methods, training of teachers, and parental involvement.