PC/Tonga works with volunteers from other nations to support restoration of historic site.
On International Volunteer Day (December 5, 2016), a team of Volunteers and staff from PC/Tonga visited an archeological site in the village of Lapaha on the main island of Tongatapu.
Researchers have identified the area as possibly the earliest human settlement in Tonga, estimating that humans arrived there about 2500 years ago. The Peace Corps representatives met at a nearby series of burial grounds built into pyramids made from massive rock slabs.  These rocks had  been transported by raft from nearby islands about 400-600 years ago.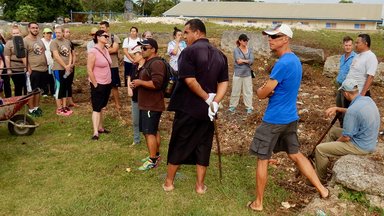 The multi-national archeological experts have been uncovering and researching the graves, which had fallen into disrepair and become overgrown with vegetation. Our staff and Volunteers were joined by representatives of volunteer organizations from Japan and Australia, along with Tongan community members. We spent the morning learning about the site from the archeologists, cleaning and raking debris and foliage that had accumulated over years, and relaxing with a picnic lunch.  Our Volunteers were also encouraged to consider how they might incorporate vocabulary and concepts from history and culture into the English curricula they and counterparts are developing for Tongan schools.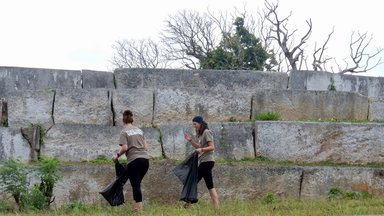 This was a great way to learn about Tongan history, connect with people from all over the world, get some exercise, have some fun, clean the environment, and provide a different kind of service.