High-energy after-school basketball taking off in Tonga
In 2016, Volunteers launched an after-school, inter-school basketball league in six primary schools on the main island of Tongatapu.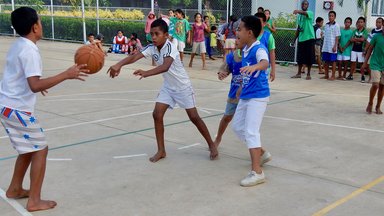 Using courts at Mormon churches in their villages, Volunteers trained girls and boys in the fundamentals of basketball and then set up a series of games between school teams. The energy and enthusiasm of players and spectators were high, and the kids demonstrated a lot of ability (especially considering that they were just starting to learn the game). And our Volunteers were able to evaluate where to target future training and other supports for these newcomers to the sport.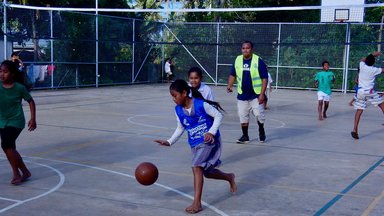 In addition to working with their schools and Mormon churches, Volunteers collaborated with representatives of the Rotary Club of Nuku'alofa and the Tonga National Basketball Association to get equipment and technical support. Long-time basketball supporters in Tonga say this PCV effort is just what Tonga has needed to generate interest and support for basketball, a largely-unknown game in Tonga.
These activities have great potential to help children not only learn a new sport and get great exercise, but to learn other skills and knowledge such as the English language, numeracy, teamwork, fair play, curiosity, and a willingness to learn new things. This project is in keeping with the "English for Health" objective of our English Literacy Project, in which Volunteers develop creative ways to integrate English literacy education with activities designed to improve student and community health.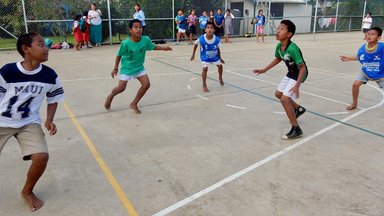 Based on lessons learned and relationships developed in the 2016 pilot year, we hope that this project will expand and become stronger in 2017. The fact that many of the newly-posted Group 81 Volunteers have expressed interest in starting a program in their villages -- including on other islands outside Tongatapu -- is a good sign.
The program is also drawing interest from a growing number of schools, communities, and churches; from governmental and non-governmental organizations; from basketball-loving Tongans living overseas; and from international groups like the Rotary Club and International Basketball Federation (FIBA).