Group 79 Volunteers wrap up their two years in Tonga.
In September, 2014, 15 Americans stepped off the plane into the bright Tongan sunlight to begin their two years of service as Group 79 Peace Corps Volunteers.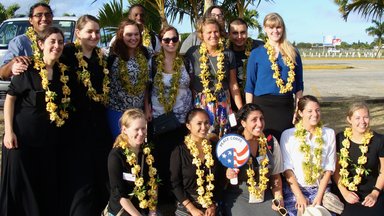 In the intervening two years, Group 79 Volunteers served their schools and communities in Vava'u, 'Eua, and Tongatapu and also contributed to a number of national-level, innovative activities.  Group 79s demonstrated how to:
be an  "English Literacy Facilitator" (in support of Tongan co-teachers) rather than a "stand-alone" teacher.

create effective reading materials, reading activities, and libraries for schools.

integrate visual and performing arts with English literacy activities.

help schools  deal with basic human needs (e.g., water supply, tooth brushing, vegetable gardens).

share  promising practices with fellow Volunteers and counterparts.

form and run successful Volunteer committees.

develop instructional and assessment activities that are relevant to the national Englishcurriculum.

use scope and sequence and other ways to organize activities.

work with counterparts in various ways.

serve "harder to serve" children, young children, and youth.

work with a range of non-governmental organizations (NGOs).

resurrect Camp GLOW in Tongatapu and keep Camps GLOW & GROW (leadership camps for, respectively,  teen girls and boys) alive in Vava'u, while also creating a new model called the "'Girls Outdoor Club" in 'Eua. 
We commend and thank Group 79 for persevering in a challenging assignment, fulfilling their mission of strengthening Tonga's literacy education system, supporting each other, and representing our post and the American people well.   As a sign of their extra commitment to Tonga, three of the thirteen Group 79 PCVs who completed their two years have signed on to extend for a third year.