Creating print resources to support English literacy education
Since 2015, a team of Tonga Volunteers has been collaborating with Tongan agencies, artists, writers, and editors to create an innovative series of print materials for use by students, teachers, and other stakeholders like parents. Examples include:
The Sight Word Book Series

From the start of our English Literacy Project in late 2012, our Volunteers and staff realized that most of the primary and middle schools where our PCVs worked had few if any suitable English language reading materials for students and teachers to use. While schools often had assorted children's books on the premises, they were typically in poor physical condition, not culturally relevant, written at too high a level for most students, not organized in a user-friendly way, and not used effectively by teachers. These books were often donations from well-meaning foreign partners (e.g., schools or libraries in places like Australia, New Zealand, or the U.S.)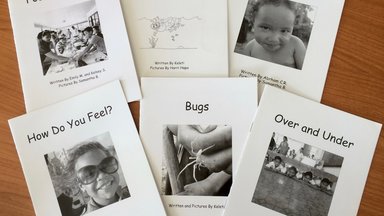 In order to create book collections that were more useful, in 2015 PCVs formed a team which came to be known as the Sight Word Book Committee. Members began producing short (typically 10-page), simple reading books that focused on locally relevant themes, had photos or line drawings that depicted familiar Tongan themes and Tongan children or adults, and were printed on durable glossy card stock paper.
The Volunteers also prepared lesson plans for use with the books that showed how to use guided reading methods to build student interest in reading as well as reading comprehension and fluency in students whose English was at lower levels and who were not in the habit of reading.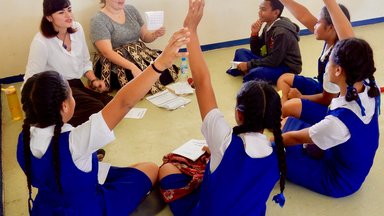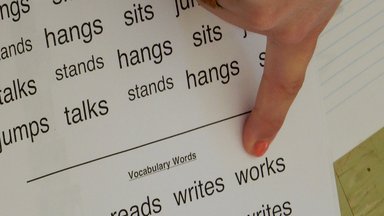 After an initial pilot phase, the Volunteers decided to continue preparing more books. But this time the made a special effort to do so with the help of Tongan artists, writers, and editors. To ensure that this work would continue and to provide a home base for preparing funding proposals and managing grants, the Volunteers created a formal partnership with the Tupou Tertiary Institute (TTI), a post-secondary technical school in the capital.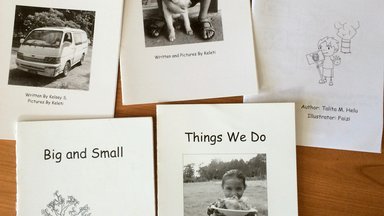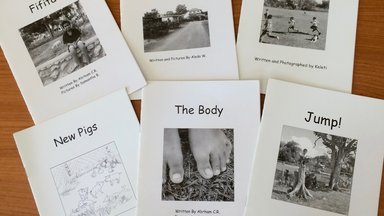 The books grew in number and variety of subjects, to include titles like "Things We Do," "The Classroom," "Big and Small," "At School," "Transportation," "New Pigs," "Bugs," "Let's Be Healthy," "Foods in Tonga," and "Stop Burning Rubbish." The Sight Word Book Committee has now trained all Volunteers and some Tongan counterparts in the use of these materials in small reading groups.
The Committee is also exploring how to continue producing additional titles, with new artists and writers, to disseminate widely to Tongan schools.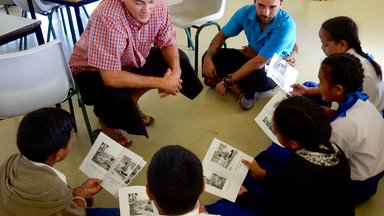 Volunteers are also considering how such simple reading materials might be incorporated into training for students' parents, to equip them to read with their children at home or in community reading programs (like the Saturday morning reading program that Volunteers have piloted at the TTI community library for the past two years).
Staff and Volunteers hope to put greater emphasis this year on helping parents to support their children's literacy development outside formal school settings. These simple Sight Word Books are one low-cost tool that both teachers and parents can use.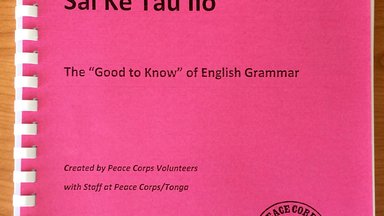 "English Grammar Resource Book"
In early 2016, Volunteers had concluded – from formal and informal assessments – that Tongan primary and middle school students had significant gaps in their understanding of basic English grammar. The Volunteers also realized that many Tongan teachers, though able to communicate fairly well in oral English, were not confident in their understanding of many aspects of English grammar or in their ability to teach grammar effectively.
To remedy this, a small number of Volunteers created "Sai Ke Tau Ilo" (The "Good to Know" of English Grammar), a nearly-200-page resource book for teachers to use to teach various components of grammar (e.g., "Sentences and Questions," "Nouns," "Verbs," "Pronouns," "Adverbs and Adjectives") as they appeared in the Tongan English curriculum.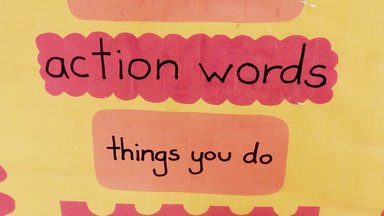 This innovative, highly-relevant and -useful book has attracted the interest of the Institute of Education at the University of the South Pacific campus in Tonga. IOE staff are now working with Peace Corps staff and a third-year Volunteer to develop a project in which Institute staff will edit and revise the text and add worksheets and other resources, to make this valuable resource even stronger and more widely available to Tongan teachers nationwide.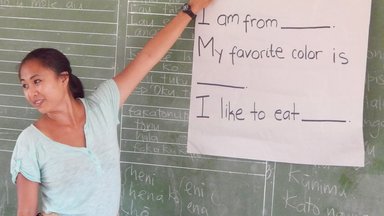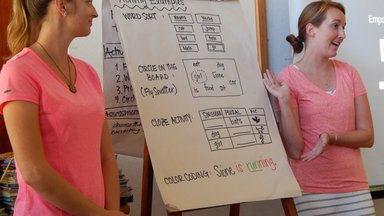 These are two good examples of the innovative, high-quality work that our Volunteers have been doing with educational partners, to create, disseminate, and train teachers in the use of high-quality literacy resources for Tonga. Some observers feel that these resources serve as models that other nations in the Pacific and beyond might adapt to their own literacy efforts.
Watch this space for more examples of the valuable documents our Volunteers are producing.