Friends of Togo: Help Us Celebrate Our 60th Anniversary
We are collecting photos of Volunteers throughout the decades.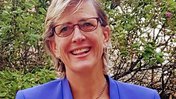 Dear Friends of Togo!
I'm Maureen Cunningham, Country Director for Peace Corps Togo, and we need your support please!
We are celebrating 60 wonderful years in Togo this summer and fall and want to highlight the Peace Corps' enduring partnership with people of Togo throughout the decades.
If you have photos of yourself or fellow Volunteers living and working with Togolese friends, family, work partners, students, and others that you are willing to share, please submit them via our media library upload form.
---