Togo
Training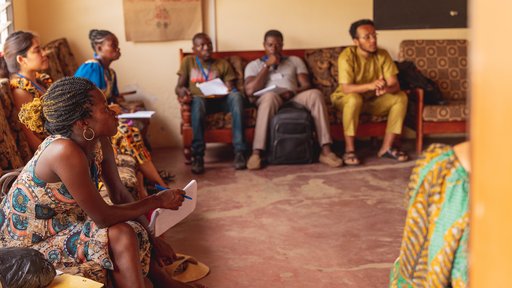 Learn more about the Peace Corps' approach to training. 
Many Volunteers come to Togo without extensive experience in their assigned project areas. Some come with more technical knowledge and act as informal mentors to their fellow Volunteers. For each PC Togo project, Trainees and Volunteers learn the technical, intercultural, community development, and language skills needed to successfully contribute to their host communities.
Peace Corps uses a Volunteer Competency Model (VCM) affording Volunteers the opportunity to continue to learn and develop from arrival in-country to departure. Training is rigorous, with successful Volunteers taking responsibility for their own learning. PC Togo's excellent training staff is available to educate and to provide guidance, but it is the individual learners who put in the time, effort and problem-solving skills needed to develop into strong Volunteers. In addition to classroom sessions, Volunteers work independently and in small groups to accomplish tasks that build their skills. Training includes:
Pre-service Training in-country includes technical, linguistic, intercultural competency, diversity and inclusion, health, safety, and security topics.
Technical training enables Volunteers to work within a Peace Corps sector or project, as well as Cross-sectoral initiatives. Technical training involves structured sessions and practical, hands-on assignments.
Language acquisition is very important in Togo and continues throughout service. Volunteers learn or improve their French language skills, and also learn the basics of one of Togo's many local languages.
Through intercultural and community development training Volunteers explore cultural values of host communities and themselves and their roles as Volunteers. This aspect of training guides Volunteers in considering concepts of time, power and hierarchy, gender roles, communication styles, relationships, and resiliency.
Volunteers are trained on how to manage and maintain their health including illness and accident prevention, basic first aid, and treatment of medical problems commonly experienced in Togo.
Volunteers learn to reduce risk of crime and of accident at home, at work, and while traveling. They develop strategies for coping with unwanted attention, identify safety risks in-country, and learn about Peace Corps' emergency response and support systems.
In addition to Pre-service Training, Volunteer service includes various in-service trainings and a close-of-service conference. Together as a cohort, Volunteers also explore and honor the diversity of US Americans within their group, as well as the diversity of Togolese counterparts and communities.
Potential Volunteers! See more details about Peace Corps Togo's training program, below:
Pre-Service Training
Peace Corps Togo maintains a large and well-established rural training center which serves as the center for most PC Togo training events. Pre-service Training is built around a village-based training model. Trainees spend a little more than half of Pre-service Training living with host families near the training center, a few weeks at the training center itself, and two weeks at their future long-term sites. This site visit will be your first contact with your host community and will provide insight on living and working as a Volunteer. Site visit also allows a break from the intense, structured regime of pre-service training.
The 11–12-week Pre-service Training is divided into two phases. Phase I focuses intensely on French language and intercultural competences. Additionally, Volunteers learn how to maintain their safety, security, and health and what resources Peace Corps has to offer in these areas. The first phase also includes initial concepts in technical areas. Phase II centers on technical training. Language classes continue, and technical material is increasingly presented and practiced in French. Some trainees begin local language classes, depending on their level of French. Safety, security, and health sessions also continue.
You cannot be sworn-in to Peace Corps service until you have clearly demonstrated the attributes and skills necessary to meet the needs of your assignment. Volunteers are asked to monitor and demonstrate progress through self-assessment, feedback from staff, and active participation in daily activities. Your success in Pre-service training requires full participation and a measure of sacrifice in terms of time and personal comfort. Investment of effort during training will be well worth the effort once you swear in as a Volunteer.
Technical Training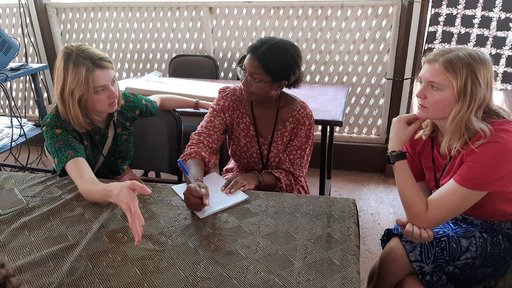 Technical training will prepare you to work in your assigned sector (Community Health, English Education, or Agriculture/Food Security) in Togo by building on the skills you already have and helping you develop new skills appropriate to the needs of your community and the country. This training places great emphasis on learning how to transfer the skills you have to the community in which you will serve as a Volunteer.
Technical training includes sessions on the general economic, health, agricultural, educational, and political environment in Togo and strategies for working within such a framework. You will review your technical sector's objectives and will meet with representatives of the Togolese agencies and organizations that the Peace Corps works with.
Language Training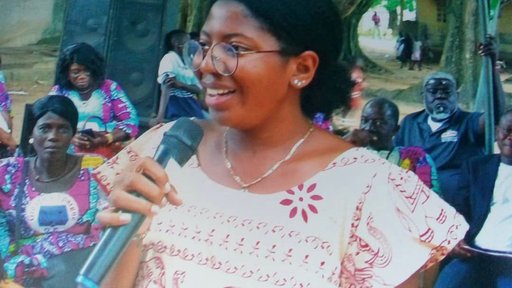 You need not be fluent in French or any language to serve in Togo, but you do need to be dedicated to learning language! Language proficiency is a great asset to successful Peace Corps service and effective language skills are essential to your personal and professional effectiveness. French language proficiency is critical to your job performance, and local language is key to integration into your host community. Language eases adaptation to the new surroundings and enhances your safety. As a result, language training is central to Peace Corps' training program. Language learning is interwoven with learning intercultural competence, diversity, equity, and inclusion. It also includes a lot of independent study and practice! In addition to classroom lessons, you will undertake practical assignments with host family members or others in the community. Your language proficiency will be tested at the end of pre-service training as part of assessing your readiness to serve, and at other points in service.
As a new Trainee, you will be placed in a French class based on your current French level, from novice to advanced. Toward the end of pre-service training, after you have reached the Intermediate Mid benchmark in French, you will have the opportunity to learn some basics of a local language. Once at your site, you will continue your language learning on your own, with the support of community members and local Peace Corps trained tutors.
Intercultural Training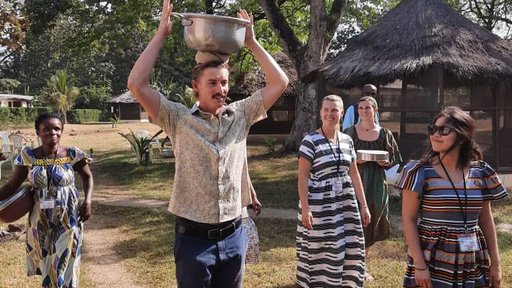 Intercultural and community development training will help you improve your communication skills and understand your role as a facilitator of development. You will be exposed to topics such as community mobilization, conflict resolution, gender and development, non-formal and adult education strategies, and political structures. As part of your pre-service training, you will live with a Togolese host family. This experience is designed to ease your transition to life at your site. Host families are oriented by Peace Corps staff to assist them to support you to adapt to living in Togo. Many Volunteers form strong and lasting friendships with their host families.
Health Training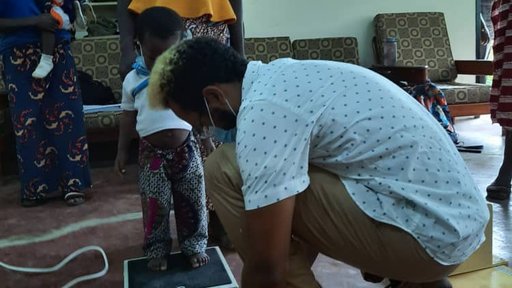 Peace Corps takes Volunteer health very seriously, and expects Volunteers to, as well. PC Togo has excellent medical staff who provide care, referral, and advice. Volunteers live and work far from these professionals and take responsibility for much of their own health care. During pre-service training, you will learn how to take care of your health needs during service, including when to seek medical care from a professional. You will be expected to practice preventive health care and to adhere to PC medical policies. The topics include preventive health measures and minor and major medical issues that you might encounter while in Togo. Nutrition, mental health, setting up a safe living compound, and how to avoid HIV/AIDS and other sexually transmitted infections (STIs) are also covered. Medical Officers are available for specific concerns and questions during pre-service training and throughout service.
Safety and Security Training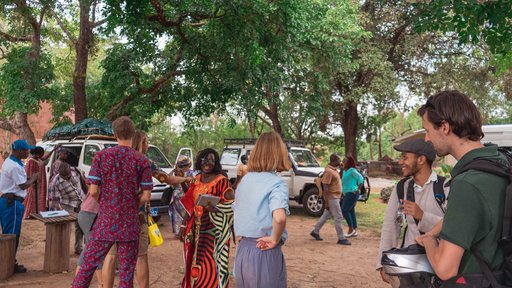 While not all security incidents can be avoided, it is possible to reduce the risk. Similar to Volunteer health care, Volunteers are the primary agents in preventing and mitigating many threats. Staff provide support should a security incident occur or should a Volunteer suffer an accident. During safety and security training sessions, you will learn how to reduce your risks at home, at work, and during your travels by building your awareness and practicing culturally competent communications skills. You will also learn appropriate, effective strategies for coping with unwanted attention and about your individual role in promoting safety throughout your service.