Togo
Director's Welcome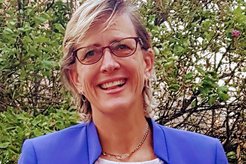 Welcome to Peace Corps Togo!
The Peace Corps' mission is to promote World Peace and Friendship. A lofty purpose which is as relevant today as it was when the Peace Corps was founded. It is the mission that motivated me to become a Peace Corps Volunteer, and that motivates me to serve now as a staff member.
Dr. Martin Luther King said:
"If we want to have peace on earth… our loyalties must transcend our race, our tribe, our class, and our nation; and this means we must develop a world perspective."
Peace Corps service in Togo can offer a powerful path to developing a world perspective, as Volunteers and community members strive to truly understand each other, build empathy and respect, and build bridges across cultures, nations and languages.
Togo is an excellent country for service. Here, Volunteers are embraced as family members and friends by the people they live with and work alongside. With over 50 ethnic groups across this small nation, each Volunteer experiences a slightly different "Togo", as they support people to fulfill their host community's own development priorities in the fields of Health, Education and Agriculture.
Peace Corps service in Togo can be incredibly rich. At the same time, it is far from easy. Many Volunteers serve in small villages without electricity, running water or much privacy, navigating strong cultural, religious and societal norms and languages different than their own. Serving in Togo will change you -- You will develop your grit and resilience, your empathy, your patience, and if you are to succeed, likely a strong sense of humor! Because you will make mistakes, find ways to learn from them (and sometimes laugh at them), and you will find ways to make progress.
If you have come to this page because you are considering Volunteering in Togo, I welcome you to apply to the most exciting, life-changing experience you will likely ever have. Your commitment and your service will help achieve the world perspective that Dr. King spoke about.
If you are a former Volunteer or have an interest in the Peace Corps in Togo for some other reason, I invite you to explore our website and to develop a deeper understanding of Togo and what Peace Corps service can mean.
Mi Lay Do! ("We are together" in Ewe)
Maureen Cunningham
Peace Corps Togo Country Director