The Question Of Empowerment Is Meaningful Where Men Also Exist
"The Question Of Empowerment Is Only Meaningful In A Social Context Where Men Also Exist" - Margrethe Silberschimdt
NADIA KLINCEWICZ - Shinyanga
When I look at the women in my village, I see strength and hard work that is difficult to fathom. Yes, they are Moms who are typical homemakers, but they are also farmers and businesswomen grinding to provide their families with everything they need. Women in my community have paved their way in the job market, owning restaurants, starting micro-lending groups, and attending training to learn new skills and trades. Women have proved themselves capable, time and time again, of fulfilling their roles as mothers and then some. Women have been pushed and empowered and have been supported by our health systems and our NGOs. There is no denying that women have social and economic disadvantages to men, however women have been excelling as far and as fast as times are changing, so much so that in many ways men are being left behind. The economy and political atmosphere has shifted life here in the village while expectations for men as the providers and the protectors have become much more difficult to fulfill. Changes in employment, income, media influence, and commodity driven lifestyles, are leaving many men feeling disenfranchised and dis empowered as they watch their female counterparts strive ahead. Social norms of masculinity and feelings of inadequacy serve as barriers for health seeking behaviors in men and are big drivers for destructive actions such as domestic violence, power and control seeking behavior, and sexual misconduct. Ultimately, reassertion of the masculine identity that has been lost in recent years has had grave consequences on community health and the impacts of HIV.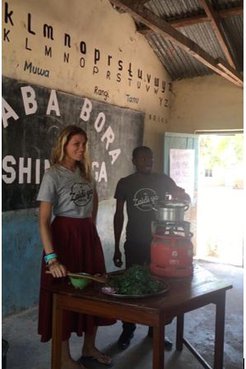 My experience living here has changed my perspective, from a place where women were always the victim and men were always the villains of the story. Living here has given me a better understanding of the source of men frustrations and hardships. Now when I look at men in my community, I see the potential to make huge leaps and bounds in family health, gender equality, and child development. It is time that men are reminded that they have a place in our community, and all genders need to be pushing each other forward. Myself and my counterpart Hassan Issah designed the "Baba Bora" (Better Dads) Seminar in our village to focus on redirecting the idea of masculinity, helping men to use their voice in family matters for positive familial health outcomes. The program puts a positive spin on gender norms; for example seeing men as the "protector" of the family and can be used to encourage men to enforce WASH practices and HIV mitigation techniques. The seminar includes income generating activities, as well as financial literacy sessions, to encourage fathers to invest more money into family health and education. Men who were once feeling a loss of control in family life, potentially causing tension in the household, assertion of power by the use of violence, or dissociation, are empowered to feel a sense of purpose, and are equipped with the tools to be better dads. Fathers in the program are motivated to spend more time at home and to value intellectual development for themselves and their children. We hope that by working on improved fatherhood methods, our dads will be good examples for their sons, and set the standard for the men their daughters wish to marry. In all of our programs working with men, we strive for holistic personal health; with the hopes that by being well themselves, men can improve the health of the people around them. Working with men, we constantly use this message: "Kujilinda, Akili, mwili, na roho, nikuwalinda. Nitafanya hivyo." In English, "To protect yourself, mind, body and soul, is to protect them. I will".
---
"We Are All Responsible For Protecting Young Women And Adolescent Girls From Hiv, From Policy-Makers To Community Leaders. We Need To Identify Men As Role Models To Mentor Young Men." - Khanya Mabuza
AYODELE KANYAKO - Shinyanga
Initially, it was challenging to understand about the gender differences, challenges, and opportunities within the community. Nevertheless, after expressing keen interest, my knowledge increased by having verbal conversations with community members, and conducting personal observation. This shed more light on the problems within the community including the high rate of poverty, sexually transmitted diseases, malnutrition, and violence, and the low rate of emotional support within the family. My motivation to engage with boys and men was kindled from the feeling of helping others, awareness that gender inequality undermines health and development, male's involvement reduces poverty, and the need to promote more equitable relationships, which improves the physical, mental, social wellbeing of the family. After careful thought, a positive male role model within the community became my counterpart to promote my work in engaging boys and men within the community.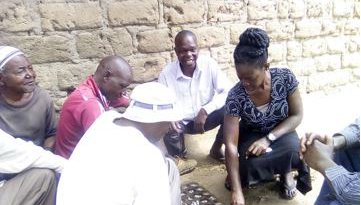 Subsequently, the Baba Bora (Good Father/Husband) Group was created. The group members meet once a month, to discuss about strategies to reach more boys and men with compelling messages during gatherings, including weddings and funerals, and at other locations where they congregate such as the coffee shop and at the game corner. These messages include involving actively in responsible sexual and reproductive behavior including increasing knowledge on the transmission, prevention, testing, and resources for sexually transmitted diseases, to reduce STIs and increase family planning uptake; practicing good hygiene and sanitation (cutting grass, cleaning compound, and washing hands at critical times), accompanying wife to the clinic during antenatal visits, taking sick children to the hospital, and engaging in individual routine health tests, to improve overall family health; achieving responsible fatherhood, to improve financial and emotional support; planning monthly budget with wife and children, to reduce poverty and malnutrition; reducing violence; promoting more equitable division of labor and childcare in the home, and creating a safe space in the family whereby fathers may be more open to have conversations with their sons and daughters on sensitive topics including menstruation, risky behaviors, and reducing early pregnancy. We have already discovered additional opportunities and locations to reach more boys and men, so that these messages will be spread far and wide. It is our goal to improve the health and development of the community by empowering women while engaging boys and men.
A father is like a tree trunk, a mother the branches and the leaves, their children stand in their shade safe and secure.
MARIA ROBLES - Singida
---
A father is like a tree trunk, a mother the branches and leaves, their children stand in their shade safe and secure. This is what my mother told me when I shared with her I was interested in working with men in Tanzania. "Not one more important than the other," she said. My name is Maria Robles I am a third year volunteer living in one of the villages central part of Tanzania. For the last three years I have focused my service to training and working with Tanzanian men around several health issues affecting them and their communities. With training like Men as partners we are able to engage these men in the different ways they can positively have an effect in their communities as a whole.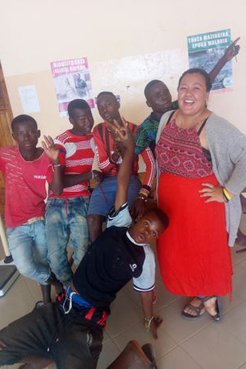 By understanding power dynamics, gender dynamics, unhealthy and risky behaviors, and having access to general health questions they are able to choose for themselves the types of men, youth, fathers, uncles, brothers, and mentors they wish to be. The idea of socialized behavior is explained and highlighted allowing for fathers like my own who were raised a certain way to evaluate and make a decision of what fatherhood, and or manhood means to them. And how these decisions have a direct connection to their families, communities, and society.
---