Increasing Water Access for Sustainable Home Gardens
Volunteer Agriculture Extension Officer Chris Biles partnered with her community to use wells, rainwater catchment and drip irrigation technology to support home gardens for better nutrition in the village of Isitu.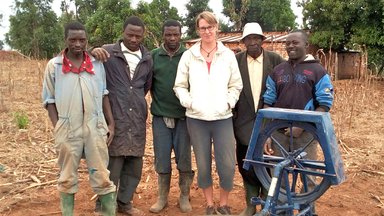 In the village if Isitu in the Ninga Ward of Njombe Region, nutrition is historically poor. Most families frequently did not incorporate vegetables into their diets because they did not have home gardens.  Approximately 15 out of 458 households had an at-home garden before this project began. The majority of the population could not maintain home gardens because the water source was very far away, down in the rivers of the valleys. Because of this heavy workload, people would only carry water for cooking, washing clothes and bathing.  Even though having an at-home garden is more reliable and easier to access nutrition, the villagers were already over-burdened.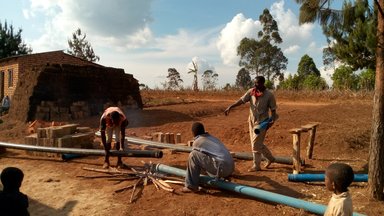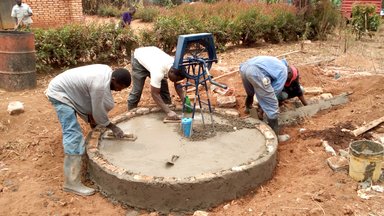 Thanks to Feed the Future funding and enthusiastic community support, this project successfully brought water sources closer to home and easier to access enabling community members to build sustainable home gardens. These gardens were made and planted to support 80 households in the community. With the use of simple drip irrigation technology ("drip kits"), water needs for garden irrigation were reduced.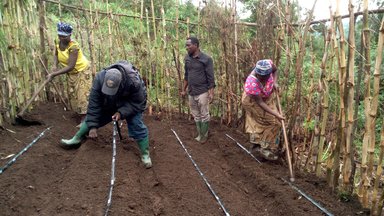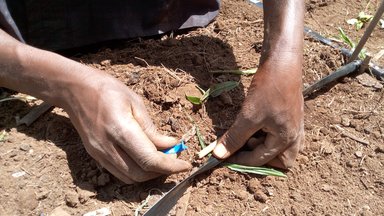 The construction and planting of 50 home gardens with 50 individual households was a long but successful process.  The households first built a tall fence to keep out chickens and other nuisances, and then mixed good soil with well composted manure and any other soil amendments at their disposal, such as wood ash or charcoal dust.  Once prepared this way, garden trainers (community members qualified in organic home gardening practices and drip irrigation installation) visited the household to assist in garden set up, drip kit install and the planting of a variety of seeds provided through the grant.  The goal of the project was to build 80 home gardens, and the community is over 65 currently.  Even as Chris has concluded her service in Isitu, community leaders and members have organized themselves to complete the final gardens in the next two months, which speaks to the sustainability of the project.
Project Achievements:
·         7 new rope pump wells constructed, each at 36 meters deep with water engineer trained maintenance groups formed for each well.
·         660 gutters distributed and installed to collect rainwater throughout the village
·         50 home gardens made, planted and provided with simple drip irrigation technology to lower water needs