You are there, even after
"Muraho." "You are there." It is the greeting of Rwanda. And as it is said in Lesotho, "Ka mosa." "Even after."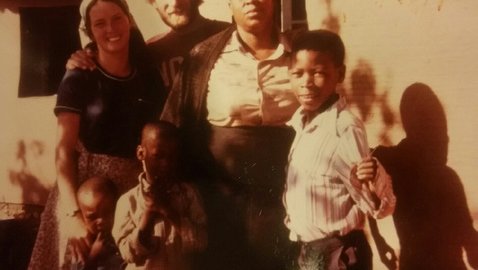 It was 36 years ago, in 1981 , when my husband and I first made our way into the world of the Peace Corps, five months after our wedding with my college diploma barely off the press. 
For two years, we lived in the mountains of Lesotho in the small village of Leteketa in a dung hut with no electricity or water. I rode my horse to five schools in a three-hour radius to work with intern teachers while Kirk taught science, English and math at the secondary school. 
We learned to speak Sesotho and we became family with Mpolai, Thato and Lebohang. We quietly made our way in our jobs – me, urging my recalcitrant horse, Khotso, over the mountain passes and through fields where small boys in blankets herded sheep while our greetings echoed across the land. Barefoot children huddled on low benches in dark schoolrooms and teachers recited lessons and urged them towards understanding.   
Kirk walked down the mountain slope of our village, over the river stones and up the next rise where the voices of the students rang out in song, "Morena boloka sechaba sa hesu." "God, keep us safe." We've never gotten over the beauty of those voices. They are nestled in our beings with images of dust rising up as boys danced ntlamo and girls moved their shoulders in the rhythm of mokhibo.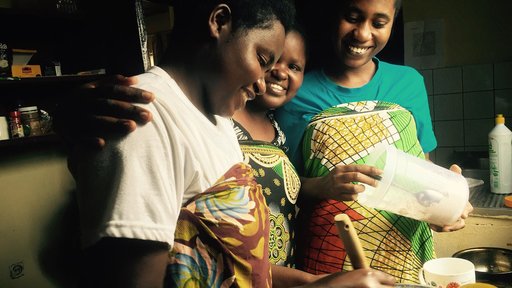 In the classroom, students sat in straight rows, quiet and attentive, ever so polite and disciplined until smiles and laughter broke out as Kirk's humor and kindness warmed the day. I held teacher workshops and ran the resource center that the previous Volunteer had manifested. Teachers visited and we made materials and games for their classrooms. I wrote Basotho stories with class vocabulary as my guide and copied them on the old crank mimeograph machine that the previous volunteer had procured. Students loved those stories and eagerly awaited the next.  

Kirk built the first outhouse in our village and a chicken coop that hampered the night predators. He launched a greenhouse partnership project that was completed by the Volunteer who followed us. My partnership project brought forth funding for a school roof and cultural exchange. We attended moketes (parties) and funerals. We hiked hundreds of miles and beamed happily when our monthly food supply arrived by plane. It was a good life. 
Those years were the foundation of our marriage, our professions and our view of the world. We were two young Americans believing in the adage of John F. Kennedy that we could contribute to peace by living and working side by side with the people of the world.
We have never stopped believing that.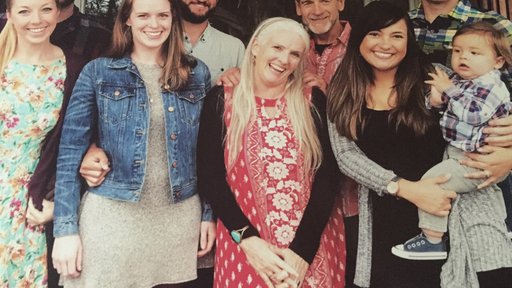 We returned home from Peace Corps Lesotho in 1984 and began the adventure of being a family. Jores, Jared and Sophie entered the world, filled up our hearts and brought forth the greatest love of our lives. Kirk owned and operated a small veterinary hospital and I taught at our local school. Our lives whirled about the raising of our family and doing good work. 

And then, as children do, Jores, Jared and Sophie made their way into adults, fell in love and created their own adventures. Despite this natural progression, we were a bit flummoxed by our quiet home and mellower days…  
In 2014, we knew it was time to dust off our settled selves and accepted a Peace Corps Response assignment in the Gansu province of China to teach English. In 2015, we accepted an eight-month assignment in Namibia. And in 2017, Rwanda. 
The Peace Corps brought us home to ourselves. Four times. 
Our Rwandan home is an upper secondary boarding school where 350 students study to become proficient in agriculture, veterinary support or food processing while earning a high school diploma. Most students are 17 to 20 years old but some are as young as 15 and others as old as 22. Should they be successful on their senior six national exams, they will graduate. Every moment of the day is coordinated for structure and learning. We all rise at 5 a.m. to the clanging of a stick against an old tire rim and study, work and play  until, under our mosquito netting, we close our eyes to the silence of the night. 
Our school is a working farm with bananas, papayas, tree tomatoes, maize, sorghum, cabbage and such. We have pigs, chickens, rabbits, cows, sheep, goats and donkeys. The campus lies in the valley and mountains rise on every side. The soil is rich and productive and the agriculture students observe and assist in crop management.  
The veterinary students assist in vaccinations, surgeries, medical care and meat inspection. Kirk loves the veterinary aspect of his work and carefully diagrams the respiratory, digestive and circulatory systems as the students ask him a hundred questions and gather closely about him.   
Me, I teach extra hours with the food processing students where we bake on top of the stove with three stones in our pot and learn that what we have is exactly what a recipe needs. And that a song adds such flavor.   
We both teach English classes for all the students and hold weekly workshops for the staff where laughter, competition and games have built a sweet camaraderie. Confidence in English speaking blossoms. Friendships are made. Our nascent Kinyarwanda is received with generosity and we share meals , play sports and climb mountains with teachers and students. We are so grateful. 
The phone rings. I rush to say hello to our daughter, who is in Uganda with her beloved. They have just completed their first week of training and she is filled with familiar stories and images that are so dear in my heart. They will learn one of the many languages. They will learn of the culture and the education system. They will learn how to cook local foods on charcoal stoves and how to take bucket baths. In January, they will complete their training and they will be Peace Corps Volunteers.   
The seasons of life are so. Muraho. You are there. Ka mosa. Even after.