A yellow ball transformed my service
One yellow ball transformed my Peace Corps service.
When I first arrived in my community, the school had no balls for sports. Zero. So when my counterpart, Mr. Chibuye, and I brought back a brand-new, bouncy yellow ball from the PEPFAR (President's Emergency Plan for AIDS Relief) workshop we attended, the school was in an absolute frenzy. There were murmurs in Bemba, "Moneni, bola! Look, a ball!!" The head teacher presented it at the Monday morning assembly. There were actual jumps of joy. Students in all grades, both boys and girls, began asking to use the ball before school, after school and even during class. Adults in the community wanted to know when they'd get to play with the ball. 
As many education Volunteers do, I came in thinking I might build a library. In my mind, the school clearly needed one. But there wasn't any excitement about a potential library. There were no jumps of joy. I soon realized that while of course libraries are vital, what my community wanted, what they would be invested in, was sports.
The reason we got the yellow ball was because at the PEPFAR workshop, they trained us in Grassroot Soccer, a program that teaches HIV/AIDS prevention through games. Mr. Chibuye and I were eager to implement Grassroot Soccer as soon as possible. However, some of the activities required things like multiple balls, cones and whistles, none of which we had at that point. Although we could manage with local materials, and for a while we did — bricks as cones, crumpled plastic bags as balls — in order to expand Grassroot Soccer to more students and other schools, sports equipment would make a huge difference.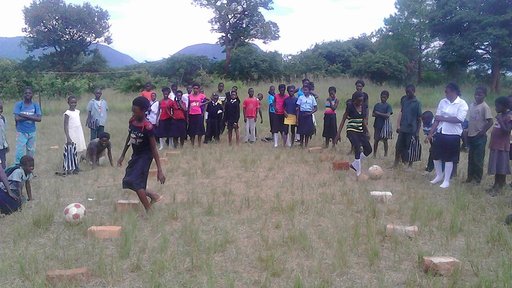 After discussing these challenges with each other, the school administrators, our students and the village soccer team, Mr. Chibuye and I decided to apply for a VAST (Volunteer Assistance, Support, and Training) grant. Our goal was to improve the school's sports equipment and facilities, introduce and expand Grassroot Soccer, and host a multi-school soccer tournament. I wanted Mr. Chibuye to feel that he had agency with this project, so he took the lead on writing the budget proposal and once the grant was approved, he went to the capitol to purchase the bulk of materials. With his help, we were able to provide the school with soccer balls, netballs, volleyballs, a pair of soccer nets, a volleyball net, whistles and cones. The primary community contributions were to clear the soccer field, paint the lines, create the school's first ever volleyball court and build benches and a grandstand for spectators.
Now with all the equipment we needed, we devoted the rest of the term to establishing the Grassroot Soccer Club and preparing for the tournament. Twice a week, we met with Grade 8 and Grade 9 classes after school. The Grade 8s were inexperienced and shy, having never heard most of this crucial HIV/AIDS information before. The Grade 9s were full of questions and curious. As a seasoned soccer player and teacher, Mr. Chibuye was a natural facilitator. He always kept them energized with local songs and conducted the sessions in Bemba to make sure the key messages were getting through.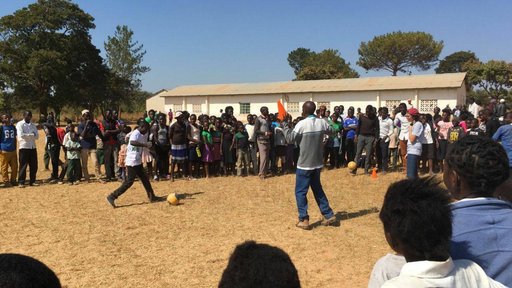 In June, I spent a week at the Let Girls Learn Summit in Madagascar. The summit led me to recognize that this project could be about more than sports and HIV/AIDS. It could be about gender too. Grassroot Soccer not only combines sports and HIV/AIDS education, but boys and girls are having these conversations face to face. Additionally, we expanded the tournament to include netball for girls and also invited women from the community to sell food and drinks at the event, encouraging local business.
On July 22, five schools and 500 people participated in soccer and netball games, a Grassroot Soccer demonstration and lots of dancing. I had never seen that many women selling food in my village before. Teachers said they had never seen the school and community come together in that way and hope to repeat the event next year. Other schools are now interested in Grassroot Soccer. 
The best part was that throughout the tournament, I hardly did anything. It was all them. The school and community ran the show. And that's why it worked.