World Wise Schools fosters 30 years of connection
I want to share not only what World Wise Schools has meant to me and my students but how the program has enriched my personal life as well.
My name is Mary Quijano. As a returned Peace Corps Volunteer from Honduras (1974-78), I brought my experiences to my third-grade classroom when I returned to the United States and began teaching in San Antonio, Texas. I tried to provide meaningful opportunities for my students to help them appreciate people of other cultures. When I heard that the Peace Corps had started the World Wise Schools (WWS) program in 1989, I was quick to sign up. I wove correspondence with Volunteers serving in the field into my curriculum and my students and I met wonderful Volunteers year after year.
Throughout my many years of participation in WWS, there were two Volunteers who stood out in particular. Colleen Mone was a Volunteer in Burundi from 1991 to 1993. Her sister, Erin Mone, served in Costa Rica from 1994 to 1997. We exchanged letters, pictures, and artifacts through the mail. I can still see the excitement on my students' faces when I announced that a package had arrived from our Peace Corps friends. I kept a box of artifacts and letters that Colleen had sent from Burundi and a magazine that Erin made on her life and work in Costa Rica.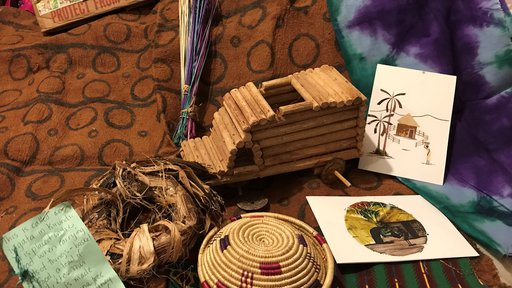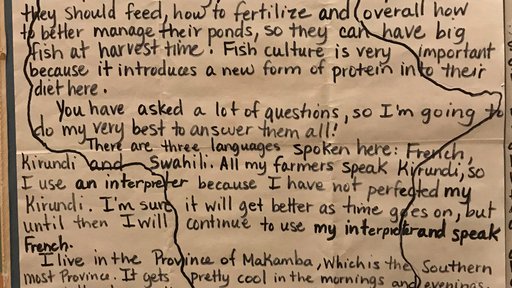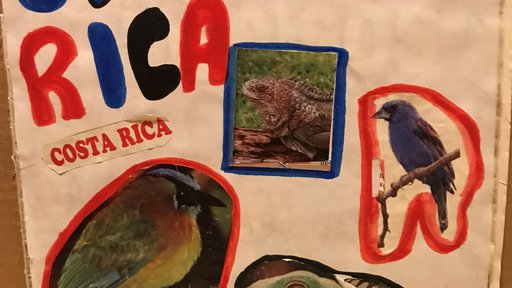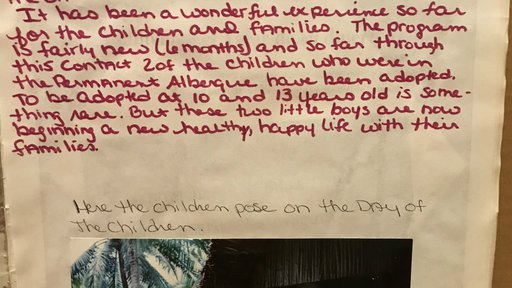 "In 1991 I was assigned to Burundi as a fisheries Volunteer and jumped at the opportunity to share my experiences through World Wise Schools. I could not have been luckier to be matched up with Mary. I was always so excited to hear from her class and wait to see how they liked the latest package I had sent.
I eventually extended my service. This meant continuing the bond we started. My 3rd year came to an abrupt end because of government unrest. I was sad on many fronts and I did not want to abandon Mary and her class. I asked my sister, who had recently started her Peace Corps service in Costa Rica, to keep it going. She did, and so the story did not end!" - Colleen Mone Hardy
After their Peace Corps service ended, Erin, Colleen, and I continued to write to each other and talked about meeting one day. Letters turned into email correspondence but then communication stopped. Then, a few months ago I came across the letters and artifacts the sisters sent me. I cherished the memories but knew it was time to return the items.
I found their email addresses and sent them a message. After years of silence, the communication picked up again. Amazingly enough, Erin and Colleen were in San Antonio! We spent two days sightseeing and sharing that enduring returned Peace Corps Volunteer bond. But it was more than that. We are now an extended family connected by the Peace Corps' third goal: to bring our service home and share the experiences and cultures of other people with Americans. I finally got to tell them both how much our correspondence and friendship has meant to me. The sisters left with the artifacts and letters they had sent my students years ago with the promise that they would return.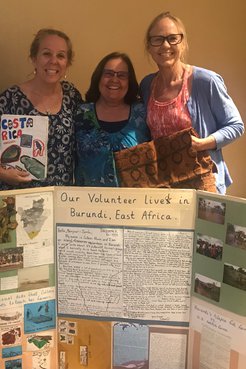 "Twenty-five years after initiating contact with Mary and her class, we had a unique opportunity to meet in person. To be honest, it was if we had known her our entire lives. When Mary returned a Costa Rica 'Magazine' I created for her class, I was overwhelmed with emotions as I recalled the process of creating it with the youth in my community. My WWS experience was not simply me sharing experiences, rather it was gathering insight and perspective from the youth, which I felt was important for bringing the world back home to her class.
Mary happened to post something on Facebook following our meeting. A number of people who commented on her post were students of hers during the time in which my sister and I corresponded with the class. Their comments about how our communications impacted their learning was the flower as a result of a seed planted nearly 25 years earlier." - Erin Mone
I want to thank WWS for connecting me to some awesome Volunteers. I may not be teaching full-time anymore but my participation in this program still brings me joy. The sisters' visit was a true gift.
As I reflect on my 36-year career as an educator, hindsight shows me that the Peace Corps' third goal directed my efforts as a teacher—even when I wasn't aware of it. I am still smiling from the opportunity to meet Colleen and Erin, share stories and hugs, and tell each other what our correspondence has meant to each of us.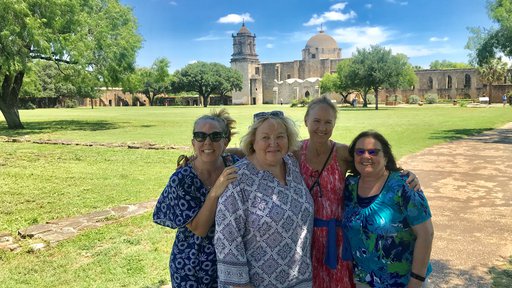 The Paul D. Coverdell World Wise Schools program is dedicated to promoting 21st century skill and global competence through stories, activities and classroom resources – all of which are based on Peace Corps Volunteer experiences.
---