World Wise Schools 2018: Year in review
2018 is coming to a close, and we're taking the opportunity to reflect on the events and accomplishments of the past year through our work with Volunteers, returned Volunteers and U.S. educators.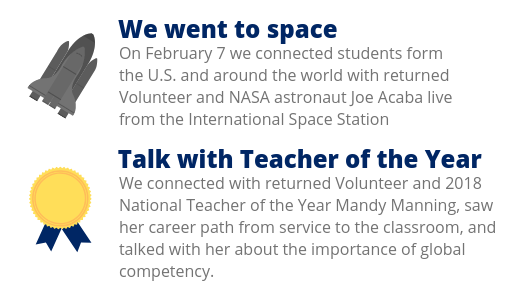 We also increased our outreach and communication with educators and Volunteers.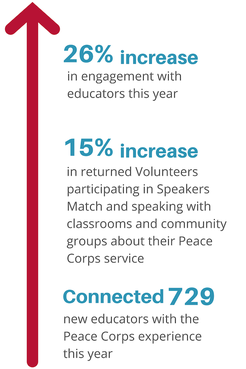 We completed our first full year of the Global Connections program, allowing Volunteers to choose their level of time commitment and type of connection with U.S. learners, and allowing educators to submit multiple requests to connect with the Peace Corps experience.
We updated and added more free resources available to educators on our website. We also collaborated with the National Peace Corps Association to house their teacher resources alongside with our own, making our website a one-stop-shop for lesson plans and activities all based on the Peace Corps experience. 

We look forward to working with U.S. educators, Peace Corps staff, Volunteers and returned Volunteers as we partner to increase global competence in our classrooms and develop a global workforce.