Working in the youth in development sector: challenging but rewarding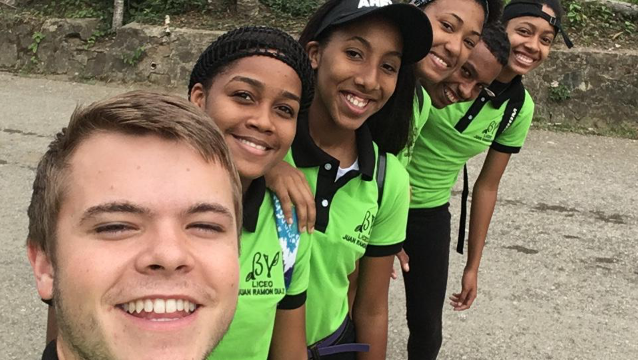 July 3, 2019
My name is Joe Tidwell, but I'm known as "Pepe" (Joseph) in my community in the Dominican Republic.
I had thought about joining Peace Corps ever since my first year of college when I attended a talk from a returned Peace Corps Volunteer from Malawi. She told us that her service was both the hardest and simultaneously the greatest experience of her life. Challenging bu rewarding: this dichotomy instantly lured me in, and has been something I've been seeking out ever since.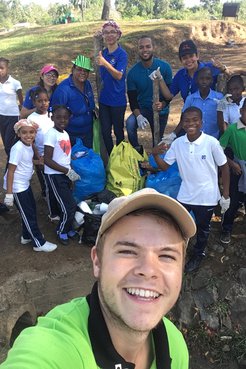 After a year of working with Dominican youth in the youth in development sector, I would describe my work as just that: challenging but rewarding.
For some context, I live in a community of around 3,000 people in the heart of the citrus growing region of the Dominican Republic. Passion fruit (chinola) vines and orange (china) trees dominate the vibrant green landscape as I traverse the dirt road into town. On a typical day, people yell "¡Pepe!" as I walk around, to which I respond a big "¡Wepa!" (meaning hello, howdy, all right, and various other words I have yet to figure out) or "¿Como tú ta?" ("¿Como tú estás?" said very fast in typical Dominican fashion).
I've been received with open arms since the first day in my community. I've shared countless hours with my host mom just talking or watching the rain, drank countless cafecitos (small coffees) in the smoldering heat with my neighbors, and spent countless hours sharing laughs and conversations with students in the local liceo (high school).
Until last year, the liceo and primaria (elementary school) in the community only went until half-day. The liceo itself is brand new, but lacks basic resources like consistent water, electricity, and school supplies. Job prospects for students after graduation are scarce, normally limited to agriculture or choosing to work in tourist areas over four hours away. Teen pregnancy is common, not unlike the rest of the Dominican Republic, which has one of the highest rates in Latin America. These are some factors that make my work challenging, especially coming from a privileged United States perspective.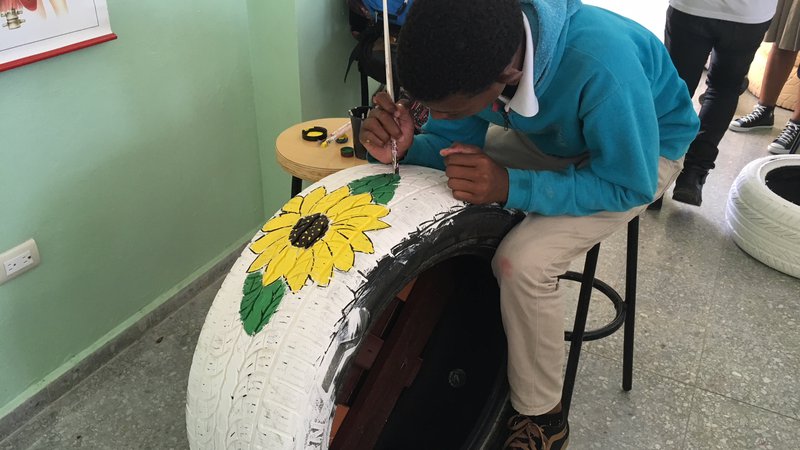 Although the conditions are clearly different, a key lesson I've learned in my first year of service is this: different doesn't necessarily mean better or worse. It just means different. These outward cultural differences only obscure an inner fundamental sameness that we all share. This sameness I've been able to discover through forming connections and relationships on a personal level with experiences like sports, food, travel, deeper conversations, or my "attempts" to dance Bachata (a popular Dominican music and dance).
While differences do exist, they are often eclipsed in other areas. For example, while students in my community may not dominate calculus or research papers (a focus of my high school education), they are extraordinarily creative and can improvise with few resources. They are also profoundly confident and dominate public speaking and theatrical presentations in a way I could have never imagined in high school.
This foundation of looking past differences and instead toward shared commonalities and strengths has been pivotal in my work in my community. Because from this mindset, working toward common goals comes naturally--which is exactly what happened for our "Dominicana Limpia" (Clean Dominican) program.
I've always had a passion for the environment, and I quickly realized that many community leaders and students do as well. With an incredible collaboration that spanned local schools, neighborhood associations, and local government, my colleagues and I planned various environmental awareness events throughout the month of March. Activities included tree planting, a community wide trash-cleanup contest, and presentations from local university and ecotourism groups. My favorite part, however, was the recycling project that the students created for our closing activity.
Throughout my service, similar collaborations have emerged, allowing me to develop career and goal setting resources for the youth in my area. I enjoy the youth development sector because it allows this flexibility and to truly allowing the community's needs to focus my work. Where else in my life will I have the opportunity to be a teacher, community organizer, coach and career counselor all at once? Being far from home, immersed within a new culture can be difficult at times. But the youth and community members that I have been able to connect with during my service have, without a doubt, made my work equally as rewarding.