Working with World Wise Schools for 20 Years
World Wise Schools has been an invigorating part of my classroom for the past 20 years.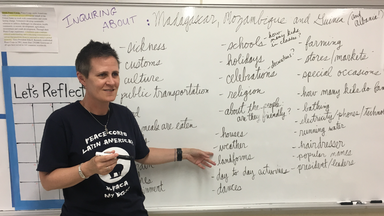 Every year my class of fourth graders writes to multiple Peace Corps Volunteers in various countries in an effort to gain a better understanding of new cultures and customs. I want my students to realize that life extends beyond their hometown in East Hartford, CT and that life is full of opportunities that extend around the globe. Many students leave my classroom wanting to be Peace Corps Volunteers in the future. All of my students leave my classroom with a better understanding of the world around them.
My students embrace the unique opportunities they are offered through letter writing and videos. They often refer to places we are learning about when speaking to peers. Adults marvel at their knowledge, as they speak of faraway places such as East Timor, Kyrgyzstan and Lesotho. My nine-year-old students are able to speak with an authority (and correct pronunciation!) about places many Americans have never heard of.
Typically, my classes communicate with three-to-five different Peace Corps Volunteers (PCVs), and one year we wrote to nine! My students work in groups to compose letters and decide what questions to ask in this cross-cultural experience. The PCVs write beautifully detailed letters with photographs of houses, bathrooms, local friends, markets and more. Reading the PCVs letters makes me nostalgic for my time as a PCV in Mali, West Africa (1993-1995). I fondly remember sitting by my lantern in my mud hut corresponding with a third grade class in Massachusetts. The biggest difference is that I traveled 60 km to send my letters from the post office and the letter would take about a month to arrive at its destination. Today, PCVs find ways to email [their letters] which enables us to correspond monthly throughout the year.
My open-minded students think critically as they compare and contrast the lifestyles of the different countries to one another, as well as to our lives. They find it fascinating how different the houses, food, public transportation and daily life are. They also have an opportunity to compare these places to my Volunteer days when I support Peace Corps' third goal by giving my annual presentation about Mali.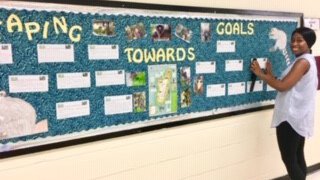 Throughout the last two years my classes had a wonderful experience writing to fourth and fifth grade pen pals in Albania. Alaina Burck, an RPCV who recently completed her service, facilitated the pen pal exchange. The classes wrote 6-7 letters back and forth exchanging titles of favorite books and video games, and asking about daily life and holidays. Most days I was greeted with the question, "Did our letters arrive?" My students considered it one of the highlights of fourth grade.
For the first time this school year we were very lucky to meet one of the PCVs we were writing to! Raven Gaddy spent a day in my classroom before she left for her training in Madagascar! Raven described many aspects about Madagascar that she already knew, and the students had countless questions. We followed her progress through training, watched her swearing-in on video, and learned about life at her site in Madagascar.
Working at O'Connell Elementary School, an International Baccalaureate (IB) School, encourages international inquiries and discoveries that my students make on a daily basis through the World Wise School Program. They have a deep understanding of taking action to help others and feel inspired with the volunteerism that PCVs are dedicated to. My class works towards incorporating the IB Learner Profile Attributes into their lives, and they are impressed that being a Peace Corps Volunteer encompasses all ten Attributes.
My classes feel invigorated and passionate about the world thanks to correspondence with Peace Corps Volunteers through the World Wise School program. I have a feeling that the Peace Corps may have many future Volunteers who gained international-mindedness and the desire to serve while in my fourth grade classroom.
The Paul D. Coverdell World Wise Schools program is dedicated to promoting 21st century skill and global competence through stories, activities and classroom resources – all of which are based on Peace Corps Volunteer experiences.
---