Corps to Career: Working in Radio
You never know where your Peace Corps service, or your career for that matter, can take you. I truly owe my entire career to the Peace Corps and the experiences I had serve me every day.
I started things off like all Peace Corps Volunteers: got my site assignment and medical kit, met my counterpart and favorite street food vendor, and was given a local name (Amoding, Ugandan Ateso for "girl born in the dry place where the wild things are" – but hey, I'm originally from Las Vegas so it's fitting!). I spent my first two years at a school for the blind in eastern Uganda. My community and I built an income-generating poultry house and organized peace camps for former child soldiers and victims of atrocities at the hands of the Lord's Resistance Army, among other projects.
In addition, I hosted a weekly life skills call-in show at the Voice of Teso radio station in Soroti. I quickly learned a cardinal rule of radio broadcasting: consistency. People will turn the dial if you don't deliver at the same time every week. Consistency meant never missing a show and always providing engaging content. Consistency built trust. And that trust drew listeners to important information about health, family planning, social entrepreneurship. This knowledge helped our listeners make more empowered decisions for themselves and their families.
I'll never forget one piece of listener feedback I received. After several days spent convalescing from a particularly unpleasant bout of malaria, I summoned enough energy to visit a local restaurant for some life-giving soup. The waiter asked me, "Are you the same Amoding from the radio?" He then told me that he and his family listened every week and the show helped them be better people. Overcome with emotion, not to mention the lingering effects of malaria treatment, my head nearly fell into my soup. For the first time, I really understood the power of media.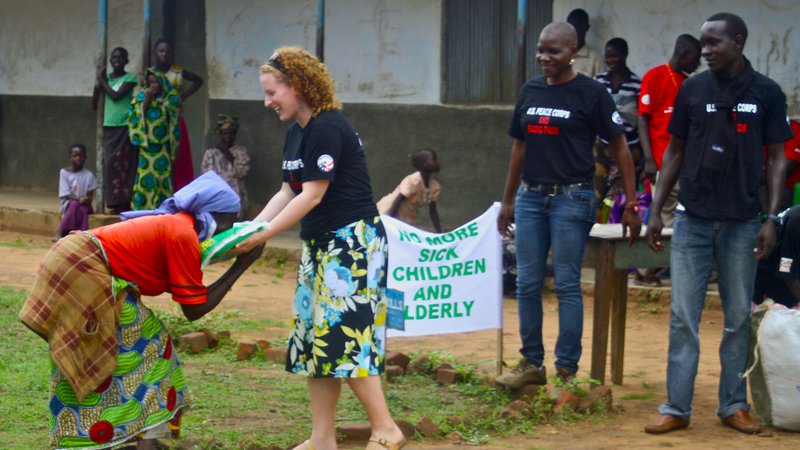 When I extended my service for a third year, I transferred to Radio Pacis near Arua, Uganda. There I trained newsroom journalists, created behavior change programming with youth, and even contributed my own reporting each week. My colleagues and I traveled all over the rural West Nile region, bringing the appeal of radio with us. One excursion found us in the midst of a tribal feud. We were able to end the dispute by simply giving each side a microphone and the opportunity to talk out their differences on live radio. It was rewarding work, and I knew that I was exactly where I needed to be.
When I worked at Voice of Teso, I didn't realize that it was a Voice of America (VOA) radio affiliate. Today, I work at the U.S. Agency for Global Media (USAGM), which oversees VOA. USAGM is an independent federal agency with the mission to inform, connect, and engage people around the world in support of freedom and democracy. Sounds a lot like the Peace Corps, doesn't it? Through its five networks, including VOA, USAGM delivers compelling, accurate news and information on TV, radio, web and social media to 345 million people a week in 61 languages across nearly 100 countries. I love my job and supporting this powerful mission.
In my experience, Peace Corps and USAGM are two of the best reflections of American goodwill. In both roles, I have witnessed how the power of good, and the power of information, can build trust while transforming lives and communities in all corners of the globe. The two organizations are distinctively and effectively positioned to lift up the common cause of global peace and understanding. They exemplify some of America's best values and its better nature to serve.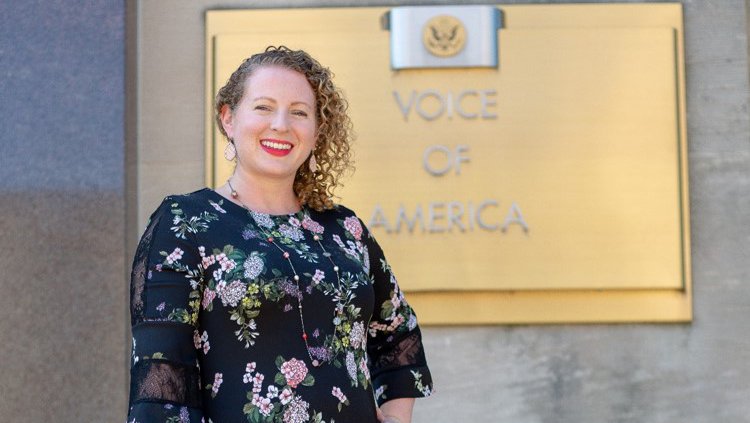 Not only does my Peace Corps service align with my current job, it also helped me earn an advanced degree, find my first federal government job via the Peace Corps D.C. career fair, and join the Returned Peace Corps Volunteers of Washington, D.C. board. My Peace Corps experience grounds me in a way that comes in handy every day. I'll share a few things I learned that remain true:
Perspective is everything.
Be humble and do not pretend to have all the answers.
Learn to weather the challenges and control only what you can control.
It's all about little changes and small wins— they add up to make a difference.
Integrate! Build strong connections with your colleagues because you're all in this together.
Don't expect to change the world. But you will likely be a major product of your work and you can carry that change forward.
It's not an overstatement to say that I owe my career to the relationships and experiences afforded to me by my Peace Corps service. Throughout the years, the spirit of service has never left me, and it continues to motivate me. The Peace Corps is and always will be a part of who I am and what I do. And when I retire, you can bet your Birkenstocks that I'll join up again.