Women's organization in Guatemala strengthens capacity to curb domestic violence and support survivors
In Guatemala, four women were determined to address domestic violence in their community. This is a global issue that is also personal to them.
As social workers and psychologists, Ligia Maritza Marroquín Mejía, Karen Elizabeth Castillo Pérez, Liz Alejandra Marroquín Mejía, and Karen Magdalena Miche Pérez often found themselves being called upon for support by friends, sisters, and neighbors who were victims. It got them thinking about how many other victims they could help.
In 2018, the women launched Mujeres Mejorando Vidas (MMV), which translates to Women Improving Lives. Together, they were committed to supporting domestic violence survivors.
"Violence against women is universal. That violence oftentimes occurs in our homes, but we may not recognize it as violence. That's why it's so important for us to educate ourselves about domestic violence before we attempt to help others," said Ligia, MMV's co-founder and executive director.
Ligia leads the organization's multidisciplinary team that provides wholistic support to survivors. She remains good friends with two returned Peace Corps Volunteers (RPCVs) who collaborated with the organization prior to the pandemic. When MMV was looking for additional support, Ligia instinctively reached out to the Peace Corps staff in Guatemala.
At the time, Volunteers wouldn't return to service in Guatemala for several months. The Post staff recommended the organization participate in Virtual Service. The organization would work virtually with a RPCV who would donate time each week to complete a list of identified tasks.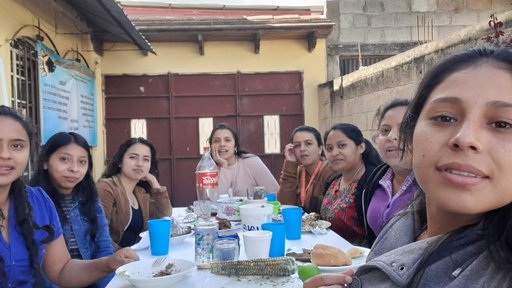 "[MMV] has a skilled team, but due to everyone's workload, it can be difficult to complete certain projects," Ligia said.
Enter Briony 'Bri' Seoane, who served in El Salvador from 2002 to 2005. Bri and her MMV counterparts kickstarted the virtual collaboration by developing a detailed, three-year strategic plan. This strategic plan was key for their next task: identifying potential funders. Having a well-developed strategic plan enabled MMV to apply for and receive funding that the organization otherwise wouldn't have been eligible for. For instance, they are now implementing a project with USAID funds.
"Working virtually has helped us reach new areas and learn how to effectively communicate online. In some ways it's been a challenge, but it's also helped us share [our work] in new ways," said Karen, MMV's program manager.
Karen manages the training program for local children and adults. These trainings aim to increase the individuals' capacity in areas that are considered protective against domestic violence; they include human rights, self-care, and personal money management.
The virtual engagement concluded this past January, and the MMV team agrees that participating in Virtual Service was beneficial.
"We're grateful for Bri's help, especially since she wakes up early and works late to accommodate her full-time job and family commitments. In addition to completing project tasks, we've learned things we didn't expect to, such as incorporating e-commerce and developing a website," Ligia stated.
Ligia and the team wish to continue its partnership with the Peace Corps. In fact, MMV has begun the process to request an in-person Volunteer to support their important work in women's economic empowerment. The Peace Corps is proud to partner with community changemakers such as the women at MMV.
---