"Women are the power for change": A mother inspires her daughter to serve
Jane Moore and Jennifer Clowers share a bond beyond that of mother and daughter. They both committed themselves to Peace Corps service—with about four decades in between.
Clowers said that her mother was her main inspiration for becoming a Volunteer.

"Growing up and hearing my mother's stories of Togo definitely inspired me to serve," Clowers recalled.  "From childhood, for as long as I can remember, I wanted to be a Peace Corps Volunteer.  It was never a question as to whether I would serve—only a matter of when."
In 2006, one year after graduating from Franklin & Marshall College, Clowers joined Peace Corps as an agroforestry Volunteer in the West African country of Guinea.
"One of my main projects was working with two women's gardening cooperatives," Clowers said. "The women wanted to grow produce to sell in the surrounding 10 villages. I also taught various agroforestry techniques such as composting, use of natural pesticides, and mulching." 
After Peace Corps Volunteers were evacuated from Guinea in January of 2007, Clowers chose to continue her service in Niger instead of returning to the U.S. There she acted as a business Volunteer, mainly helping artisans affiliated with the National Museum of Niger to improve various aspects of their businesses.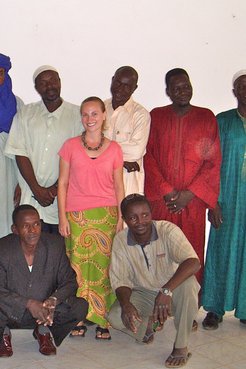 Despite the challenges of being evacuated and resettling in a new country, Clowers extended in Niger for an additional three months and successfully completed her service in 2008.

"I went from living in a remote village in Guinea working with agroforestry to living in the capital city in Niger working with business," Clowers explained. "Thankfully, I learned a lot from working with the women's cooperatives in Guinea and was able to hit the ground running in Niger. I quickly adapted and relied on my lessons learned in flexibility, patience, and cultural integration."
Several decades earlier, Jane Moore served in the small West African country of Togo. After graduating from college, Moore took up President Kennedy's challenge to take personal action to improve the world.
"This was the time of the Vietnam War and civil rights," Moore recalled. "My peers were getting married and going directly into teaching, nursing, and graduate school. I wanted to live the challenge, to learn and grow before determining my life course. Peace Corps gave me that life-changing opportunity."
Moore, who majored in theater and drama, went on to serve as a public health Volunteer in Togo from 1968 to 1971. She trained midwives, medical staff, and teachers as health educators, and helped implement special community projects to promote health, including a water filtration system, improved sanitation practices, and community gardens.
"In my Togolese village we had a very capable health team—nurse practitioners, midwives, and an itinerant nurse," Moore explained. "I used a flannel board and puppets to tell stories about health and disease prevention to encourage discussion about practical ways to address problems like river blindness."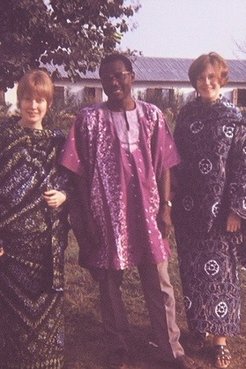 Clowers felt that sharing the experience of being a Peace Corps Volunteer with her mother brought the two closer.
"My mom came to visit me in Niger after I finished my service," Clowers said. "We spent two weeks travelling in Niger, and she had the opportunity to meet my friends and all the people I worked with.  When dealing with reverse culture shock after coming home to the U.S., I found it very helpful to know that my mom could relate to my experiences."
Traveling back to Africa allowed Moore to witness changes in places she'd been decades earlier, as well as her daughter's growth.
"I joined Jenn in Niger, visiting with the artisan cooperatives in Niamey and heading to distant villages up country," Moore said. "Almost 40 years before I had travelled from Togo to Niger. Seeing the changes and challenges gave me new appreciation for the strength and fortitude Jenn gained in her Peace Corps experience."
Clowers was motivated by her mother's example to help people in need, while both she and her mother found inspiration in the women and communities they served in Africa.
"Women were the strength of the village, the power for change," Moore explained. "The women sent their sons and daughters to school; they planted the gardens, worked in the fields, carried the water, cooked the meals, sold their products in the markets, celebrated birth and death, and furthered the development of the village—always investing in their children and their children's children."