Why the key to sustainability is leaving behind a process, not a product
Chris Johansen applied his experience in business planning and fundraising to set up a Kenyan community store for success, not knowing that 30 years later he would complete similar work for a Namibian egg farm — this time entirely from home.
Chris served as a Peace Corps Volunteer in Kenya's western hills from 1989 to 1991. In the morning, Chris taught education at a trade school. In the afternoon, he mentored women's entrepreneur groups. With community members traveling 30 kilometers to purchase essential goods, many of the women entrepreneurs felt inspired to open a cattle-feed shop so that those essential items would be easier to obtain.
After years in community development and business marketing, Chris toyed with the idea of retiring. A LinkedIn post about Peace Corps' Virtual Service inspired Chris to take on a new and fulfilling project, though.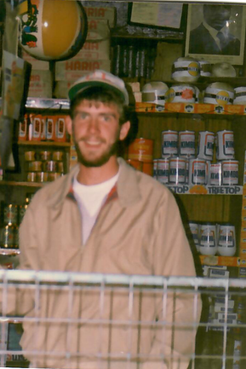 What professional experience and skills were you able to apply to your virtual service?
Chris: Throughout my professional life, I've done a lot of business and marketing planning. That includes implementing and evaluating those plans. I've done that for both small businesses and global 50 companies.
After my Peace Corps service, I went and got a marketing MBA and a nonprofit management certificate from Weatherhead School of Management at Case Western Reserve University in Ohio. I worked in community development in the U.S. for 12 years until I burned out. I then transitioned to working for hospital systems, where I led digital marketing efforts. I learned how to use marketing automation platforms to help sales, but also to help marketing analytics.
Tell us about your virtual service tasks.
Chris: We held a couple workshops virtually to identify the business model basics. The first thing I do is try to understand their business model by asking key questions, starting with what customers do they go after. Many companies aren't sure who their target audience is so this is important to identify. Next, I ask them who their competitors and channel partners are. Channel partners are essentially suppliers and distributors. Finally, I inquire about company assets. You can figure out ways to gain access to specific customers by using current assets.
The project involves three product lines: the eggs, mature hens that have decreased in productivity, and chicken waste to be used as a fertilizer. For each product group, we used Google's Jamboard sticky note feature to collaboratively answer these questions along with how the farm promotes their products, what methods they currently use, and price points. Then we exchanged a lot of data. I asked for financial statements, the egg production schedule, and future plans.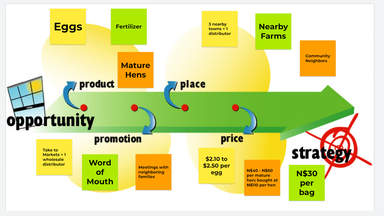 These are competitive products, so it's difficult to play with the price. Instead, we realized they should focus on the quality of service they provide, the consistency of service, and the consistency of product they provide–in terms of the volume and the variety of eggs.
This was an aha moment that if you're going to go to market as a trusted brand and you can't meet the demand, that hurts your brand. We've been working on solving this issue, essentially thinking about how we get the farm to produce the same amount of eggs each month. In my counterpart's case, their production consistency directly impacts their ability to put the orphans through school, which makes it all the more important.
What was it like collaborating with your counterpart? How did you two make the difference in time zones work?
Chris: We met each other as equals. He would say what he wanted and I knew what to do with the information he provided. The meetings with Zoom or Google chat were a little bit difficult, so we decided to just do phone calls using WhatsApp.
He is six hours ahead of us so we meet at 9 a.m. my time, 3:00 p.m. his time. I do my best thinking after going to the gym, so I would work an hour or two on solo tasks after returning from the gym.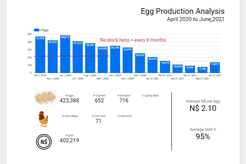 How do you ensure the work completed during virtual service is sustainable?
Chris: Ever since my Peace Corps service in Kenya, my goal has been to leave behind a process, not a product.
I've been conscious of that, so I document process steps and showed them how to use free online tools. Google Workspace for nonprofits gives plenty of storage space for the documents that we create.
How did you meet Goals 2 & 3 in the virtual environment?
Chris: Sussex, the southernmost county in Delaware, is one of the largest egg and chicken producers in the country. There are chicken farms everywhere there. It was easy for me to go to one of the farms and take photos.
When I traveled for personal reasons, I made sure to take photos and videos to share. Times Square, Penn Station in New York, Washington D.C., and I'm going to share a picture of my mango tree here in Florida to show the diversity of America.
What tips would you share with other Virtual Service Pilot Participants?
Chris: I found LinkedIn very helpful. I would post that I'm doing this project and it's amazing the number of people who reached out. A good friend from the Peace Corps who lives in Norman, Oklahoma, runs a farm for abandoned animals. She told me that the chicken farm I was supporting should take special measures to protect the chickens from avian influenza. Another friend who works for the U.S. Department of Agriculture recommended we create a chicken waste disposal plan.
It's fun to include others from your wider network – it's something I didn't get to do when I was a Volunteer on site.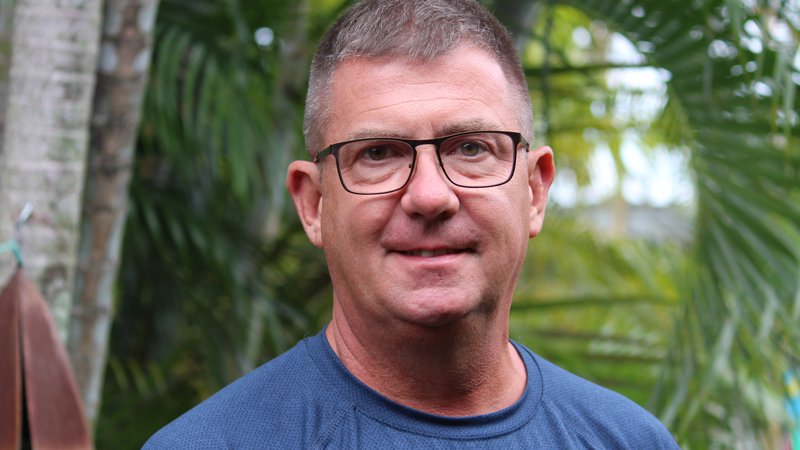 What would you say to people interested in participating?
Chris: I highly recommend virtual service to just about anyone. It's not a huge commitment. It is refreshing to use your tools, your skills, perspective, and judgment on something that has a huge impact. It just felt so good to be able to use some of those business school skills to support somebody who wants to listen, learn, and implement.
You can use your entire network and the digital tools available to collect and analyze information.
Although Chris is set to close his virtual engagement this August, the work is far from complete. The Peace Corps post staff in Namibia and the partner alike are preparing for an on-the-ground volunteer to continue the project work, positioning the farm to successfully sell eggs, hens, and natural fertilizer.
Curious to know more about virtual service?
Learn more