Why staying virtually connected to Peace Corps Armenia has meant so much
Evacuating from Armenia was disappointing, but returning virtually to support Armenian students has kept me connected to a place I hope to return to.
It was January 2018 when I first inquired about joining the Peace Corps. I submitted my application a month later and specifically requested to serve in Armenia. In July, I received and accepted my invitation to serve.
Things quickly swung into high gear. Besides my personal preparation, there was a lot to do to fulfill the pre-departure requirements. I had to submit fingerprints, go through the steps of medical clearance, apply for my Peace Corps passport, and do online pre-departure training. It all kept me busy and excited.
Then the journey began. After convening at a brief staging event in Arlington, Virginia, my cohort departed for Armenia on March 18, 2019. We had a couple of months of pre-service training (PST) near Yerevan, and then, at the end of May, we had our swearing-in ceremony in Yerevan. On June 1, we dispersed from our training villages to our permanent sites around the country.
Our two years of service finally began.
It was summer, the best time to settle into our new communities. I continued language training and was involved in occasional events that other Volunteers had helped coordinate. I also started working with my new counterparts. Soon enough, it was September 1, which in Armenia is the day of the "First Bell," when the school year starts. I was assigned to serve as an English education Volunteer at Goris State University. I loved the assignment and the people I worked with.
On March 18, 2020, the exact date we departed for Armenia a year earlier, our service was cut short. The COVID-19 pandemic was shutting the world down, and we were all evacuated back to the United States.
Even though it lasted an unexpectedly short time, my Peace Corps service was nonetheless a wonderful, eye-opening experience. When we were evacuated, I was sad to leave Armenia and intended to return when conditions allowed. In the summer of 2020, I was given the opportunity to apply for reinstatement, and so I did. However, only months later a border war broke out between Armenia and Azerbaijan. Meanwhile, the pandemic was far from over. By January 2021, it was still unclear whether Peace Corps Volunteers would be going back to Armenia anytime soon.
When I received an email from the Peace Corps offering the opportunity to connect virtually with Armenian students, I jumped at the chance to support them. I gladly took advantage of the Peace Corps Virtual Service Pilot (VSP). I worked alongside a counterpart at Yerevan State University and we taught two groups of students who were preparing to become English teachers. This was a meaningful assignment for me because we covered cultural issues I had always wanted to include in my lessons.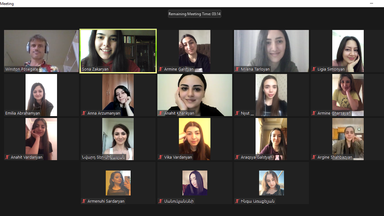 In May, I learned that Peace Corps Armenia would not be reinstating evacuated Volunteers. I was disappointed, but just as I was getting used to the idea that I wouldn't be going back as a Volunteer to Armenia, I received an invitation to take part in virtual service with Peace Corps Armenia. Thinking this might be my last chance to work with communities there, I happily agreed to participate.
This time, I co-planned and co-taught with two other former Peace Corps Armenia Volunteers. Co-teaching was a new experience for me, but it was successful. Our students were members of an English club and teachers were free to come up with our own discussion topics for the group. We prepared, did relevant research, and took turns leading the discussions and supporting each other. Students who attended were enthusiastic and engaged.
Besides lighthearted topics such as movies and holidays, we also covered serious subjects like physical and mental health and safety. I led a discussion on smoking and second-hand smoke and another session on transportation safety — both major health and safety issues affecting Armenians, Peace Corps Volunteers, and people around the world. I have long thought that these particular issues don't receive amount of attention and understanding they deserve. Researching and discussing them in this program meant a lot to me.
Even though I haven't been there in nearly two years, Armenia remains with me every day. I keep in touch with my Armenian friends and I continue to learn the language. I also share my experiences and knowledge about Armenia with family, friends, and students who have never been there.
I'm determined to someday return to the Peace Corps and I'll happily serve in another country. Knowing I probably won't continue where I left off in Armenia as a Volunteer makes me even more grateful that I've been able to serve virtually. No matter where I end up serving as a Peace Corps Volunteer, I certainly hope that someday I can return to Armenia.
Read more Virtual Service Pilot Stories
View all