Why are you serving, Peace Corps trainee?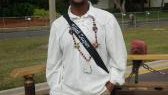 "There are a lot of factors: first, changing the world, second, boost my career and third, I'm addicted to travel. It's like a perfect storm. I couldn't pass up the opportunity!" says Craig Chavis Jr., who departed for service in Peru with his trainee class in early June. He made sure to pack a GoPro, because he loves shooting video, and hair clippers, because he's also a barber.
In case you were wondering, Craig didn't really go from piracy to Peace Corps. "I was at a Mardi Gras parade in Tampa dressed as a pirate on a float when I got the invitation email from Peace Corps."