When in-person service in Armenia turns into a virtual engagement
Originally from Ireland, Jim Daly worked for 35 years as an architect in sunny San Diego before applying to serve as a Peace Corps Volunteer. In 2013, he boarded a plane to teach English in Armenia, not knowing that he'd become so inspired by the culture and people, that he would remain in the country. We asked him about his service and how he fell in love with culture, music, and language.
Can you share a bit about the projects that you worked on during your two-year Volunteer service?
I taught English to third- to ninth-grade students. We built an English resource center, so I used my skills as an architect to design the room. The students helped by tearing up the room and getting it ready for the project.
A local contractor built it for us, so we ended up with new windows, all the walls plastered, new flooring, an overhead projector, and four computers. I'm very proud that it's still in excellent condition. It was so successful that the kids would line up during their break to be the first ones back in the room.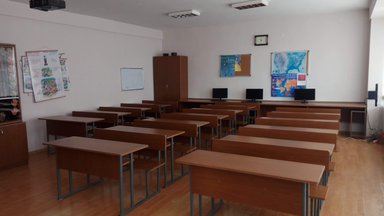 Did you experience any culture shock going to Armenia?
Well, the big change for me was coming from San Diego, where it's on average 70 degrees (20 Celsius) to high in the Caucasus Mountains, where it snows much of winter. I lived on the ninth floor of a Soviet-era apartment complex without an elevator.
My good friends sent me books, pens, and material for the students. One of the boxes was like 75 pounds! I had to carry that box all the way up the nine floors. I would carry it one flight of stairs, rest, and keep going. The kids were so appreciative when I brought the items in.
It's such a wonderful experience, and it is true – Volunteers gain a lot more than you give.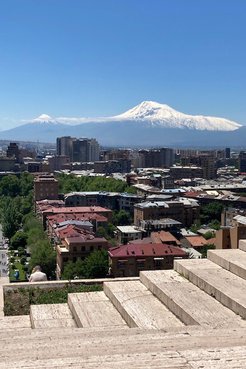 What is your favorite part of Armenian culture?
I love the architecture of Yerevan. The city center was actually designed by an Armenian-Soviet architect named Alexander Tamanyan in 1926 for 120,000 people, but now there's over 1 million people. They have lovely parks – it's really a city for pedestrians. I love the culture, the music, language, and I love the children. They want so badly to learn. They know that education is their key to success, so I'm going to help them. If they want help in English, I'm going to do that.
How did you achieve the Peace Corps' Goals 2 and 3 during service?
I worked with American Corners, where we shared American culture with the locals. They were very popular classes. We had a movie club and a book club. We talked about American artists, authors, and culture. The system here is very structured, so we had to follow a curriculum provided by the government.
How did you extend your Volunteer service with Peace Corps Armenia?
When I returned to California, I applied for Peace Corps Response, because during my two-year service in Armenia, I volunteered at a summer camp for orphans and children. As an architect, I was able to teach art therapy. I returned to Armenia as a Peace Corps Response Volunteer in 2016. While I was teaching at the camp, I was approached by a professor at a local university. She asked me if I would work with her to teach English to translators. That was such an amazing experience.
After I finished my program (2016-2018), I stayed on working with this counterpart at the university. I loved it so much that I continue to rent a house and live here full time.
What tips would you give to someone who is interested in becoming a Peace Corps Response Volunteer?
Be flexible and courteous. You have to be very open-minded, because you will come across attitudes that are alien to us, so we have to be very patient and listen and not try to force our values. If you keep an open mind and keep your heart open, it's just a wonderful experience.
You also participated in the Peace Corps Virtual Service Pilot. What was that experience like?
I worked alongside two former Volunteers. We would connect each day and prepare lesson plans. We worked with mostly female high school students and our first meeting was on the topic of medical education in Armenia and the U.S. I was very fortunate to find a maxillofacial surgeon here who spoke excellent English. We tried to pick topics that the students could relate to, such as cyberbullying and self-image as it's portrayed in advertising.
The Virtual Service Pilot is very effective – it allows Peace Corps Volunteers to be active with communities all around the world, without having to leave their homes.
What were the challenges you faced during virtual service?
One the challenges of course is understanding the culture and being careful not to impose my values. Another challenge we had was that during the school year, it's very difficult to coordinate times, because they may not get off school until 3:00 p.m. We had to change our lessons from 3:00 to 5:00. It requires some flexibility on our part in accommodating the counterpart's schedule.
---