When back is the only way forward
Returning to Liberia after being evacuated in 2014 was the easiest decision I have ever made. 
It was one of those rare occasions where I had decided to do something before I even knew if it would be possible. I had spent a year dreaming about dusty roads and crowded classrooms, and it was clear I had left behind more than my pillow in the evacuation.
Coming back has been an emotional experience. There were a few months last year when I wasn't sure if there would be anything left of my old community, much less that I would ever see it again. In December I had the privilege of returning and seeing all the people and places I had been forced to flee from more than a year ago. I don't think I have ever been so grateful for anything as I was for those few days when I was able to be back at my old site.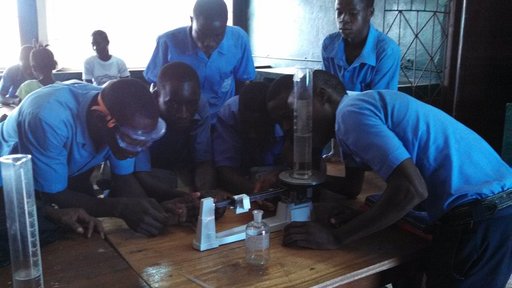 I was placed in a different site when I started my Peace Corps Response service. This has given me the opportunity to experience a completely different perspective and community in Liberia. Even though Liberia is only about the size of Tennessee, the cultural and economic disparity between the different regions is dramatic. My first site was a remote border town where most of our goods came from Guinea. On Fridays I lost most of my students to work on their farms in their various villages, which were sometimes more than a five-hour walk from the main town. I live in one of the largest cities in the country and teach in a three-story high school that has electricity for most of the day, and I even get to teach a chemistry lab course.
At my first site, sometimes I felt like teaching was an uphill battle, especially when I stood in front of 150 students crammed into a tiny classroom in a school where only five teachers were actually employed by the government. Now, I share my classes with salaried, trained instructors. As much as I enjoyed my students in my first year and miss them, it is really that I can assure my students that their high school education will give them more opportunities for future employment and education, and I can mean it.
Integrating into my new community was easier and more fun than I expected. I am not so overwhelmed by the differences between Liberian and American cultures this time, which made it easier for me to get to know my neighbors and counterparts as people rather than as cultural norms. I have also carried my experiences from my first site with me, and sometimes I feel like I am sharing as much of the culture from there as from the U.S. My friends at my new site were horrified when I told them how good fried grasshoppers taste, and I try to dispel some of the stereotypes about the people in the northern regions. I have also had some of my own misinformation corrected, and I am beginning to appreciate the diversity of Liberia and Liberians in everything from language and food to general attitude.
Since my first Peace Corps service, I have changed and grown as a person in so many ways. After my first year, I began to work towards a totally new career path inspired by my time in Liberia. Even still, the feeling of being interrupted and unable to complete my service never really faded. Coming back to Liberia has been so important and rewarding, and I have been relieved to find that I can now start to move on from the events of 2014 and forgive myself for leaving and, because of that, I think I will be much more successful at whatever comes next.