What Volunteers from top states say about Peace Corps service
Peace Corps Volunteers hail from every state, district and territory in the nation. To celebrate the Peace Corps' regional diversity, the agency releases an annual list to recognize top Volunteer-producing states across the country. 
Volunteers in top states per capita (per 100,000 residents)
#1 District of Columbia - 14.8 Volunteers per 100,000 residents 
Emma Murphy hails from Washington, D.C., and currently works in Senegal as a health Volunteer. "Behavior change in a community starts with one forward-thinking, open-minded change agent," she says. "The best people to convince someone to change are the members of that same community, friends and family. As Peace Corps Volunteers, we see this process up close. And the results are seen in the nutritional status of my baby host sisters and all the other young community members who will grow up to become tomorrow's leaders."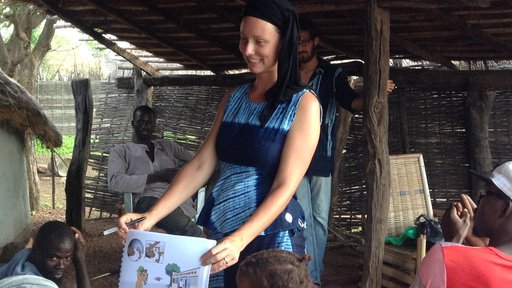 #2 Vermont - 6.9 Volunteers per 100,000 residents
Worcester, Vt., native Jocelyn Hill teaches in Tonga as a Peace Corps Volunteer. "Values of loyalty, and humility run deep throughout the Tongan culture and in every interaction," she says. "I was told by a Tongan I met in Hawaii before my service that I would never go hungry, and she wasn't lying. The Tongan hospitality is so strong and welcoming, it is a kindness and generosity I have never experienced before. I am supposed to be the one coming to serve my country of service, yet my host country nationals have helped me more than I could ever reciprocate."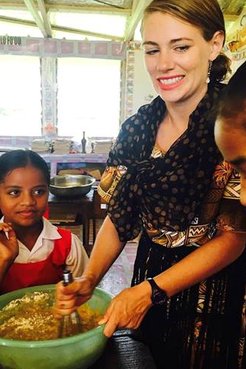 #3 Montana - 4.6 Volunteers per 100,000 residents
Bozeman, Mont., native Rose Cote teaches in Namibia. "There are many things I love about Namibia but one of my favorite things is that everyone here seems to feel a sense of taking care of one another," she says. "The people in Namibia, whether ones I am close to or not make me feel as though I am a part of a big fabric of the country, or a large Namibian family. Everywhere I have been I have felt welcomed by the people."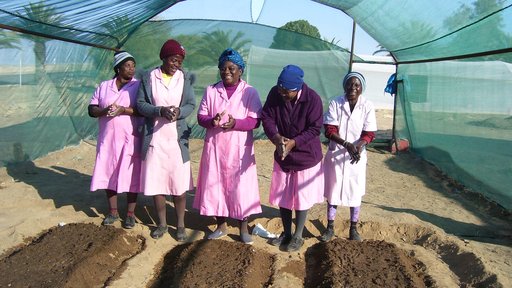 #4 Oregon - 4.4 Volunteers per 100,000 residents
In Timor-Leste, Oregonian Haley Ehlers works in community economic development. "Probably similar to many Peace Corps Volunteers around the world, my service has changed how I view comfort and necessities," says the Salem, Ore., native. "It is overwhelming to me now to think of how many things I have back home and how many things once felt like a necessity. Learning to live with less is a challenge sometimes, but more often, it is a relief."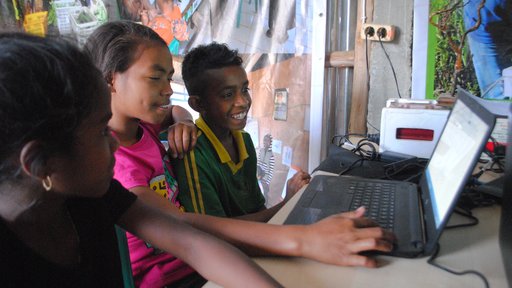 #5 Virginia - 4.3 Volunteers per 100,000 residents
Originally from Warrenton, Va., Ricardo Sneed teaches English as a foreign language in Moldova: "I really appreciate the opportunity that I have as a Peace Corps Volunteer. I once read a quote that said, 'If you can't do great things, do small things in a great way.' That is what I feel like I am doing or at least trying to do: these small things in a great way. Thinking back from my time as an AmeriCorps Volunteer to now as a Peace Corps Volunteer, I know that I am not going to change the world, but what I can do is throw a stone to create a ripple effect. That ripple can grow and grow and be used to continue to reach others where they need to be met, paying it forward for a great good."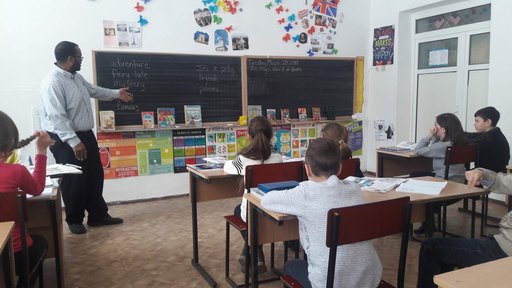 #6 Maryland - 4.2 Volunteers per 100,000 residents
Kendall Ziner, a Maryland local, currently lives and works in Senegal as a community economic development Volunteer. "While I still have a year left, the Peace Corps has clarified what it is I want to do in terms of a professional career," she says. "I thrive best when directly working with people and there is a mutual learning experience happening. From this, I want to continue working in development and cultural exchange, where I can help communities mobilize themselves but also where they can help me learn about a new culture and way of living. Beforehand, I lacked a clear idea of what professional path I wanted to take, but as time continues here in Senegal, it becomes more and more evident this is the type of work I should be continuing."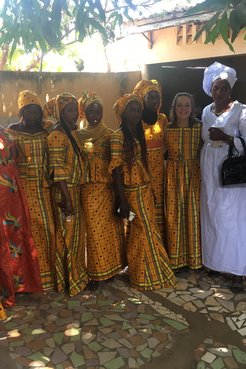 #7 New Hampshire - 4.1 Volunteers per 100,000 residents
As a Peace Corps Volunteer in Mexico, Kimberly Pollock works in the environmental education sector. The Bedford, N.H., native says, "Mexico has taught me to go more out of my way to help others. My host family is constantly doing things to help each other- running errands for each other, helping each other with chores, or bringing forgotten items to work or school. Mexican families provide such a strong support network for each other, and I've learned how to give even more of myself for others as well."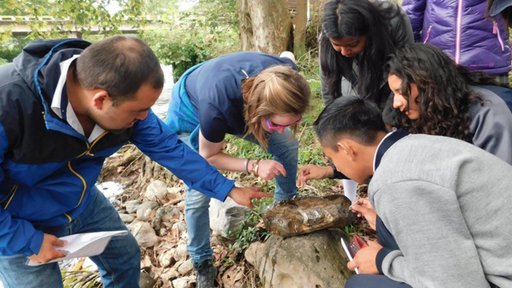 #8 Colorado - 4.0 Volunteers per 100,000 residents 
Community economic development Volunteer Terri Marshburn hails from Golden, Colo., but serves in Albania. "For me, Peace Corps has been a bridge to retirement. It is helping me to transition away from a 60-hour work week and prepare for what I want to do in retirement," she says. "[Service has] changed me by reminding me that at my age I can still change and be changed. It has reminded me that I can still teach and be taught."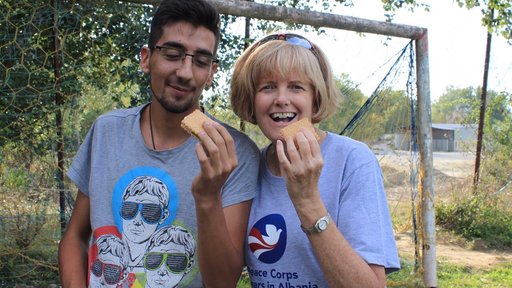 #8 Maine - 4.0 Volunteers per 100,000 residents
Scott Tilton serves in Malawi as an environment Volunteer. Originally from Maine, Scott says, "Living abroad prior to my Peace Corps service certainly contributed to my ability to accept and embrace the differences of a distinct culture. I believe that life experience also helps prepare Volunteers for foreign service. In Maine and elsewhere, I have worked as a fisherman, as a carpenter, as a government employee, and as a business owner. These types of varied life experiences help prepare an individual for a rich experience in the Peace Corps."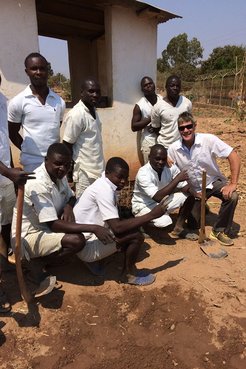 #8 Rhode Island - 4.0 Volunteers per 100,000 residents
Rhode Islander Kevin Drumm works as a health Volunteer in Peru. "Peace Corps has helped stoke the fire that drives me spend my time on Earth making a difference in other people's lives," he says. "I am definitely more confident now that dedicating my life to my passion for people will be both gratifying and beneficial."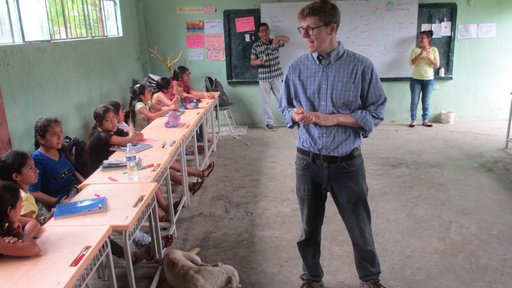 #11 Washington - 3.8 Volunteers per 100,000 residents
As a TEFL (Teaching English as a Foreign Language) Volunteer, Feruza Ghias lives and works in Macedonia. Ghias, a Shoreline, Wash., native says, "My service has taught me my strength and limitations and abilities I did not know I had since I am living away from the comfort of my home and my American country. I've learned stress-coping skills such as exercising in my room, journaling or taking a walk around the village. My service has taught me to appreciate many things I took for granted in America such as a proper shower and central heating. I've also learned to appreciate the relationships in my life such as my parents and my siblings."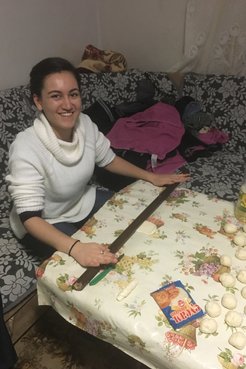 #11 Minnesota - 3.8 Volunteers per 100,000 residents
Youth and community development Volunteer Lyla Amini serves in Morocco. The St. Paul, Minn., native says, "Peace Corps has provided the opportunity for significant skill development and experience in the field of project design and implementation, particularly in an international development context. This experience will no doubt benefit my efforts to continue in this area should I choose to after I compete the Peace Corps term. I can't say that Peace Corps has clarified exactly what I want to do after as I thought it would, but rather it has broadened and deepened my skill sets, and given me more options to choose from once I transition away from Peace Corps."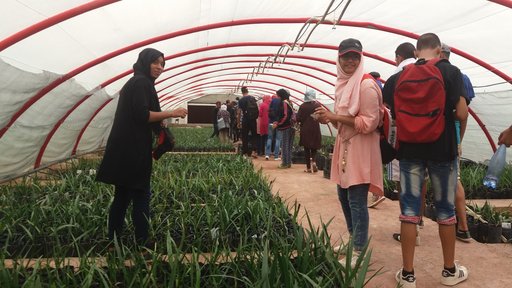 Volunteers in top states overall
#1 California - 836 currently serving Volunteers
Antonia Gale serves in the Ukraine as a community economic development Volunteer, but originally hails from California. "The Bay Area in California is known as a diverse population where multiple nationalities reside," she says. "Living in such a diverse area has taught me to accept each and every one as my equal. Joining the Peace Corps has been a life-long dream and being a resident of California has only led me to become a better Peace Corps Volunteer due to the diversity of the California landscape, not just natural but also people. I am a proud Californian serving in Peace Corps Ukraine."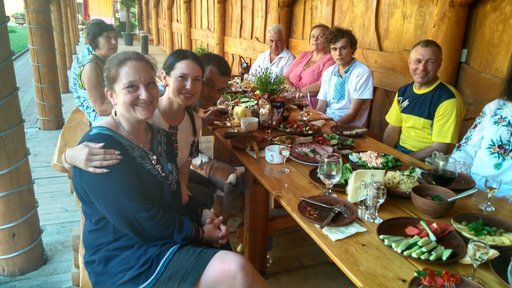 #2 New York - 475 currently serving Volunteers
Community economic development Volunteer Dana Hogg lives and works in Timor-Leste. Originally from Fairport, N.Y., Hogg says, "I believe that my service has made me a more understanding and patient person. I have also become more generous with my time and energy because so many people are being so generous to me with their time and energy. When you care deeply about the people you are working with, that energy is an investment in the future."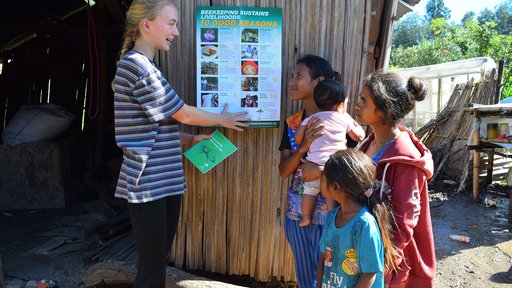 #3 Virginia - 364 currently serving Volunteers
Richmond, Va., local Caron Sinnenberg serves in Peru as a community economic development Volunteer. "Peace Corps has been a dream of mine since I learned about it during my undergraduate studies at Virginia Tech," she says. "One of my professors was a returned Peace Corps Colombia Volunteer and I remember her telling tons of stories about this life-enriching experience. I knew that one day I wanted to have this kind of experience where I could learn about a new culture, language and way of life. I waited until I was completely ready, and applied, and it was the best decision I could have made for myself."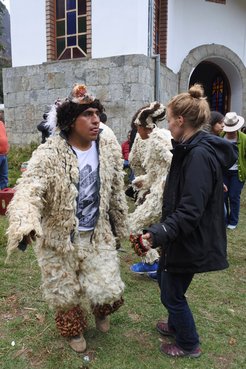 #4 Texas - 351 currently serving Volunteers
Education Volunteer and Texan David Robert Hunter Lohse currently served in the Philippines. He says, "The Philippines is one of the most beautiful countries I've ever seen. The mountains, coral reefs, rivers and beaches can take your breath away. I love the emphasis of family within Filipino culture, I have felt like a part of the community since I've arrived."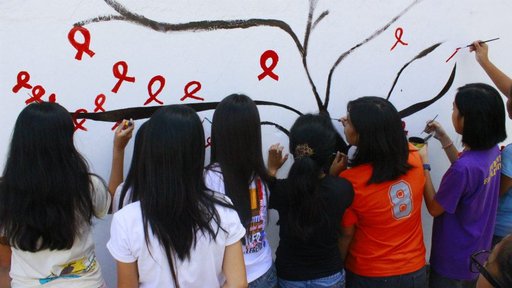 #5 Illinois - 312 currently serving Volunteers
Bernadette Chatman hails from Plainfield, Ill., but serves as an education Volunteer in Tonga. "Being a citizen from Illinois has helped shaped me and has provided me with the tools to be a successful volunteer," she says. "I have my alma mater, Northern Illinois University, to thank the most for the many opportunities that were given to me as an undergraduate. Without NIU, I wouldn't have been able to join the Peace Corps and make a difference in both my community in the States and in my country of service, Tonga."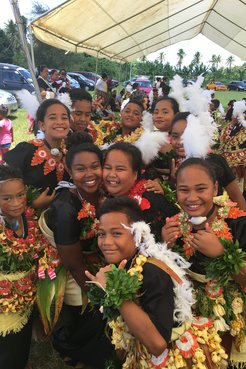 #6 Florida - 311 currently serving Volunteers
Rehan Khan calls Winter Garden, Fla., home, but he now serves as an agriculture Volunteer in The Gambia. Of his home for the next 27 months, Khan says, "There are many things I really enjoy about The Gambia. I really love the culture because of how welcoming and hospitable it is. I want to teach people in my host country that there are many different types of people in America. I am of Pakistani descent, and I was not born in America. I tell them all different religions and types of people are found in America."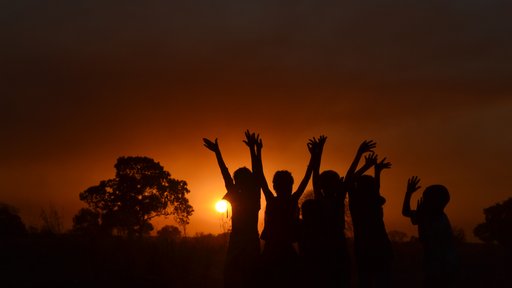 #7 Pennsylvania - 291 currently serving Volunteers
Andrea Giardina lived in Effort, Pa., before moving to Panama to serve as an environment Volunteer. "Living in Pennsylvania certainly formed me into who I am today, she says. "I'm from the Pocono Mountains and because of that I have always had a passion for the outdoors and the environment, which led me to Moravian College to study environmental science. At Moravian my passion only grew and I was exposed to volunteering opportunities around the United States and the world, which ultimately led me to realize that the Peace Corps was for me."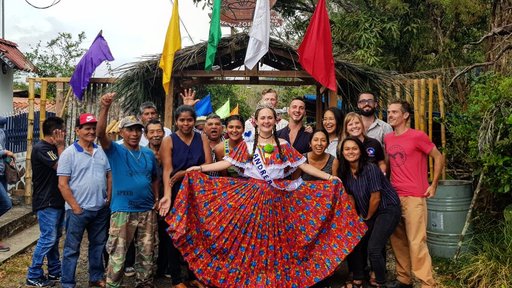 #8 Washington - 285 currently serving Volunteers
Health Volunteer Ryan Toney lives and works in Lesotho. The Washingtonian from Gig Harbor says the best thing about working in Lesotho are the people with whom he works. "The employees at my hospital, particularly my direct colleagues working in primary health care, have an inspiring passion for improving the health and lives of the people that motivates me to succeed, even during some the most frustrating things. I also believe each of us has to duty to give back… Peace Corps has provided me with two years of international experience, which will be beneficial to pursuing a career in infectious disease control in developing countries."
#9 Maryland - 257 currently serving Volunteers
Kendall Ziner serves as a community economic development Volunteer in Senegal. "Living in Maryland, and specifically my hometown, played a large role in why I decided to join the Peace Corps," says the Poolesville, Md., native. "My hometown is quaint, charming and quite small, a place I have come to adore and appreciate so dearly. One day, I realized that I had been living amidst the same people my entire life and lacked a certain perspective. This is one of the many reasons I decided to join the Peace Corps—to expand my immediate reality and as a way to discover new cultures and languages that later on I could bring back to my hometown in Maryland to share with friends and family alike."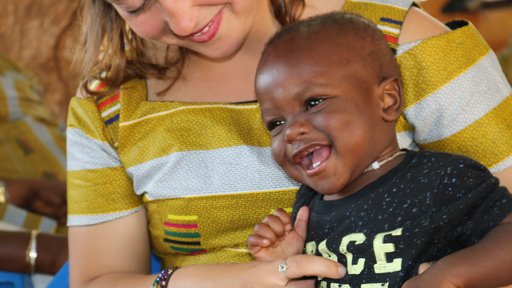 #10 Massachusetts - 242 currently serving Volunteers
Dorchester, Mass., native Charlotte Ennen teaches in South Africa as a part of her Peace Corps service. "I believe Peace Corps has given me the tools to grow in all aspects of my life," she says. "It has benefitted me socially, personally and within my career. I know now I want to work in international education advocating for students and changing education systems to benefit teachers, students and communities."
Category:
Africa
,
Lesotho
,
South Africa
,
Central America and Mexico
,
Panama
,
Eastern Europe and Central Asia
,
Ukraine
,
Asia
,
Philippines
,
Pacific Islands
,
Tonga
,
The Gambia
,
Senegal
,
Namibia
,
Timor-Leste
,
Moldova
,
Mexico
,
Albania
,
Malawi
,
South America
,
Peru
,
North Macedonia
,
North Africa and the Middle East
,
Morocco
,
From the Field
,
Diversity
,
Becoming a Volunteer
,
Press
,
Prospective Volunteers
,
Family and Friends
,
Current Volunteers
,
Peace Corps Volunteer
---