What textile entrepreneurship has to do with community health and Ebola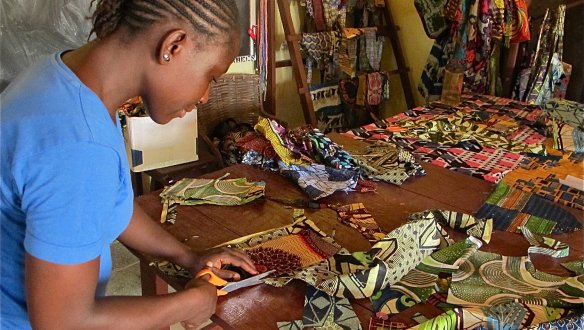 Dec. 5, 2014
At first, our scholars were afraid.
They were frightened by the images they saw and the news articles they read in our computer lab, describing the strange virus that had spread so quickly. The idea that you could get this disease by shaking hands with someone who was coughing or sneezing, or sharing a meal with someone who had come from an affected region, or taking care of a loved one who had fallen ill, was very foreign to our girls, and very hard to believe.
Our scholars were afraid, but they were also determined to help.
At Bosh Bosh, Inc., our motto is "Sewing dreams together one stitch at a time." That is what our scholars have done since our founding in 2011, when a Peace Corps Volunteer named Charlene Espinoza arrived in our community and agreed to help me realize a seed of an idea: to teach girls and young women a trade so that they could support themselves, stay in school and dream dreams of their own.
The project began with a bag of colorful fabric scraps, some needles and thread, and hand-sewing lessons in the local school library. Each afternoon after school, a small group of girls gathered to sew, turning the scraps into beautiful handbags that we sold to tourists, other foreigners, and wealthy Liberians. Our first profits became tuition and scholarships for the girls, and school uniforms, backpacks, and copybooks.
Today we have 20 female scholars, ages 15 to 26, as well as 15 production, management, sales, education and security team members, and Bosh Bosh – which means "different types of fabric sewn together forming a quilted pattern" – is a registered non-governmental organization (NGO). In addition to teaching our scholars a valuable trade and enabling them to pursue their education, we also hold computer and literacy classes, and workshops on family planning, HIV/AIDS, entrepreneurship, and women's rights. We encourage our girls to learn and lead not just for themselves, but for our community, too.
That is why we decided that our small group had a big part to play in fighting Ebola. There is a saying here that says a township is not for one person. We cannot just sit back while this deadly virus remains. We choose to help raise awareness and keep our community Ebola-free.
When the outbreak began, our scholars shared what they had read and learned about Ebola with their families. They walked to nearby villages to spread the word. We set up a handwashing station in one of our classrooms and encouraged everyone in our community, especially those who cannot afford to purchase buckets and chlorine, to come and use it as their own.
In October, we received training on Ebola prevention and treatment from the Centers for Disease Control and Prevention, and a group of Bosh Bosh scholars formed the Ebola Awareness Outreach Team. Five times a week for four hours a day, the team is reaching out to community members and educating the public on Ebola. Already, our team has set up and prepared a monitoring system for 100 hand-washing stations throughout Salala. At these stations, the scholars give instructions on how to properly wash hands and prevent the spread of Ebola. We have organized workshops over the next three months, involving community elders, youths, and leaders, to teach Ebola awareness and prevention using an Ebola curriculum provided by an international NGO.
The scholars have told me, until we are certain that our community remains free from Ebola, we will not sleep. There are still some in our community who do not believe that there is an outbreak going on, and doubt the facts that we have shared.  Others are worried and scared.
What gives me hope is the determination of our scholars. Just as what they learn from their sewing sessions goes well beyond cutting and stitching fabric, what they are learning from this experience are things that no one can ever take away from them. I hope they learn important lessons about health and hygiene, but also responsibility and good citizenship. I hope they understand what it means to stand up for something you believe in, even if others around you are questioning you and doubting what you have to say.  I hope they realize, as they are teaching me every day, that you can be brave and strong even when you are afraid.