This is what sustainable development work looks (and feels) like
Meme Lougha Ihuhuwa is a San woman who lives in northern, rural Namibia, and has been working with Omba Arts Trust, my Peace Corps project, for several years as a craft producer. 

She is in her early 60s, is well respected in her community, speaks !Kung (no English or Afrikaans) and, although she is illiterate with no formal education, was a natural choice for Omba to partner with as the leader of this craft-producing group of five women.
The village is very remote — it's approximately 35 kilometers to the nearest town with access to hospitals, police and postal services; also, none of the San producers own a vehicle. Meme Lougha has made an arrangement with the only taxi available in her village (owned and driven by the local literacy teacher) to hike into town in order to send orders or access money to pay the producers.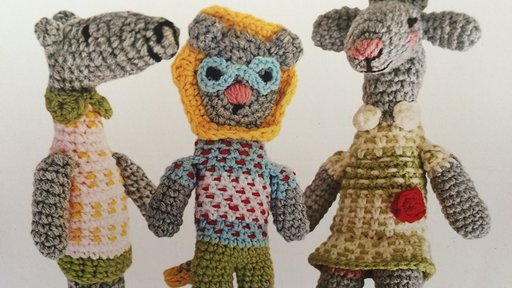 The original products were two crochet dolls (Fillemon and Lina); the women delivered 20 to 30 dolls monthly with an average income of NAM $375 (US $24) overall. The dolls were a huge success, so with a goal of increasing the production capacity and revenue for all of the women, Omba introduced five new crochet animals to the line (Gili Giraffe, Lele Lion, Mo Mouse, Makena Mongoose and Sam Springhare).

Meme Lougha has been able to increase production and improve quality of product to meet our standards with training (initially Omba-led, with follow-ups by Meme Lougha) of the existing crafters. Omba developed a toolkit that is completely visual as a training aid that the crafter can reference to ensure they are producing to size, using the right colors and crocheting the accessories for each individual doll.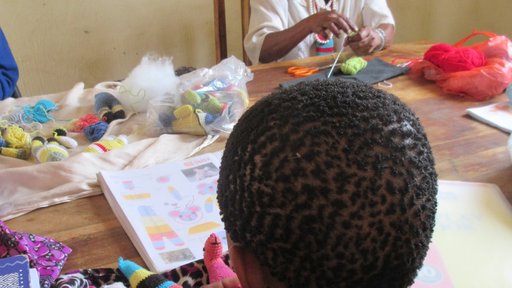 Meme Lougha works with the crafters to ensure quality standards are adhered to and has learned to package and ship the dolls to Omba, along with managing a postal account to receive payments and tracks, using a very basic accounting template, and delivering payments to each crafter for their shipped product. She is also mentoring a young teenage mother, Lydia, to be her successor one day.

This group is now producing 150+ dolls monthly, and continues to work to increase their capacity. Average monthly income for the group has reached NAM $3,750 (US $240) in a little over two years. 
All of the handicraft produced by the artisans Omba works with are available at Omba's two retail outlets in Windhoek, as well as through select wholesale and export partners globally, including the International Folk Art Market in Santa Fe, New Mexico.

Amazing and inspiring.
This is what sustainable development work looks (and feels) like! 
---