What Girl Scouts can learn about leadership from RPCVs
For World Thinking Day, I challenged returned Peace Corps Volunteers to share stories about leadership with my Girl Scout troop.
The format: an hour-long open house for up to one hundred Girl Scouts. "Be prepared." I warned, "They might all come to you at once, or constantly in small groups. You have to be ready for anything!"
I invited three RPCVs - Lauren, Marisela and Sol - and each rose to the challenge in great ways.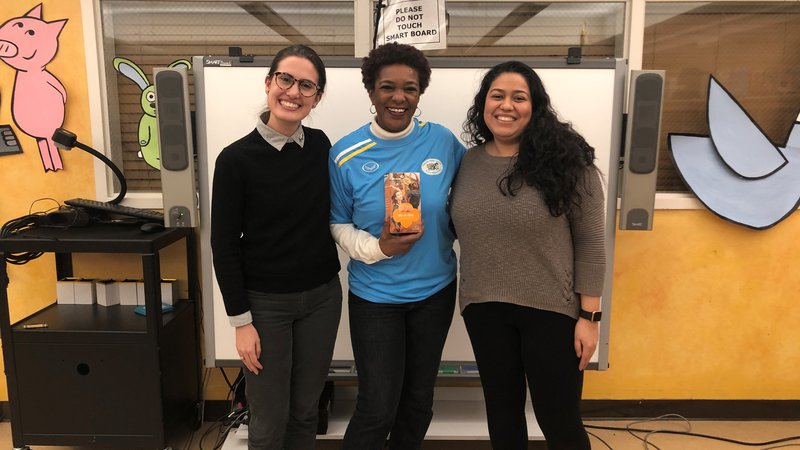 World Thinking Day is an international celebration in the Girl Scout/Girl Guides movement, traditionally celebrated on February 22. It recognizes the movement's role in girls' lives in over 150 countries. The theme this year was "Leadership, " and Girl Scouts had the opportunity to earn the World Thinking Day badge by exploring different aspects of leadership and global experiences.
One recommendation for the 2019 badge was to "Celebrate a Sisterhood of Leaders" by connecting troops with a Peace Corps Volunteer, recognizing that these dedicated individuals are serving as community leaders in a variety of fields across the globe. We were extremely fortunate to have two returned Peace Corps Volunteers from our area initially offer to attend – and even more fortunate that we actually had three participate!
To find Lauren (RPCV Thailand), Marisela and Sol (RPCVs Costa Rica) we reached out to the World Wise Schools program to see if there were any returned Peace Corps Volunteers who might be willing to participate and share some of their experiences
Our Girl Scout Troop planned nine activities and arranged our venue, the Theodore Roosevelt Elementary School in Oyster Bay, NY like a fair with different stations throughout the first floor. Our Girl Scouts worked in small teams to lead activities – from making origami doves as a symbol of peace, to leading team-building exercises, to drawing self-portraits based on their own leadership qualities.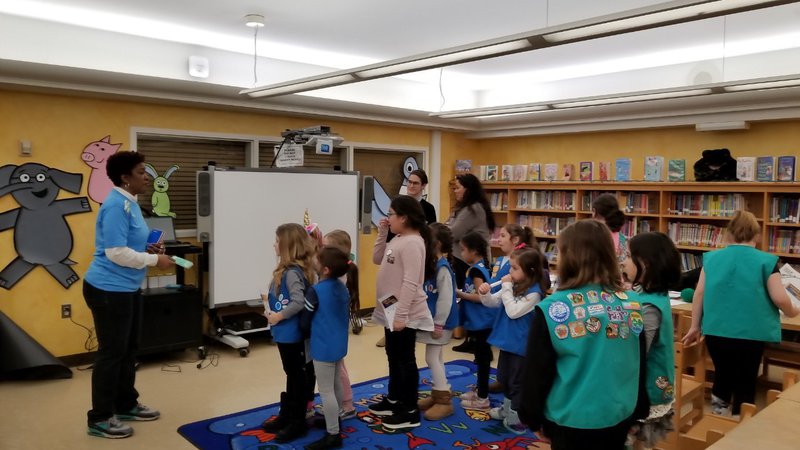 Lauren, Marisela and Sol were game for our challenge. They set up in the school library while two of our Girl Scouts, Jane G. and Sophia G. read stories of impactful women to a large group of Daisy Scouts (Kindergarten – first grade). Lauren caught everyone's attention and interest by speaking to the group in Thai. Her commanding, engaging presence caused even the youngest Girl Scouts to sit up and pay attention. As a former Girl Scout herself, Lauren shared, "[It] just excites me to share my life in Thailand as a Peace Corps Volunteer with this very special audience."
Marisela and Sol shared stories about their experiences in Costa Rica. Marisela taught English to students like them, and here in the New York she teaches in English and Spanish to first graders. They asked the group what language they thought was spoken in Costa Rica and asked the Girl Scouts to share words they already knew in Spanish. Marisela also taught the Girl Scouts a song in Spanish called "Buenos Días."
Reflecting on this experience Marisela expressed, "It was heartwarming to take the time to share about my experience in Costa Rica with the Girls Scouts! I hope that one day they'll be motivated to serve and learn about another culture with the same enthusiasm they had when learning the song I taught."
We were fortunate to work with returned Peace Corps Volunteers who were very communicative before-hand – this was important because our event was not very straightforward. They had to be prepared for almost any age and be willing to "go with the flow" as Girl Scouts came and went visiting all the stations. Sometimes there were overwhelming numbers – the youngest Scouts all traveled in a pack with their parents, which we did not anticipate. Sometimes there were just a handful of girls at once. For the younger Girl Scouts in particular, an active, engaging activity was key – like learning the song, and listening to Thai. Overall, it was a great opportunity for the Girl Scouts to meet such impressive female leaders who shared their stories of life overseas.
The Paul D. Coverdell World Wise Schools program is dedicated to promoting 21st century skills and global competence through stories, activities and classroom resources – all of which are based on Peace Corps Volunteer experiences.
---