What do Girl Scouts in California and girls in Ghana have in common?
Normally when you think of San Jose, California and a small village in the Northern Region of Ghana, you might think that those two places would have very little in common. And you would be correct to assume so.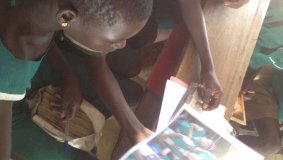 One place is the tenth largest city in the United States and is also known as the Capital of Silicon Valley. The other has a population of around a thousand people who are mostly farmers. However, they do have something in common. They both have groups of girls who like to make new friends, learn, and write letters.
A group of 25 girls from my school was able to get into contact with nine Girl Scouts in San Jose. The girls were quick to become friends and discussed everything from their families, likes and dislikes, hobbies, to even their dreams.
The girls talked about their favorite foods. Some mentioned pizza and cookies. While others said that they liked tuo zaafi (a cornmeal mush popular in the northern region of Ghana) with groundnut soup. They covered their favorite games. While the Americans girls said they loved swimming and dancing, the Ghanaian girls said they liked to play ampe (a simple game played by school-age children in Ghana) and soccer. There were so many cultural references that my students had never heard of before. My girls would ask questions like, "What is pizza?" And to me, it seemed as if there was nothing in common between the two groups of girls. As the girls exchanged more and more letters, however, similarities started to emerge.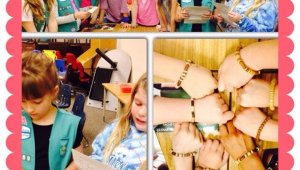 The girls would talk about annoying brothers. Their conversation included their favorite colors, best friends, and even what kind of pets they had. While some girls wanted to be doctors and others wanted to be dancers, they both realized that they were all young women with bright futures ahead of them. They were all making a friend across an ocean on a different continent. Some of the American girls even sent pictures of their families, favorite foods, and activities to help my students see the world through their eyes. My students managed to gather a few Ghana cedis (the currency) to send to America because they wanted the American girls to know what kind of money they used in Ghana. It was an amazing feeling to see this level of cultural exchange happening between girls who hadn't ever written a letter before.

For my students and the Girl Scouts of Troop 61769, the letter exchanges were an enlightening and eye-opening experience. One of the greatest ways to learn something isn't through a book or through a lecture, but by talking and having a discussion with another person. Some people say that the greatest distance between two people is misunderstanding. But through these pen pal letters, I like to think that the distance has shrunk between these two groups of girls.
The Paul D. Coverdell World Wise Schools program connects Peace Corps Volunteers and returned Volunteers to classrooms in the United States, and provides a variety of resources to help educators integrate global issues and cultural awareness into the classroom. Group or after school program leaders who are interested in intercultural exchanges like these are encouraged to participate in Correspondence Match
http://www.peacecorps.gov/wws/correspondence/
program.

Curious to learn more? Explore the World Wise Schools resources on this topic.
Explore