"What can I do?': Finding my role as one of the first Peace Corps Volunteers in Myanmar
Daw Soe Soe Min and Daw Nwe Nwe Oo, two grade seven teachers assigned to be my co-teaching counterparts, ushered me up the stairs of our administration building and into the headmaster's finely furnished private quarters. 
They motioned for me to take a seat at a long wooden table as they gathered several textbooks to use during our first cooperative lesson planning session together. While I waited, I looked to the wall opposite me at cabinets filled with awards and, as if standing guard over them, a photograph for each of the previous 13 headmasters and headmistresses who presided over Basic Education High School Number 1. Having finished gathering the necessary materials for our session, my counterparts seated themselves next to me and waited to begin.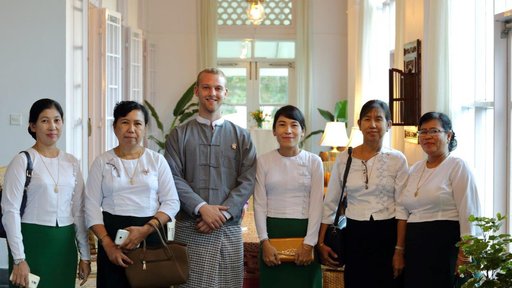 Myanmar recently became the 141st country to invite Peace Corps Volunteers to work and live in local communities. This particular iteration of the program involves cooperative work with teachers at select government schools in Yangon and its surrounding townships. I, together with five other Volunteers, am among the first Americans to live and work at the grassroots level in Myanmar government schools. It is our job — and our privilege — to establish what we hope will be a successful Peace Corps program through a spirit of friendship and cooperation.

And yet, as I sat in the headmaster's quarters looking at a wall of awards and the proud photographs hanging above them, I couldn't help but feel humbled by such a privilege. I wondered how it was possible that I, a young professional abroad, could find a level of cooperation that would allow me to contribute to such a respected part of Myanmar society. Myanmar culture deeply values teachers as highly respected members of the community. 
And so I decided that I would work within the confines of this system — that I would never try to change it but only try to share my ideas. I would honor the responsibility of being a teacher while learning the culture and language of Myanmar. I hoped (and have since been proven right) that if I took the first steps towards cooperation, my community would include me as their quirky foreign member. 
Having the benefit of hindsight, I can't say that there weren't moments of frustration. My Burmese is novice low, at best, and I'm still worried that I'll lose my longyi (traditional sarong) during a lesson. Still, I have never found a Myanmar person who didn't at least appreciate my efforts and help me when I needed it.
I must have been silent for quite a while because Daw Nwe Nwe Oo had taken to clearing her throat rather loudly as she and Daw Soe Soe Min waited for me to speak. I allowed myself to shift my focus back to co-teaching and the more present task of creating a lesson for the following Tuesday. I tried to articulate my method, and began with something simple. What would become a fulfilling professional relationship began with a question: "What can I do?"