Welcome to Peace Corps Response: From my perspective, 3 key reminders
Zena Clements shares her key learnings from starting her service in Panama as a Peace Corps Response Volunteer.
Reminder 1: A combination of emotions before and throughout service.
The host nongovernmental organization requested a gender equality & youth development specialist for middle/high school students of La Comarca Ngäbe Bugle (Indigenous Reservation). It was a perfect fit for me. While reading the job description, disbelief and excitement competed for my attention. After my invitation to take the assignment arrived, joy and gratitude lasted for weeks. Later still, when I became part of the Peace Corps Panamá One Team in July 2021, eagerness, happiness, and a sense of accomplishment ruled my emotions. A wide variety of emotions is not uncommon among current or returned Peace Corps Volunteers. This time, I am better prepared; I am observing, learning, and embracing.
Reminder 2: Expect the unexpected.
The partner organization sought out Peace Corps Response because they wanted a Volunteer who could develop activities and workshops related to gender equality for junior and high school students. This led me to believe that La Comarca was prepared to receive this type of learning. From somewhere in the imaginary Peace Corps universe, a humorous, little voice said, "Gotcha!"
The reality is that the director and members of the host organization have used the word "fear" a few times to express their concerns regarding anything related to gender training. They asked for it, but it also scares them. This is not the only challenge though.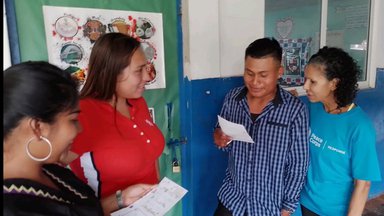 Round trip, it takes me approximately three hours and four transportation methods to get to the schools where I deliver 35- to 45-minute lessons. Within this allotted time, many other things must take place besides simply delivering the lesson. Often the teacher, who has donated the time, is still in the classroom finishing her own lesson. Sometimes the teacher doesn't even know I was scheduled to give a lecture that day. In these schools, I must prepare the classroom when I arrive by lifting two or three heavy, large pieces of wood used as a wall divider between three classrooms.
The students from these three classrooms must then arrange their desks to join me in the new space, which results in a short burst of chaos. Then, an official attendance list is passed around and each teenager must write their full name, identification number, phone number, and address. This further reduces class time and distracts the students.
During the remaining period, I introduce two or three topics, such as sexual abuse and teen pregnancy prevention, suicide prevention, conflict resolution, stress management, friendship, and peer pressure. The youth receive these lectures only once a month, and each time a new topic is covered. The meetings occur around lunch time so, every time, the students must go to the outdoor kitchen, line up for lunch, and bring their lunch back into the classroom. The time gets shorter and shorter.
The junior high and high school students are ages 13 to 20. They barely participate, and rarely answer or ask questions. They hardly ever speak. They do giggle a lot. After a lot of observation and talking to other teachers, NGO staff, and my counterpart, I am discovering that their behavior is not due to shyness. It is embarrassment (vergüenza) and fear (miedo) to be laughed at (burla) by their peers if they answer incorrectly. I worked with one group who agreed to answer by nodding their heads.
Reminder 3: I am a Peace Corps Response Volunteer.
In my third month, a university teacher, former coordinator, and active member of my organization invited me to bring the gender training to her five groups of 118 students, ages 18 to 50, working on their sociology, law, or education degrees. The training topic at the educational institution is social construction, gender, and power. The groups consist of professional workers, parents, and teenagers.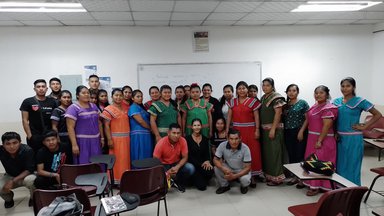 An elementary school in La Comarca lends us a classroom for these weekly sessions. Although the youngest girls do not participate or speak, most of the university students do. We discuss the basics of gender, machismo, street sexual harassment, and sexist language. We also cover the topics of the national draft law on menstrual equity, female and male sterilization inequalities in the Panamanian law, violence to women and men, and healthy masculinity. We spent five hours over two sessions for each group and the students asked for more.
The professor and I are very pleased with the immediate results, and she invited me to return next year. She spoke to the university director to request a gender equity training for the administrative staff. The director agreed and the proposal will be presented to her in January 2023. The professor's goal is to take the gender training to the other educators at the university. I am enjoying this moment of success. As hard as it can get on this rollercoaster, it's a wonderful ride.
The last reminder is one I use often: "I am a Peace Corps Response Volunteer!"