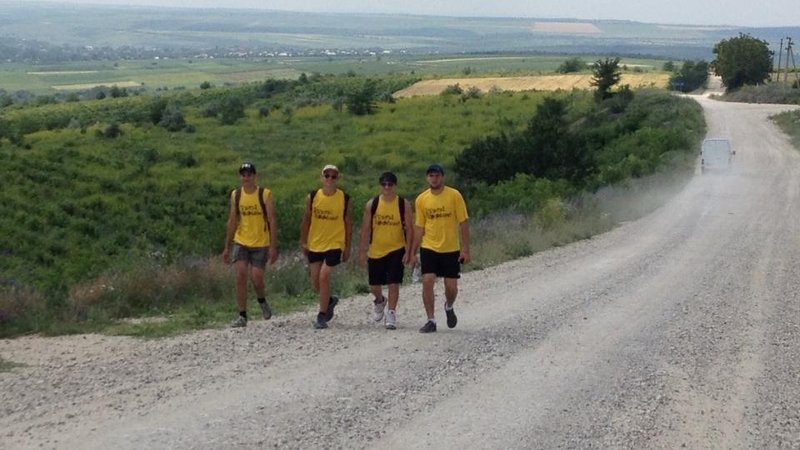 Jan. 24, 2014
While brainstorming ways to commemorate the 20th anniversary of the Peace Corps' work in the Eastern European country of Moldova, Peace Corps Volunteer (PCV) Sue Murphy thought, "Moldova is so small I bet we could walk across it!" And after a few days of research, that idea started to become a reality.
"We discovered that several other Peace Corps countries, like Ghana and Armenia, had done similar projects, and we conducted an information session to see how many PCVs might be interested in participating. Enthusiasm was high, so we proceeded to map out a plan," said PCV Georgiana Smith.

The first group of Volunteers began their walk in the northern border town of Sorocca, and the second group started their trek in Taraclia, in southern Moldova.
Every day the Volunteers walked an average of 10 miles, then participated in community events in the hosting towns. The goal of the walk was to encourage Moldovans across the country to engage with their communities and to appreciate the benefits that volunteerism brings to both the giver and the receiver.
The walk across Moldova took 15 days to complete, with each group of volunteers spending each night in a new community. "We spent the night and had local activities in 29 different communities across Moldova, with a 30th final event in the capital of Chișinău," Georgiana said. "We tried to choose villages that currently or previously hosted a PCV, however, there did end up being seven or eight that had never worked with Peace Corps. The villages extended welcome and partnership wholeheartedly."
The 2013 trek was the very first Walk Across Moldova, and PCVs are already looking forward to next year's journey. The next group of Moldova PCVs have expressed interest in continuing with the project.
"We are excited about our future Walks Across Moldova and the many new people we will meet along the way," Georgiana said, "And, of course, we hope to make a difference in this wonderful country that has hosted American Volunteers for two decades now. Thank you, Moldova!"