We can change the future of our community
After six months of fervent planning, collaborating and excitement, the first day of the inaugural Campamento Lucero: Girls' Empowerment Camp had finally come, involving participants representing eight different communities across the municipality of Aguacatán. 
As participants arrived community by community and began the task of decorating their personalized camp notebooks, the buzz in the air electrified. We were about to begin an event owned entirely by strong female youth leaders, the first of its kind in Aguacatán. The energy was palpable.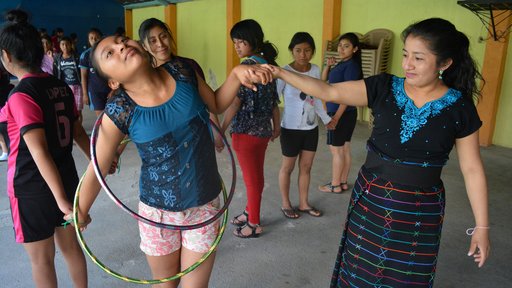 The camp took place a year after the youth in development project's presence arrived in Aguacatán. It was made possible through a number of factors, namely a collaboration between myself and fellow Volunteer Natalie Saxon, extensive planning with community counterparts and a number of diagnostic tools. 
But above all it emerged from building relationships with the youth leaders participating in Aguacatán's widespread youth network. With Aguacatán's advanced and active youth presence, we knew it was about elevating the work that had already been done to invest in young people. 
Observing activities facilitated by the Municipal Office of Youth showed a majority assistance of female youth leaders but a majority participation of male youth leaders—there were more young women present but more young men expressing themselves. Tying this into other deep-seated community challenges such as teenage pregnancy and sexual violence, it only seemed right to create a space dedicated solely to young women to embolden them to assert themselves on issues that affect them the most.  
The three days consisted of a series of workshops around sexual health, gender-based violence, leadership and goal setting, all with the ultimate objective of empowering the young female participants to take action in driving social change and illuminating a brighter future. All of the workshops were designed in the experiential learning cycle and urged participation and self-driven learning. 
Through building a space of trust and providing time for every participant to contribute, we began to see girls emerging from their shells to voice their beliefs. Each day took on a new tone as we began with basic leadership-defining workshops, moved into more delicate topics like sexual and reproductive health and culminated with a day focused on young women's roles in being the change. 
This last day served as the perfect capstone to a camp filled with an air of vision and a greater purpose. It was the day the girls unlocked the leaders inside them.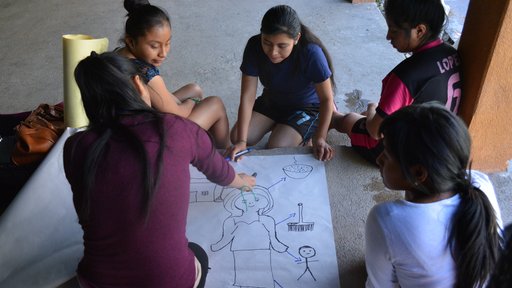 The camp didn't solely focus on thematic workshops; there were activities every day to stimulate creative thought and a sense of sisterhood. We understood that a camp like this wasn't simply about relaying concrete technical information and ensuring they retain it. It was about building camaraderie, reminding the girls about the beauty of life and providing them opportunities to rediscover their own worth. That's why we facilitated a theater workshop, arranged a Zumba class, organized an afternoon at the pools and focused on activities outside the scope of what some might consider training of youth. 
And that's where some of the most important self-discovery took place. 

On the final day, we held a bonfire where the girls roasted marshmallows and took it upon themselves to start singing songs, sharing jokes and telling stories. A psychologist facilitated an activity on self-awareness, re-centering the girls and reminding them why they'd come to camp. She talked about the importance of emotional intelligence, letting them know that "it doesn't mean getting 100 on your report card. Sometimes we have 100 in our report card, in all our courses, but then something happens to us and we fall, we don't know how to control our emotions." 
That is why it is so important to have some level of self-awareness, to cultivate our emotional intelligence. Because before inspiring change around them, before leading their peers, these young women had to know themselves. 
Hearing the girls talk about how they'd grown and changed throughout camp was a reminder of why we do the work we do. 
"Above all, we learned about how to be a good leader, how we should act in public… we have a right to be leaders as young people and women," said Florinda Mendéz Raymundo in response to what she had learned.
Maria Chum, a fellow facilitator, told us, "It's a great opportunity to be part of spaces like this to be able to elevate our voices and see that we can change the future of our community, our municipality and our country."