'We are the Girls of Tomorrow'
The idea for the Girls of Tomorrow Program was born while waiting on a taxi one early September morning.  
I thought back to the giants in science that had inadvertently catalyzed my own interest in STEM (science, technology, engineering and math). Growing up, we all heard names like Einstein, Carl Sagan and Galileo, but what about women? How are girls in South Africa going to develop a passion for the sciences without female role models? 
When I started work at my site, I wrote a Let Girls Learn Peace Corps Partnerships Program (PCPP) grant proposal and we launched Girls of Tomorrow.  My desire was to galvanize girls in our community through empowerment and education. My fellow Volunteers and I too frequently see our female students get pregnant or lose interest in school because they lack job opportunities post-graduation. Girls in our communities are disproportionately burdened with domestic duties and often shy away from math and science because they are traditionally male-dominated subjects. But we know that women earn more on average when working in STEM fields, and that communities do better as a whole when women are well-educated and independent.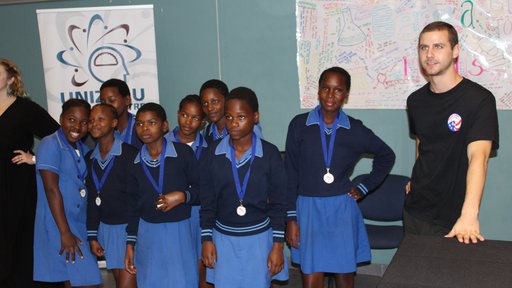 Through Girls of Tomorrow, we worked with 120 Grade 7 girls, strategically reaching them before they enter high school. We conducted school visits to three schools over the course of a month, and transported the girls to the science center to engage with our resources, staff, and educational and empowerment activities. They also were given space to study and meet women already working in STEM fields so they would have local role models they could look up to. Working with my colleagues, I developed a booklet highlighting female leaders in STEM for the girls, as well as other resources celebrating the achievements of women in STEM.
Students, teachers and principals alike were supportive; we distributed the booklets we created and excitedly watched as the girls flipped through them and read about the struggles and achievements of the women in them. They broke into groups and chose the women that they connected to the most. Over the next month, the girls developed presentations on the women they were studying, to be presented to professionals in STEM fields.
When the big day arrived, guests included STEM professionals from as far as the U.S. and India, and leaders from agencies like the Department of Science and Technology and the U.S. Consulate. The girls paraded into the science center singing "We are the Girls of Tomorrow!" We opened the day with a number of speeches from accomplished female scientists, the U.S. Consul General in Durban and university faculty. The girls roared with excitement and could hardly wait to present their projects.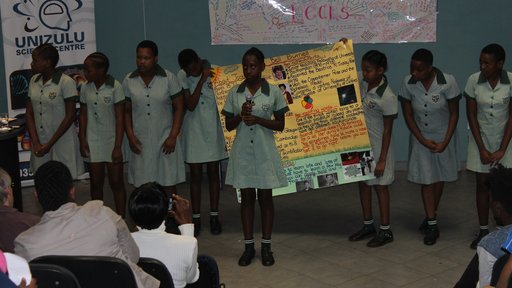 When it began, the audience was impressed by the confidence and poise with which the girls presented.  They performed dramas, poems, songs and dances. We couldn't believe that these girls were only 12 years old. One group that called themselves "The Space Girls" performed a 10-minute drama on the life of Mae Jemison, the first black female astronaut. 
Another group, "The Clever Bunch," wrote and performed a song about the neurosurgeon Alexa Canady, causing members of the audience to cry (including me!).  They confidently sang, "What Alexa Canady has shown us, is that even if no one has ever done something before, you can be the first." What a difference it was from the beginning of the project: Most of the girls had never spoken publicly before in their lives, let alone in front of an audience full of scientists!
The overwhelming success of the project has inspired us to launch a second phase of Girls of Tomorrow. Our plan is to bring these same girls to the university to learn how to apply, what careers are out there and how to make the most out of high school. They'll also become ambassadors for the project and teach their sisters and younger classmates some of what they learned. And we're bringing the boys on too, as "Ally Ambassadors." We couldn't be more proud of these girls and how far they've come, but more importantly, how incredibly proud they are of themselves.
---