Volunteers celebrate their diverse cultures and identities in honor of Hispanic Heritage Month
Being Hispanic means to something different to every Hispanic person. It's influenced by their upbringing, their culture, their family, friends, and community. The list goes on and on. There isn't one way of being Hispanic, and the experience is unique to every individual.
This year, for Hispanic Heritage Month, we are highlighting the diversity of our Volunteers' culture and experience by sharing some of their favorite things about being Hispanic.
Edgar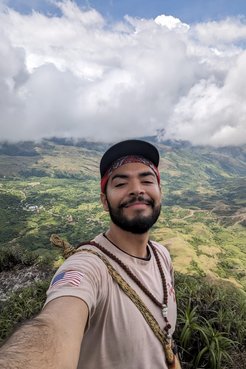 Edgar is a self-proclaimed Texican: a Mexican-American from Texas. He grew up in a Spanish-speaking immigrant community with other first-generation children who embraced being bicultural.
"Being a Chicano has allowed me to appreciate two societies whereby I can coexist between two cultures," said Edgar, who is serving in Panama. "One day, I can celebrate a costumed holiday like Halloween, and the next day, remember my ancestors for Dia de los Muertos with ofrendas and alebrijes. This is my favorite part of my particular Hispanic culture: the unapologetic respect for the dead and the healthy relationship I've developed with the mysterious notion of death."
Edgar is proud of his Hispanic identity and heritage. He doesn't feel misplaced in American or Mexican societies. He feels lucky to have found a balance between both cultures.
This balance led to him having a different experience from non-Hispanic Volunteers during service. His duality and language skills have allowed him to quickly connect with his community and in ways that some of his fellow Volunteers have not.
"Within my language fluency, there's a cultural understanding inherently shared throughout most of Latin America that I have the privilege of being privy to."
---