Virtual Service prepares a community for a two-year Volunteer
Far from the sailboats and forts that outline Montenegro's scenic coastline is a rugged and largely undeveloped area. Tiny, terracotta-roofed villages cluster the valleys, and it is one such village that Education Volunteer Aleksandra Gicala now calls home.
Aleksandra arrived at site in December 2022 as an Education Volunteer. For the next two years, she'll co-teach English alongside her counterpart, Tijana Živković. To say everyone is excited is an understatement. The village is so tiny that the school has no more than 30 students, which means all the students will get time to practice their English with Aleksandra. The school's hallways bubble with excitement and there's no hope in quieting the children.
Although Aleksandra is the community's first in-person Volunteer, the school partnered with the Peace Corps last March for a 12-week-long virtual English club. With help from the Peace Corps Montenegro post staff, the school designed a Virtual Service engagement that provided students an opportunity to practice their English language skills with a native speaker.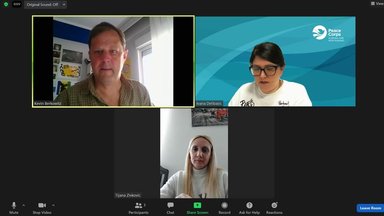 No one expected that someone so far away could make such an impact, least of all Kevin Berkowitz. But with each catchy song, picture chart, or interactive game the returned Peace Corps Volunteer (Macedonia 2002-2004) taught the students, the less intimidating English became for them.
"Making classroom activities fun is a basic teaching strategy that increases participation and knowledge reinforcement. Students like to have fun, but they don't need to know the didactic theory behind the activities," Kevin said when discussing the Wordwall games used.
As a Virtual Service Participant, Kevin donated time each week to co-develop and co-facilitate English lessons with his counterpart, Tijana. They modeled the desired behavior for the activities before getting the students involved. Kevin then called on each student to answer common questions that mimicked real-life conversations.
When teaching language to students of different proficiency levels, Kevin said, "First, create a list of students with their ages and English levels in order to call on individual students. Give them time [to answer], and you may need to repeat the question. In some cases, you [may need to tailor the question] to a more basic level. But a one-word response is better than nothing."
After the virtual engagement concluded, the children continuously asked when the club would begin again. Much to their delight, the principal, Snežana Rajković, reapplied for an on-the-ground Volunteer.
By the time Aleksandra's plane landed in the Balkans, the community was ready.
"After having a Virtual Service Participant, our school was so happy to get a two-year Volunteer. We all knew how helpful it was having [assistance] a couple of times a week online; having [a Volunteer] present at the school means a lot to us. The children were super excited and not shy at all, because they all overcome it when we had online Virtual Service lessons," Tijana said.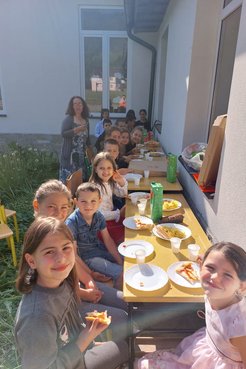 "Everyone welcomed me with open arms and hearts," said Aleksandra.
Not only did Virtual Service get the local community excited for a Peace Corps partnership but it informed the elementary school's staff on the importance and role of a dedicated counterpart. After all, Volunteers eventually leave; it is the counterparts who ensure sustainability.
"Working with a [counterpart] who possesses experience with a Peace Corps Volunteer has proven to be substantial. Teamwork comes naturally as each person's role is clearly understood. At the same time, there is an openness to sharing new ideas and feedback," Aleksandra said.
Aleksandra is looking forward to the next 22 months. She hopes that in addition to co-teaching, she and the local teachers can work with the high school students and offer English classes to the adults working within the tourism industry. She's excited to experience the culture a bit more – from hiking the surrounding mountains to dining on warm, homemade bread and cheese. Aleksandra is also excited to share her own family's traditions, such as making traditional Polish food and listening to American Christmas songs.
As they say in Montenegro, "Every beginning is hard." Thankfully, Kevin established a solid foundation for Aleksandra's service to start a bit smoother.